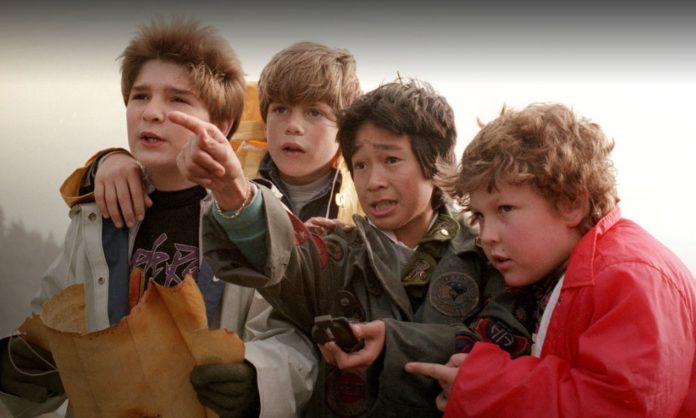 I've actually met people who don't love or appreciate The Goonies. I don't understand those people. How can you not have love for The Goonies? And if you're an Oregonian, well it's just kind of mandatory to at least have a little bit of love for The Goonies, even if it's not your favorite flick ever.
The Goonies is easily one of the most beloved films from the '80s, and here soon will be celebrating its 35th Anniversary. In honor of the anniversary,  Oregon Film and Travel Oregon are throwing a four-day event in Astoria. That's right, four awesome days full of nothing but Goonies, and will happen this summer, from June 4 to June 7.
Via a press release, the event was announced:
"During the four-day event, Goonies fans can hear tales about filming from those who were there, bowl at "Chunk's Bowling Alley" as seen in the film, and embark on their own adventure with an interactive scavenger hunt. Official memorabilia, including t-shirts, hats, glassware, and more, will be available at the event's headquarters, which will once again be at the Astoria Armory." 
While a lot of the cast has appeared in the past, there's no word at least right now for any of the cast showing up to this one.
Travel Oregon CEO, Todd Davidson stated:
"This celebration is dedicated to the amazing Goonies fans and the special places where it was filmed. We hope this June's events will find Goonies lovers on location reliving one of the most beloved coming-of-age stories of the 1980s."
Executive Director of Oregon Film, Tim Williams added:
"We're so lucky as a state to have these creative partners to bring together a community to celebrate a film like this. It's always such a pleasure to remind people of the deep and exciting history this state has with film, and then gather together in places like Astoria to showcase famous Oregon locations."
If you can't make it for Goonies Day, there will be screenings of the classic film in various locations throughout the state leading up to that point:
What about you? Will you be able to make it to Astoria for the big even this summer? Let us know in the comments. Also hit the link here for The Goonies road trip that you have to at least do once in your life!
Source: /Film