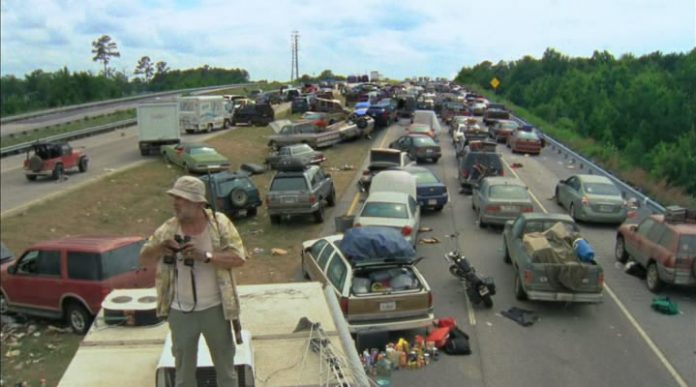 We're now a month away from the solar eclipse, and Oregon Department of Transportation spokesman Don Hamilton is predicting the event will cause "the biggest traffic event in Oregon history" on August 21. And when you hear they estimate some one million people are expected to visit Oregon for the eclipse, I don't think its a far stretch to say this easily could be the worst traffic jam ever.
In particular, ODOT is most concerned about the highways headed to the Oregon Coast. So much so, the agency is halting any maintenance and construction that could directly interfere leading up to the eclipse – ensuring that the roads stay clear. It's been reported all truck weigh stations will also be closed as well to allow for emergency response vehicles using the areas to park.
"One of the things that we're doing is tracking rumors, and we're hearing a rumor on Twitter that a lot of people from Seattle are going to be coming down very, very early on Monday morning of the eclipse and that's going to complicate the morning commute in the city of Portland," Hamilton told KGW.
According to ODOT, this could be much like what we saw in the snow storm back in January of this year. Hellish gridlock for hours, with folks eventually running out of fuel. With the eclipse coming, we could even see people being delayed by many hours just getting to work. The Central Oregon Emergency Information Network is conducting a survey to help prepare emergency resources. Take 30 seconds of your time and submit your answers to the survey here.
Portland International Airport is getting ready for the busiest month in PDX history during the eclipse. PDX will not be offering extra flights as we get closer to the event, and the ones they already have are booked. The airport will also be staffing more help inside the airport, helping those who are visiting Oregon, and will even be handing out special eclipse glasses. And you won't have much better luck getting a car rental either, as Budget and Avis Rental Car locations reportedly are booked solid also.
ODOT is suggesting everyone plan well ahead in advance, and to be prepared. They are also advising drivers to get a map and not rely on cell service for GPS, as cell service could potentially be overloaded.
The Portland metro area is expected to see 94 to 99 percent of the eclipse, according to NASA. Hit the link here to read more about where the best spots are to catch the eclipse!