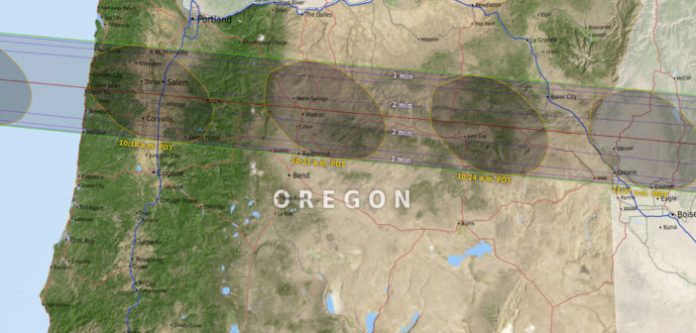 This may be the most exciting thing happening in Oregon for summer of 2017. There is an extremely rare eclipse that will be passing over the Beaver State, and it's truly a once in a lifetime opportunity. The last time a total eclipse passed over the Northwest was February 26 of 1979, and it's happening this year on Monday, August 21. Before that, the last time this happened was back on June 8th of 1918. And even then, unlike the coming eclipse, this one did not pass over the entire state of Oregon.
According to GreatAmericanEclipse.com, anywhere from 1.85 and 7.4 million people could visit the path of totality on Aug. 21 for the first coast-to-coast total solar eclipse in the U.S. in 99 years.
These numbers are based on weather, events in the path, weather and population data. This data includes the fact that 53 percent of people in the United States are within 400 miles of a total eclipse site.
Depending on where you are in Oregon, will depend on what time you can expect to see the total eclipse. Around 10:18 a.m Oregon will see total coverage, and it will be a little bit earlier if you are in the Coast area.
As far as central Oregon goes, total coverage starts at 10:21 a.m, and you can expect to see total coverage around 10:21 a.m if you are in Eastern Oregon. For those who are on the Idaho border, it's expected to be visible slightly later.
If you're looking for some of the best places to view the eclipse, we've listed just a few of the Oregon locations inside the path of totality. Be prepared as these locations are expected to have large crowds. These locations in Oregon are in the direct path of totality, but even being north or south of these locations by 30 miles you will still be able to see the total eclipse, although it won't last as long (36 seconds vs 1 minute 58 seconds).
If you can't make it to one of these locations, not to worry — the partial eclipse is expected to still put on a very dramatic show anywhere in Oregon, as well as neighboring states such as Washington, Idaho & California.
Take all proper precautions to protect your eyes from the sun. It's highly recommended you buy protective eclipse glasses, especially for children. Suppliers such as  Rainbow Symphony, American Paper Optics, or Eclipse2017.org offer the glasses. Prices range from $2 to $20, so it's an easy investment to make to ensure your eyes are protected. If you prefer the old fashion "pinhole" method, be sure to check out this great DIY article on how to do that.