NOTICE: Many trails on the Oregon side of the Columbia River Gorge were closed as a result of damage from the Eagle Creek Fire. Please check the list of Columbia Gorge trail closures before you plan for a hike. (CLOSED until further notice due to Eagle Creek Fire. 06/10/2020)
It's known as the Ruckle Ridge Loop in Oregon, and while just as beautiful as many places to explore in the Columbia River Gorge, this trail is widely recognized as the most treacherous day-hike in the Gorge. In fact, one website even included the Ruckle Ridge Loop as one of the 13 most dangerous hiking trails in America.
For starters, this 9 mile trail is not maintained… At all. Due to the rocky Ruckel Ridge trail and it's abundance of moss, it's also very slippery. For anyone who's up to the challenge, it's highly recommended hikers are physically and mentally prepared. Not only should you be in reasonably good fitness, but grabbing some good sturdy boots with excellent traction are highly recommended. At some points on this trail, you'll also definitely want to consider grabbing some trekking poles as they will be very handy.
Finding your way to the "real" trailhead can be tricky. The trail begins in the parking lot near Eagle Creek Camp Host station, and from here you will make your way toward the Eagle Creek Campground. You will go past campsite 5, and follow the sign for Buck Point Trail where you will continue uphill.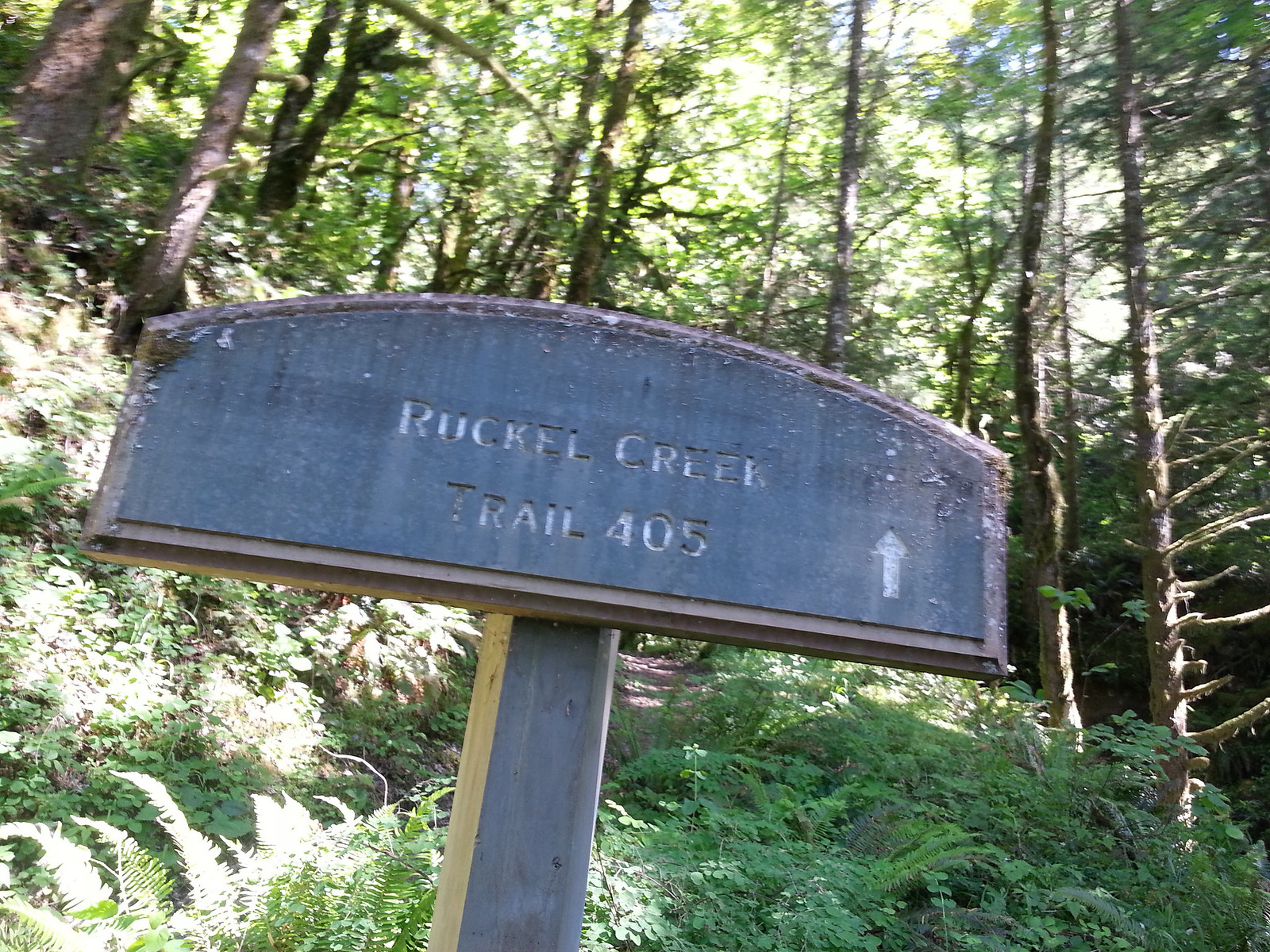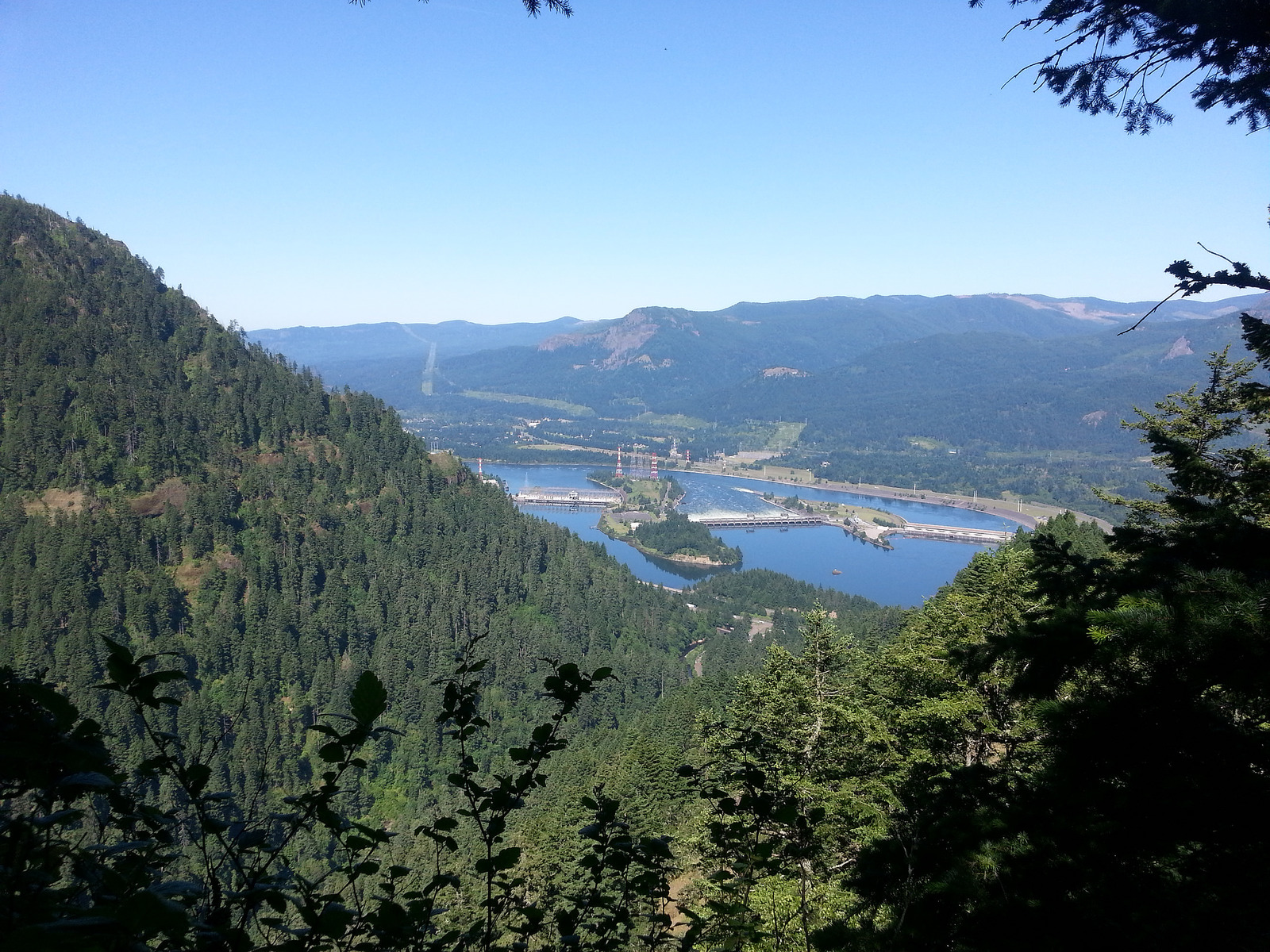 The sign will let you know it's about 3/4 of a mile to Buck Point, but it's more like 0.4 miles. About a half mile to Buck Point, you'll come across a power line clearing where you will get your first views back into the Gorge. From here you will head past the power line, and follow the trail into the trees.
This is where the trail will become much more challenging. At this point, you will gain elevation quickly, as you follow the trail up through steep dirt and mossy rock. You may be forced to crawl at this point, using surround roots, rocks, and tree trunks as something to grip and keep your balance. It goes without saying, make sure anything you grab is secure as the fall will mean serious trouble.
After about two miles, you'll come to what is known as The Catwalk, about 2,700 feet elevation with a very exposed section of the crest of the ridge. As this rocky trail weaves through the trees, you'll find the trail is only a foot wide at times — and those trekking poles will come in very useful. This rocky knife ridge cuts through the forest with widths as little as 1 feet. This will be very tricky as well, and you'll want careful hand and foot placement, again making sure you are gripping secure contact points. With typical Oregon weather, the rocks can be very slippery, and a fall off The Catwalk could be very bad for you.
For anyone who wants to experience Ruckel Ridge but don't like exposure, there's an alternative "bail-out" path just below the Catwalk on the southside.
Your legs may be very sore at this point, but there's no stopping yet. The trail drops into a saddle after The Catwalk, where you then begin a steep climb to the Benson Plateau. Once you hit about 3,700 feet, you'll drop again to a crossing of Ruckel Creek. You'll wade or hop rocks to get across, where you'll eventually come to a trail junction with Ruckel Creek Trail.
Take a left here and start down, where you will finally catch a break although your toes may get sore at this point. High above Ruckel Creek, you will enjoy hanging meadows that are filled with wildflowers in the spring. After around 2 miles or so, you will be marveled by two great viewpoints. One looking south to Mount Hood, with the second looking north to Mount Rainier, Mount Adams, Mount Saint Helens, and of course the beautiful Columbia River Gorge. You will then discover a Native American sacred site with ancient stone pits as the trail continues to switchback down, passing through a gorgeous moss-covered field of talus and scree.
Eventually after walking downhill, and very exhausted at this point you will come to the Ruckel Creek Trailhead and the paved Historic Columbia River Highway Trail. Take a left, where you will cross the Ruckel Creek Bridge and head west. Just beyond the bridge, a few hundred feet or so, you will find the Gorge Trail #400. Turn onto this trail, walk uphill just a bit and past the campground you can return to your vehicle.
Main image courtesy of Liz and Brad's Big Adventures.
Guidebooks that cover Ruckle Ridge Loop