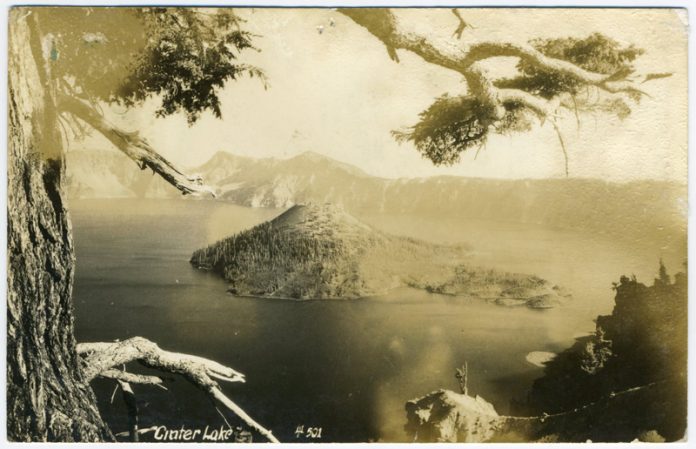 Oregon's only national park is a surprisingly dangerous place, and a number of people have died there. Several of these left only bones behind to help us understand what caused their death.
Crater Lake, Oregon's only national park, has a worldwide reputation for scenic beauty, which it richly deserves.
But the park has another interesting characteristic, and it's one that few of the millions who have flocked to the park over the years have realized:
It's lethal.
With fairly depressing regularity, visitors to the park fall off cliffs, get caught in snowstorms and crash their cars into deep ravines. Airplanes and helicopters fall out of the sky. And as if that weren't enough, far more homicides have played out there than you might think.
Sign up for monthly emails full of local travel inspiration and fun trip ideas. In each newsletter we'll share upcoming events, new things to do, hot dining spots and great travel ideas.
Of the fatalities at Crater Lake, some of the most interesting — and mysterious — are the ones that left skeletons behind.
The phantom flyer
In the summer of 1970, a man named Dave Panebaker got a job as a seasonal ranger at Crater Lake. Over that summer, he heard about an interesting but little known sight in the park: A dark-blue Grumman F6F Hellcat fighter that had crashed there a month or two after World War II ended.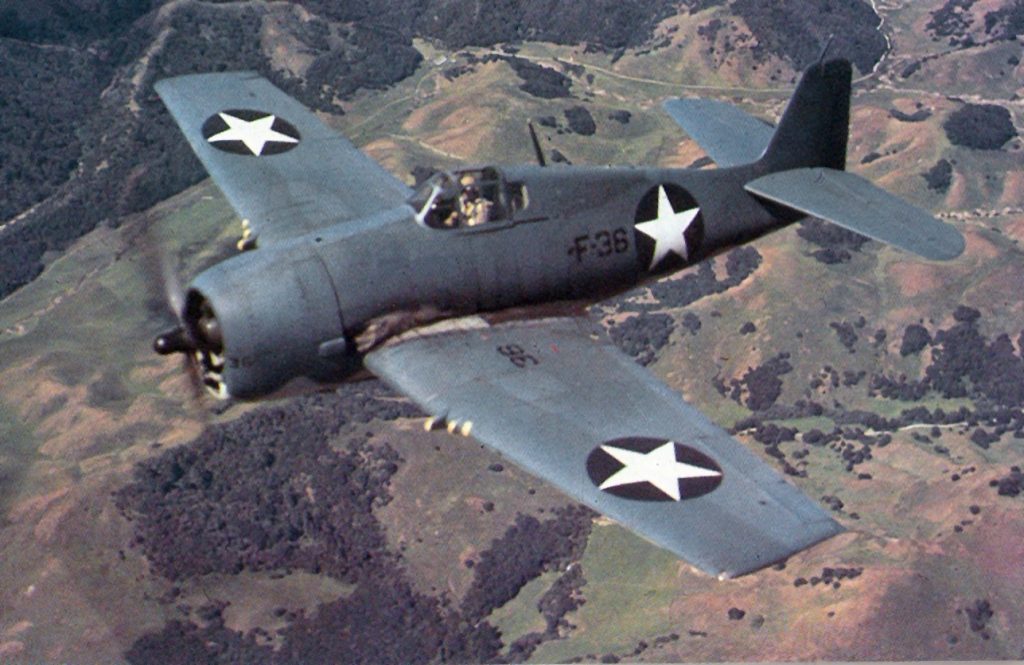 The old Navy fighter had hit hard, and everyone assumed the pilot was long dead. One of its machine guns was embedded in a cliff face, and the blue wing with its white star insignia was clearly visible through the underbrush. It was a relatively short and very do-able hike to go see it. So Panebaker, on his day off, pulled his boots on and set out.
But Panebaker got lost while searching for the crash site. Rather than just continue hiking and hoping for the best, he sat down on a log to think through his options for what would most likely get him back to civilization.
And while he sat and thought, he suddenly got the feeling somebody was watching him.
He looked up and locked eyes — or, rather, eye sockets — with a human skull that was staring at him from under a nearby log.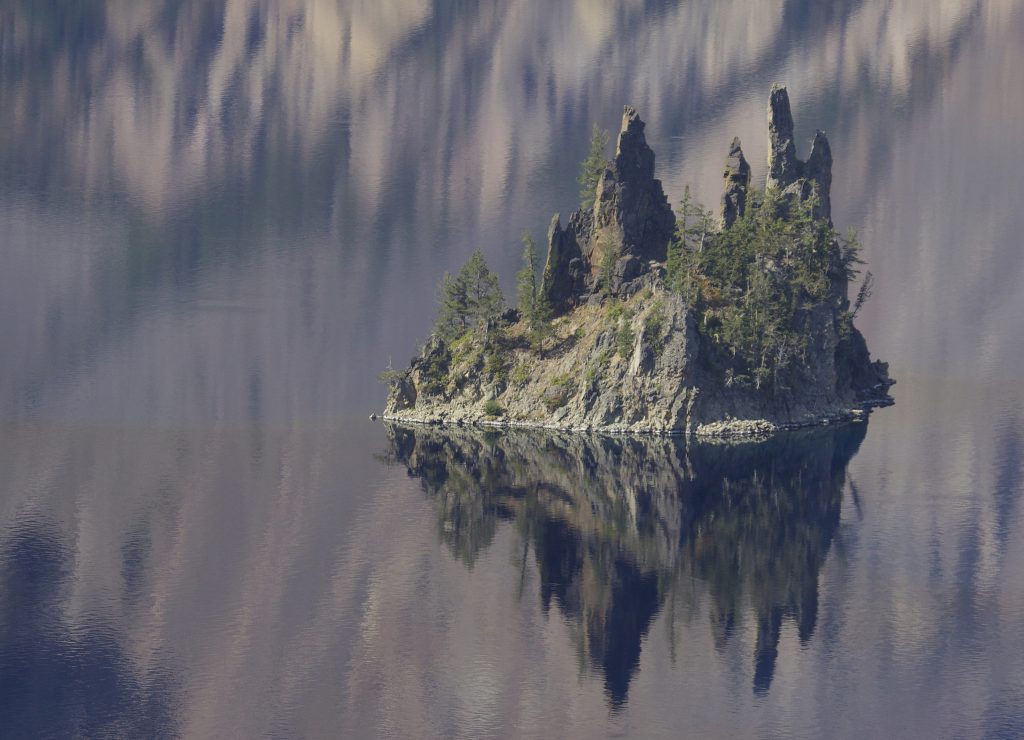 I have been unable to find any description of how Panebaker reacted in that moment, but it was probably a pretty dramatic scene. After all, it happened at a moment when the young ranger had just realized he'd gotten lost in a fairly dangerous wildland, and he was already fighting the urge to panic.
In any case, Panebaker did find his way back out of the forest a short time later, and he brought the skull with him.
"The chief ranger wasn't too happy with me when I talked to him in his office and pulled the skull out of my pack and put it on his desk," Panebaker recalled later, during an oral-history interview. "A Whidbey Island naval investigative team came to the park a few days later."
The Navy authorities identified the skull using dental records. It was 22-year-old Ensign Frank Lupo (no relation, as far as I've been able to learn, to the teleplay writer who co-created "The A Team" and "Riptide" and produced "Walker, Texas Ranger").
Lupo, a New Jersey native, had been part of a squadron of seven Hellcats flying from Redmond to Red Bluff, Calif., in December 1945. The seven of them had been struggling a bit with the weather, and the cloud ceiling was at about 6,000 feet — less than 2,000 feet above the rugged terrain they were overflying.
The ceiling steadily lowered until the planes were at 500 feet above the treetops. Then snow and mist closed in and the pilots could no longer see the ground. They were flying with instruments now.
When they emerged from the fog, there were only six of them.
The Navy returned Lupo's skull to his still-surviving mother, who finally, 25 years later, got to bury her son.
The skeleton crew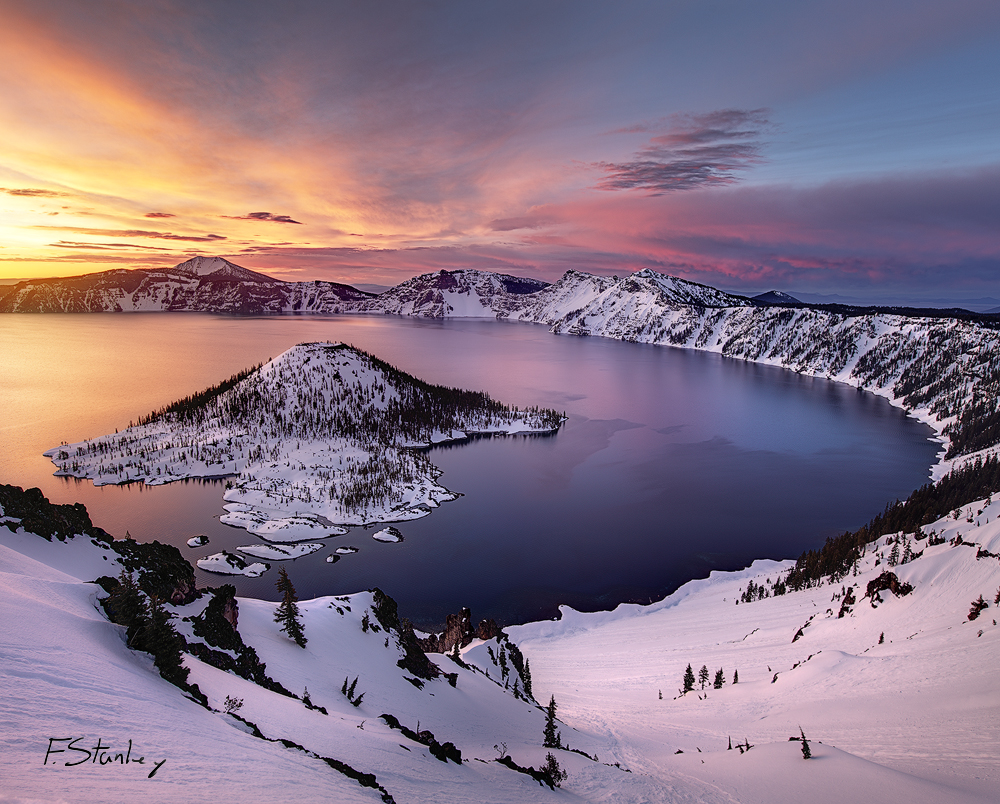 On February 26, 1975, Jean Nunn drove to the airport in Klamath Falls and dropped off her husband, Dave, along with her daughter and grandchild. Dave was flying the two back home to Salem in his blue Cessna 182. Two 17-year-old student pilots, Jim Pryor and Matt Perkins, were coming along for the ride to pick up some flight hours.
The plane landed in Salem as planned, and then Dave, Jim and Matt strapped themselves back into the Cessna for the short flight home to Klamath Falls.
Jean, feeling a little chilled, went to bed early that night.
She woke up early, too. Very early.
"I woke up at 9:30 p.m. with the sensation of a hand on my leg," she recalled in a 2007 interview with Lee Beach of the Klamath Falls Herald and News. "I looked at the clock. I knew. I called the airport and told them the plane had gone down at 9:20 p.m. and he had died at 9:30. They confirmed they had lost the plane off the radar at 9:20 at 11,000 feet."
Jean may have known, but nobody else did. Search parties hunted for the wreckage in vain. People speculated that it might have gone down in the lake.
Then, seven years later — on July 5, 1982 — a hiker just outside the park boundary, near Huckleberry Campground, spotted what looked like the badly mangled wreckage of a small airplane. Approaching, he found three skeletons slumped inside the cabin.
Jean had been right.
Investigators soon confirmed it was Dave, along with Jim Pryor and Matt Perkins, by looking in their wallets. Inside Dave's, they found a folded piece of paper on which he had written, "Lose not thine airspeed, lest the ground rise up and smite thee."
Decades later, Jean published a book about her spiritual journey through the trauma of losing her husband. It's titled "We Fly Away."
The Photographer Vanishes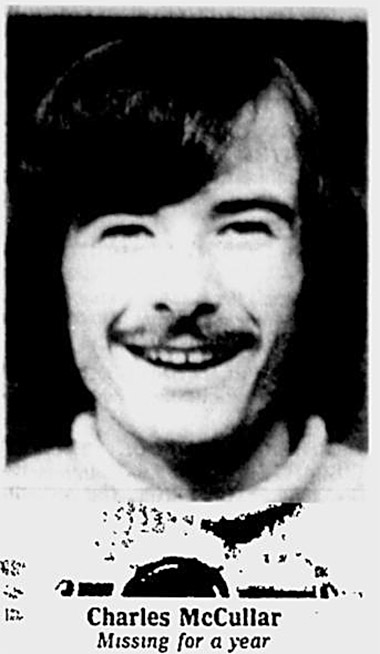 In 1974, 19-year-old Charles McCullar left his home state of Virginia for an extended vacation — a hitchhiking and bus-riding tour of the country. Leaving his beloved Volkswagen at home and taking his camera equipment, he hit the road. Charles was a dedicated photographer and he had some really good stuff — good for 1974, anyway.
Late January of '75 found McCullar in Eugene, Oregon, staying for a few weeks with a friend. Then he left on a short excursion, hitchhiking to Crater Lake to take winter photos, planning to come back to the friend's house two days later.
He never did.
The FBI got involved. Charles' father dropped everything and flew to the West Coast and spent the whole summer camped at Crater Lake, searching and searching for his son.
No trace.
No trace, that is, until a full year later, at the end of the season. Two hikers took a wrong turn and ended up in a little-traveled canyon, where they found an old dirty ripped backpack with a car key in the side pocket — the key to McCullar's Volkswagen back home.
Park rangers got a horse patrol out right away, and after just a few hours they found what was left of Charles. And here's where the story gets a little weird, and more than a little sinister.
Charles's body was found a full 12 miles from the trailhead, and on the day he disappeared, there were seven and a half feet of new snow on the ground. If you've ever broken trail in skis or snowshoes, you know what's wrong with that picture. How did this kid cover 12 miles in 102 inches of fresh powder? It's simply not humanly possible. That much powder would be impossible for even a snowmobile to get through.
The second weird thing was the condition of the skeleton. There were foot bones in the socks, but Charles's jeans were empty except for the broken-off ends of his shin-bones sticking up. The jeans were unbuttoned. And the rest of him was gone, as if melted away. They found the crown of his skull about 12 feet away; nothing more.
They never found a shirt. They never found his coat. They never found his boots, either. Just an empty pair of pants sitting on a log, with socks and foot-bones inside.
Now granted, people do weird things when they're hypothermic. Like decide they're too hot, and strip. Or maybe even pull off their boots and slog around in the snow in their socks.
Also, the fact that only his feet were there isn't too surprising. Food is rare in the high Cascades in wintertime. Charles probably got a whole family of foxes through the winter.
But the two really unusual things here are the location, and the missing clothes and boots.
Oh, and one more thing:  Charles was there to take photographs, right? He had some pretty sweet equipment for 1974. None of it was ever found. No money was found, either.
If only those broken-off shinbones could've talked to us … what do you think they'd say?
I bet they'd say something like this:
"I hitched a ride with this creepy guy who stole my camera equipment and money and shot me in the head. Then on a clear day in the dead of winter he hauled my body into the remotest part of Crater Lake, took my shirt and boots off and set me up on a log and left, figuring the animals would destroy the evidence by spring. And hey, I guess it worked, because the cops ruled my death to be from natural causes. My dad doesn't buy it, though."
Yeah, OK, so that's one theory. But really — nobody will ever know. Except, maybe — if I'm right — maybe one person knows.
(Sources: Farabee, Charles. Death, Daring and Disaster: Search and Rescue in the National Parks. New York: Taylor, 2005; Klamath Falls Herald and News, 12 Apr 2007; Eugene Register-Guard, 18 Jan 1976; craterlakeinstitute.org)
This article was used with permission and was originally published at Off Beat Oregon, written by Finn J.D. John.