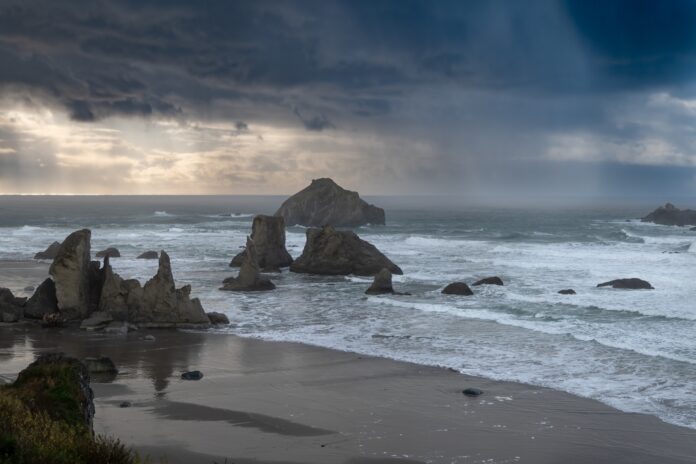 As reported by Fox Weather, the Pacific Northwest, specifically the Oregon coastline, is currently on alert as an atypical storm system approaches this weekend. Despite the serene weather enjoyed by most of the country, Oregon faces the potential for severe conditions, including an uncommon threat of waterspouts and even the possibility of tornado activity, which is unusual for this region during the fall season.
An active weather front is swiftly approaching from the Pacific, targeting Oregon's coastal areas by late Sunday. This system is expected to usher in widespread rainfall and intermittent thunderstorms by Sunday afternoon, accompanied by blustery conditions with wind speeds anticipated to reach 30-40 mph.
Moreover, the present atmospheric setup is conducive to generating rotating weather patterns, thereby increasing the likelihood of waterspouts or even a minor tornado touching down along the Oregon shoreline or potentially extending towards the Portland and Vancouver, Washington vicinities as Sunday progresses into the night, as suggested by the National Weather Service (NWS) in Portland.
Forecasters with NWS Portland have noted that the conditions late Sunday into the night could not discount the formation of a waterspout or a diminutive tornado, due to an increasingly conducive wind profile for such rotational activity.
The NOAA's Storm Prediction Center has designated this region with a Level 1 categorization on their 5-tiered severe weather risk assessment scale, indicating a marginal chance for a rare isolated tornado to occur.
In the coastal areas of the Pacific Northwest, encountering a Level 1 severe weather threat is an infrequent occurrence, primarily because the cool maritime air typically acts as a deterrent for severe weather patterns.
As the storm risk extends into Monday, the chances for minor tornadoes or waterspouts are projected to rise marginally, with conditions becoming even more advantageous for the genesis of more potent storms and weak rotational movements.
Forecasters from NWS Portland have addressed the public, stating that while the possibility of tornadoes might instill unease, it's important to remember that more than 99% of the populace will not witness or be affected by a tornado, even in the event one materializes. Nevertheless, they advise the community to stay informed about NWS warnings and to secure any items that could be displaced by strong winds.
Tornado occurrences in Oregon are rare and usually weak, classified as EF-0 or EF-1, with the state never experiencing a fatal tornado. However, history notes that in April 1972, a more severe EF-3 tornado did strike, claiming lives just across the Columbia River in Vancouver.
In anticipation of the storm's center arriving on Monday, Wind Advisories have been put in place for the greater Portland and Vancouver areas, forecasting gusts that could potentially exceed 45 mph.