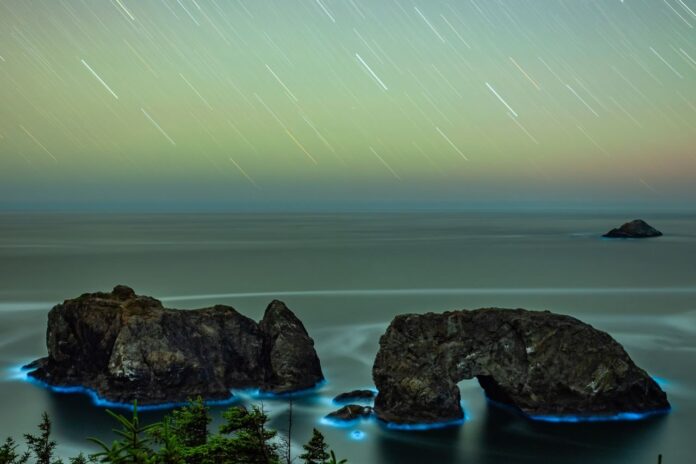 Have you ever witnessed nature's very own light show? Portland-based prodigy, Jay Shah, has astoundingly captured this spectacle, illuminating the darkness around Arch Rock, situated along the serene stretches of Oregon's southern coastline, just a breath away from Brookings.
The phenomenon of bioluminescence is a dazzling display that graces various corners of our globe. This luminous wonder stems from a captivating chemical concoction within living organisms. Think radiant algae, glimmering bacteria, luminescent jellyfish, shimmering fish, and even the familiar glow of fireflies and certain fungi!
Sign up for monthly emails full of local travel inspiration and fun trip ideas. In each newsletter we'll share upcoming events, new things to do, hot dining spots and great travel ideas.
Brookings, situated on Oregon's picturesque southern coastline, is a haven of natural beauty and small-town charm. As of the latest statistics, the town boasts a growing population of approximately 6,837. What makes Brookings so enchanting is its ideal blend of coastal allure and inland wonders.
The town is flanked by the Pacific Ocean's rugged coastline on one side and dense, fragrant forests on the other, making it a prime spot for both beachgoers and nature enthusiasts. The Chetco River, known for its crystal-clear waters, winds its way through the town, offering ample opportunities for fishing and boating. Additionally, the mild climate, with warmer temperatures than much of the Oregon coast, further enhances its popularity among both residents and visitors. Whether you're looking to explore tide pools, hike scenic trails, or simply enjoy the sunset over the horizon, Brookings beckons with open arms.
RELATED: Your Guide To Brookings Oregon – Fun Things To Do, Where To Eat, And More
What do Bioluminescent Waves Signify? The Smithsonian mentions that certain organisms responsible for red tides, like surface-floating plankton, exhibit bioluminescence when agitated, for instance, by waves. This radiant glow results from minuscule phytoplankton releasing light as a protective response.
In Jay's breathtaking captures, the cerulean luminescence paints the water's canvas, a result of dinoflagellates – a unique algae variety – reacting to disturbances in their watery home.
Dive into the specifics of these spellbinding shots:
Image Details:
Date: July 14, 2023
Time: Approximately 11:30 p.m.
Camera & Specifications: Nikon D850 with a Rokinon 24mm F1.4 lens. Exposure time of 15 minutes, ISO at 400, and an aperture of f/2.
Next Image Details:
Date: July 15, 2023
Time: Roughly 10:45 p.m.
Camera & Specifications: Nikon D850 paired with a Rokinon 24mm F1.4 lens. Exposed for 8.5 minutes, ISO settings at 500, and an aperture of f/2.
Special Note: As Jay was capturing this ethereal moment, a dense fog elegantly draped over, adding an enigmatic aura to the shot.
Each image is a testament to Jay Shah's unparalleled prowess behind the lens. Feel the pull to see more of his masterpieces? Dive into his visual diary on Instagram at @shutterbug_shah.
Prepare to be enchanted.