One of our most favorite places to eat, in my hometown of Springfield, Oregon, has helped a homeless man get off the streets. Addi Farnsworth, who owns Addi's Diner, raised over $1,500 in three months to buy the man, Bob Ady an RV.
"Finally came to the spot where I needed help, and this is a beautiful experience," Ady tells KEZI, a local news broadcast in Lane County.
Bob Ady was homeless for many years, and back in 2009 he would visit Addi's Diner daily as Farmsworth would him a hot meal. Sadly, around a year ago, Mr. Ady got a nasty spider bite and was hospitalized. Following his release, he had no place to sleep. At the time, Farnsworth helped him out by putting up a tent and cover in the corner of their parking lot.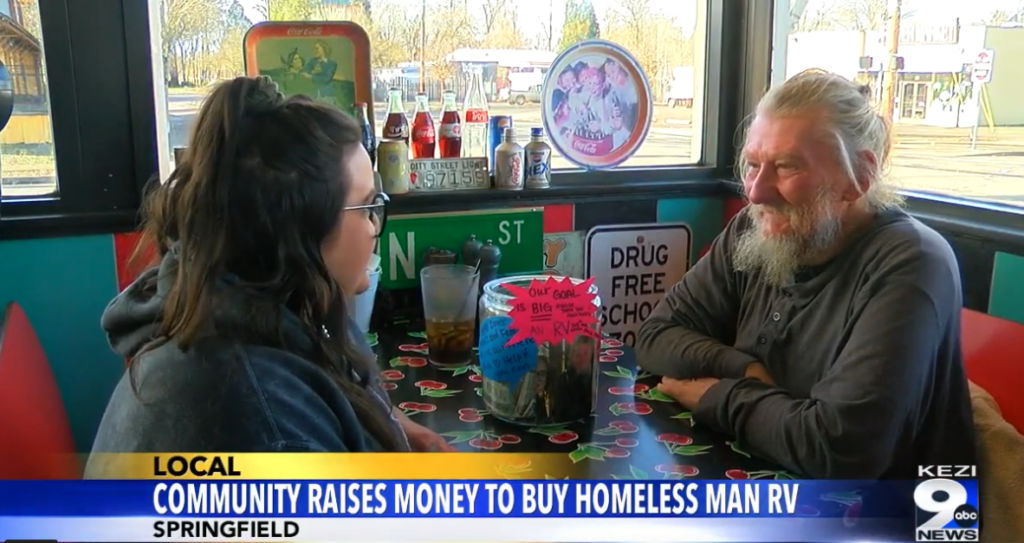 Eventually, Farnsworth put out a jar in an effort to help raise enough money to buy Ady his own RV, so he would no longer need to sleep in a tent.
"We put a jar out, and customers would put a couple of dollars in here and there," Farnsworth told KEZI.
It didn't take too long, only about three months in fact for them to reach their goal. They were able to get a great deal on an RV, thanks to a family that helped out, who no longer needed it and were moving out of town.
Personally, knowing this kind woman, after featuring Addi's Diner at That Oregon Life in 2017, I am not the least bit surprised she would do something like this. As she mentioned in the original article, we can hope this story will be an inspiration to help others and to spread love and kindness to everyone.
If you plan on checking out her fine diner, expect at least a 20 minute wait as this place is hugely popular - especially for breakfast. And their delicious 16 pinch pancakes are well worth the wait!