At Oregon's only resort hotel built right on the beach, The Inn At Spanish Head offers exceptional oceanfront lodging and penthouse dining. Each of the 120 oceanfront rooms has a balcony, and many have a full kitchen. The miles of sand beach and tide pools are just a short elevator ride away.

The Inn At Spanish Head Has Earned Its Reputation
There's a reason this place is so well known in Oregon. It's simply an exquisite place to stay  when visiting the Oregon Coast. In addition to the oceanfront restaurant and bar, outdoor heated pool, recreation room, sauna, and enclosed ocean view spa, the Inn offers year-round amenities for anyone looking for an excuse to leave town and relax for awhile.
Whether you plan to explore the wonders of the central Oregon coast, plan a romantic getaway, assemble a family reunion or simply want to relax and rejuvenate, the Inn is the perfect lodging choice.
Located off Highway 101 on the Oregon Coast in Lincoln City, you will love the Spanish-style building with it's beautiful red tile roof. Built in 1969 on a cliff overlooking the Pacific Ocean, its 10-story tower is quite impressive – providing panoramic views of the ocean and the awe-inspiring coastline.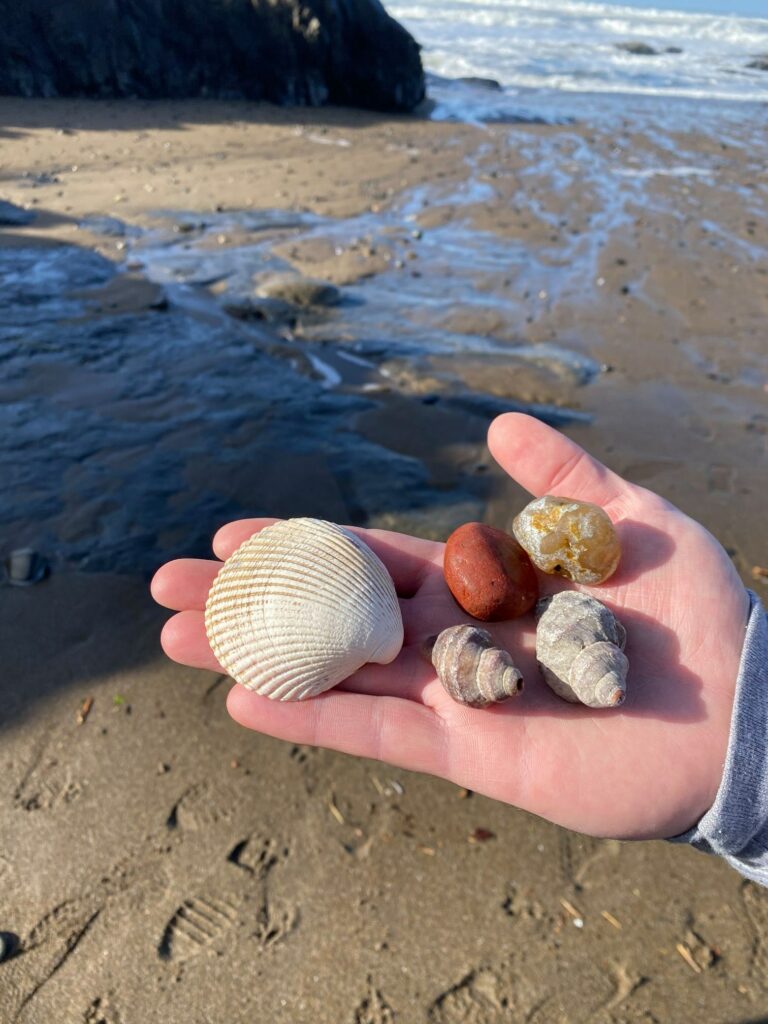 The rooms are decorated in a modern and coastal style, and many of them feature balconies with ocean views. In addition to the beautiful rooms, the Inn at Spanish Head offers a range of amenities for guests to enjoy. All rooms also include a mini-fridge and microwave for convenience.
There are indoor and outdoor swimming pools, a sauna, and a hot tub. Guests can also take advantage of the hotel's fitness center, and there are several nearby golf courses for those who enjoy playing a round.
Exquisite Food At The Inn At Spanish Head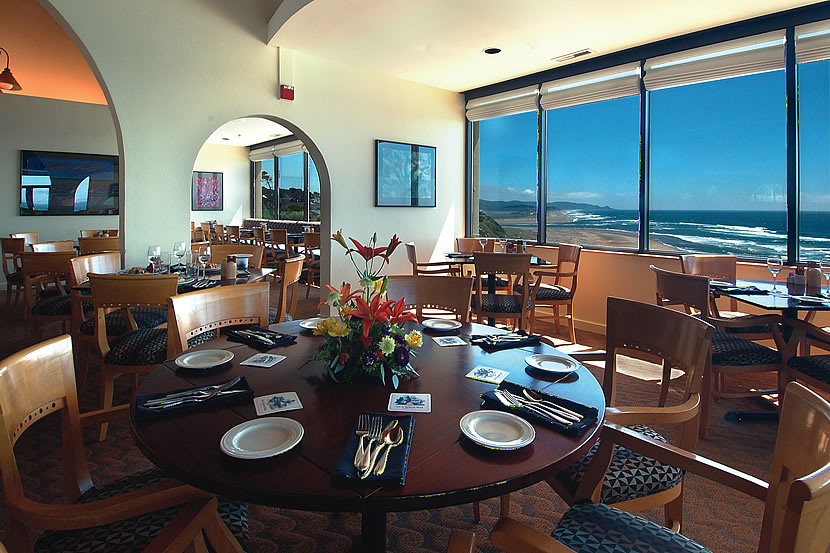 The hotel also offers a variety of dining options. The Seaglass Restaurant is located on the 10th floor and offers stunning views of the ocean. The menu features a mix of Pacific Northwest cuisine and seafood dishes. The hotel also has a lounge and a coffee shop, providing guests with a variety of dining options.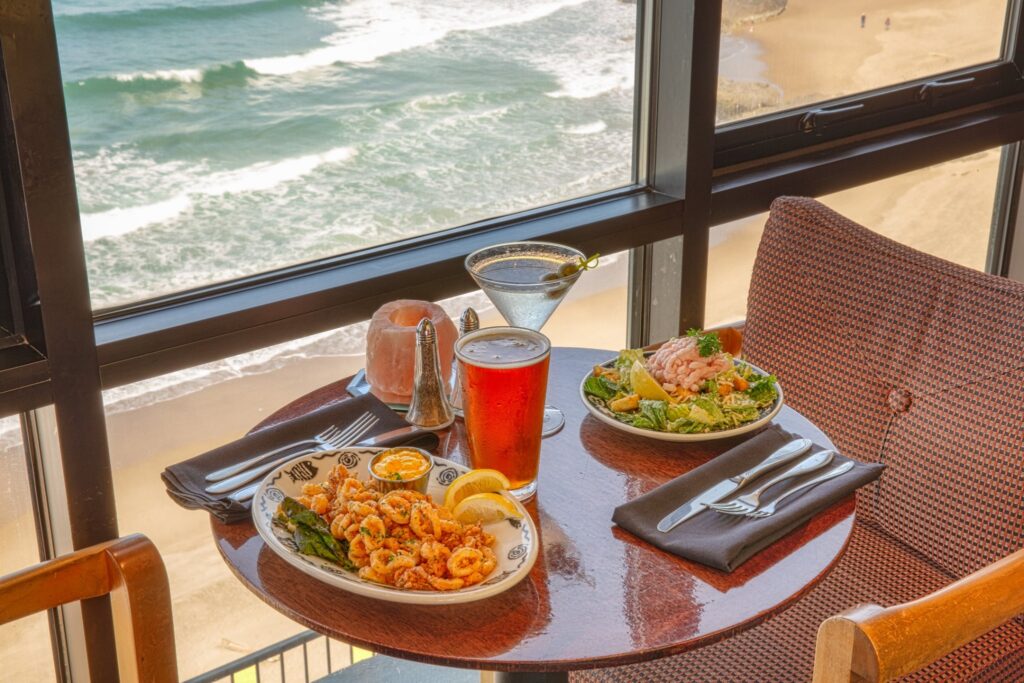 In conclusion, the Inn at Spanish Head is a perfect choice for those who want to experience the beauty of the Oregon coastline.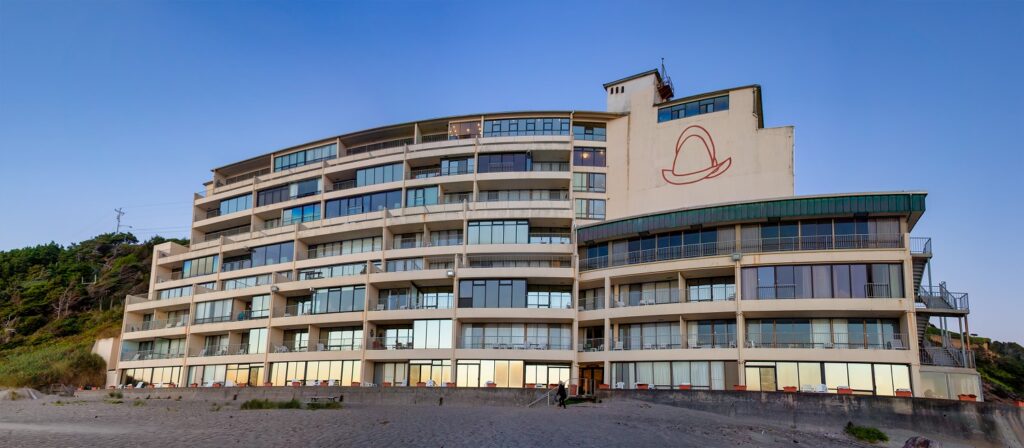 With its stunning ocean views, spacious rooms, and a range of amenities, it provides guests with a comfortable and memorable stay.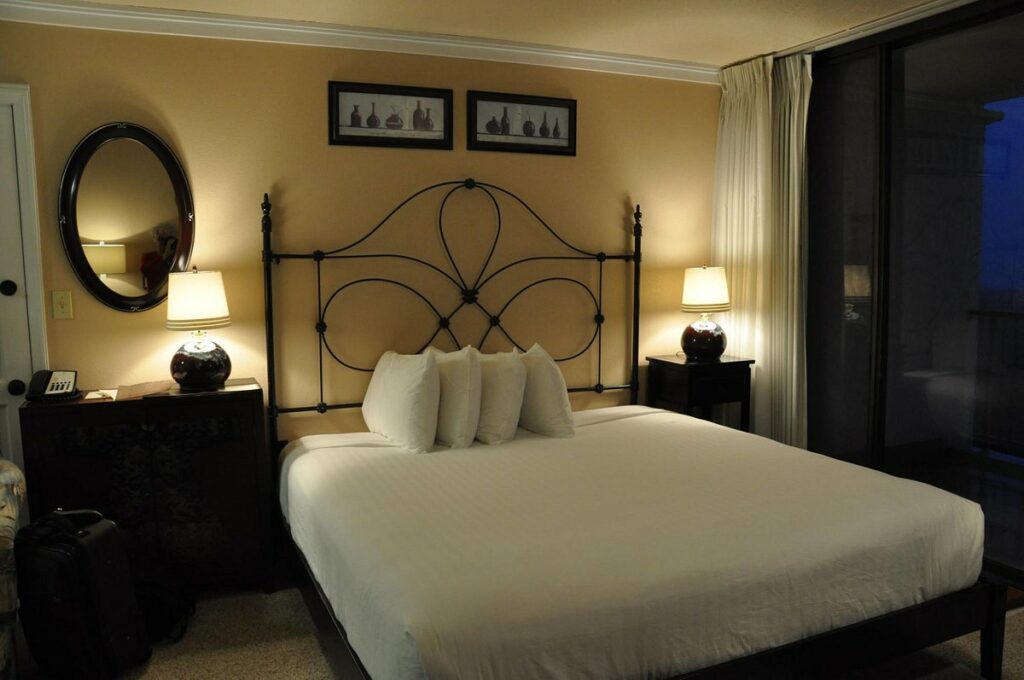 Whether you are looking for a romantic getaway or a family vacation, the Inn at Spanish Head is the ideal place to stay in Lincoln City, Oregon.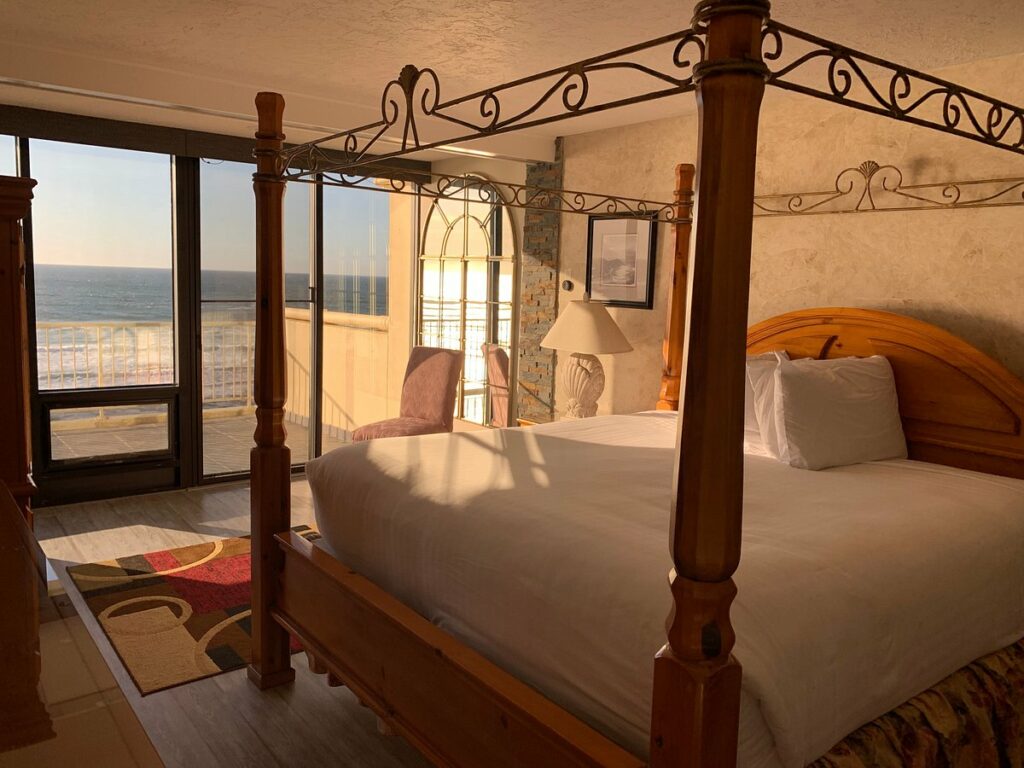 You will love the classic decor in their rooms.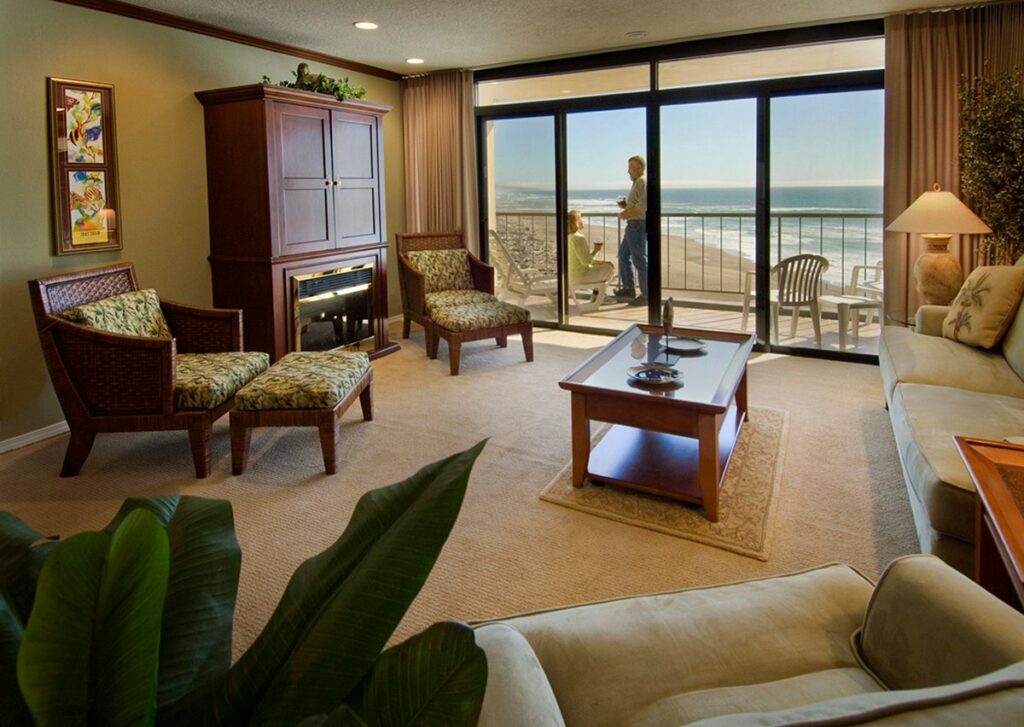 Lincoln City, Oregon
Lincoln City is a popular tourist destination, and the hotel is located just minutes away from the city's shopping and dining options. There are also several nearby beaches and parks, including the Lincoln City Beach and the D River State Recreation Site.
Lincoln City is a beautiful coastal city located on the central coast of Oregon. It is well known for its seven miles of sandy beaches and stunning ocean views. The city is a popular destination for tourists and locals alike, offering a variety of recreational activities such as fishing, hiking, kayaking, and kite flying. The city is also home to several parks, including Devil's Lake State Park, which provides visitors with a beautiful view of the lake and nearby mountains.
In addition to its stunning natural scenery, Lincoln City is also rich in culture and history. The city is home to a variety of historic sites, including the historic Taft District, which was once the hub of the town's commercial and social life. The Taft District is now a popular tourist destination and is home to a variety of shops, restaurants, and galleries. The city is also home to the Lincoln City Cultural Center, which offers visitors a chance to learn about the history and culture of the city through exhibits and events.
Lincoln City is also a great place for food lovers, with a variety of restaurants serving up local cuisine and delicious seafood. Visitors can enjoy a variety of dining options, from casual beachside cafes to fine dining restaurants with stunning ocean views. The city is also home to a thriving farmers' market, where visitors can sample locally grown produce, artisanal cheeses, and handmade goods. Overall, Lincoln City is a vibrant and thriving coastal community that offers something for everyone, from outdoor enthusiasts to history buffs and food lovers.
If you are headed to Lincoln City, be sure to check out our Lincoln City Travel Guide. Our comprehensive guide is full of all the best places to eat, activities, and more.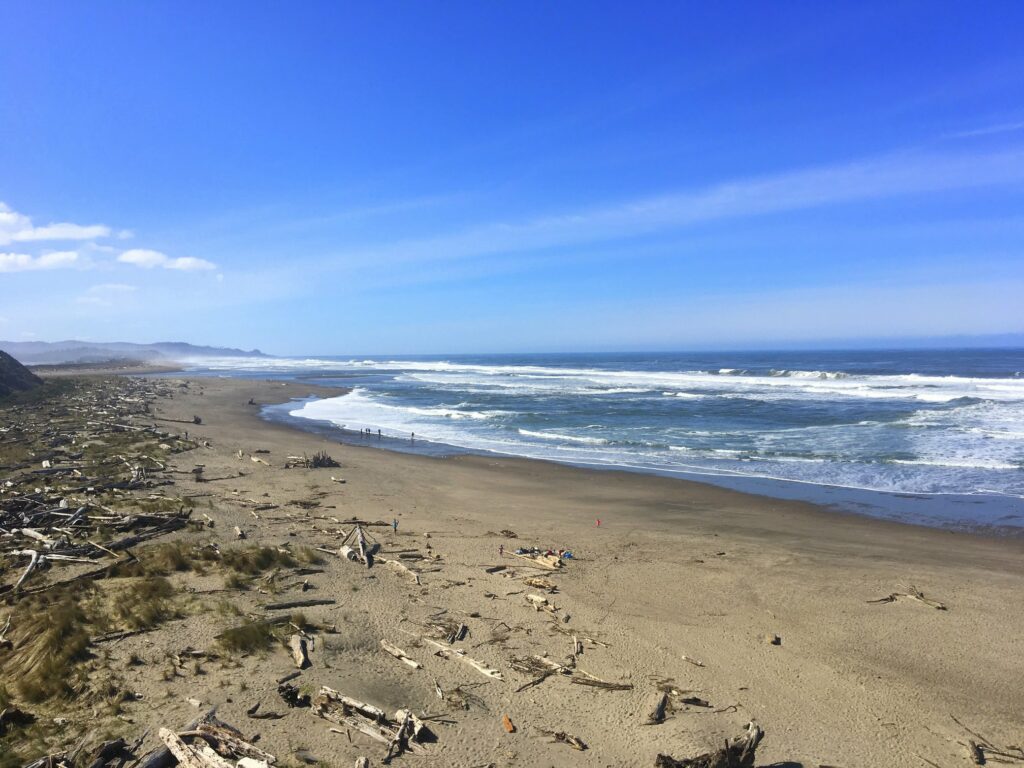 Some Of The Amenities At The Inn At Spanish Head
Amenities are in all rooms unless noted otherwise.
Air Conditioning (some)
Balcony/Terrace (some)
Coffee maker
Daily Maid Service
Fireplace (working) (some)
Iron/Ironing Board
Rooms for Non-smokers
Telephone
Voicemail (some)
Refrigerator
Cable/Satellite Television
Television
DVD/VCR (some)
Internet Access (Wireless)
Address: 4009 SW Hwy 101, Lincoln City, OR 97367, USA
Contact them at 541-996-2161 for all reservation or hotel information inquires. Check out their website here for more information on specials and reservations.