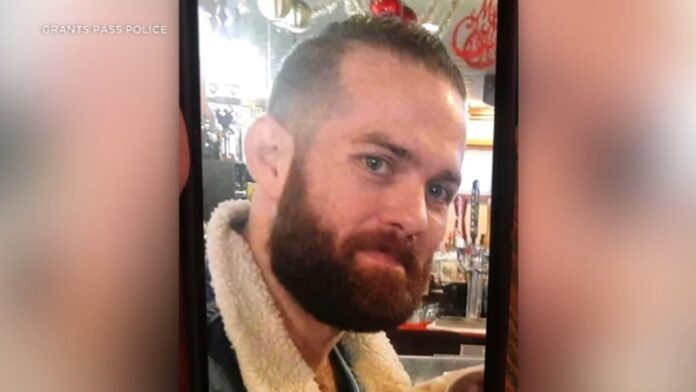 Police say a man accused of torturing a woman in Oregon and convicted in Nevada of holding another captive is using dating apps to find new victims and avoid the police. The 36-year-old, Benjamin Obadiah Foster, has been the target of an intensive, round-the-clock police search after a woman was found unconscious, bound and near death on Tuesday in Grants Pass, Oregon.
A Grants Pass police, sheriff's deputies, Oregon State Police SWAT team and federal agents raided a property in Wolf Creek, about 20 miles (32 kilometers) north of Grants Pass, Thursday night. They seized Foster's car and arrested a 68-year-old woman for hindering prosecution.
Sign up for monthly emails full of local travel inspiration and fun trip ideas. In each newsletter we'll share upcoming events, new things to do, hot dining spots and great travel ideas.
A thickly forested and mountainous area, just off Interstate 5, allowed Foster to escape. Authorities did not provide any other details.
Court documents indicate that Tina Marie Jones followed Foster in a car as he drove to a remote location in Wolf Creek and intentionally drove his 2008 Nissan Sentra over an embankment. It was Jones who took Foster to the house where he had been hiding while police searched for him Thursday night when it was raided.
According to Grants Pass police, Foster "has been actively using online dating applications to contact unsuspecting individuals who might assist the suspect's escape."
Grants Pass police offered a $2,500 reward on Friday for information leading to the arrest and prosecution of Foster, who is charged with attempted murder, kidnapping, and assault.
The Associated Press contacted Foster's public defender in the Las Vegas case but did not receive a response.
It is "extremely troubling" that Foster was out and exploiting other women instead of still being behind bars for the Nevada crimes, according to Grants Pass Police Chief Warren Hensman.
Foster held his ex-girlfriend captive for two weeks inside her Las Vegas apartment in 2019 before moving to Oregon. After being charged with five felonies, including assault and battery, he could face a long prison sentence if convicted. However, in August 2021, Foster reached a deal with Clark County prosecutors that allowed him to plead guilty to one felony battery charge and one misdemeanor battery charge constituting domestic violence.
In addition to the 729 days Foster spent in jail awaiting trial, the judge sentenced him to up to 2 1/2 years in a Nevada prison. Foster only has about 200 days left to serve in state custody.
A police report indicates that Foster's girlfriend suffered seven fractured ribs, two black eyes, and other injuries during her two-week captivity.
In addition, the woman told police she was choked to unconsciousness and forced to eat lye.
During a grocery store and gas station trip, Foster let her out of his sight and she was able to escape.
A court record indicates Foster was out of jail at the time on a suspended jail sentence for carrying a concealed weapon without a permit, as well as awaiting trial in another 2018 domestic violence case. In 2021, Foster agreed to a plea deal with prosecutors, and his time served was credited to him.
A police officer in Grants Pass, a town of 40,000 in southwest Oregon, says Foster is armed and "extremely dangerous."
In order to locate this man, we are using every piece of technology available," said Hensman, the police chief.
As for how Nevada authorities handled Foster's crimes, Hensman said he did not have time to reflect on it.