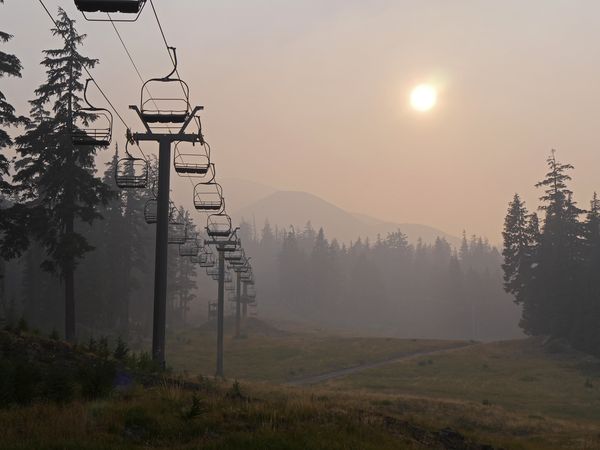 The Lane County Sherrif's Office has lowered evacuation levels Monday, lifting the entire Oakridge area from Level 3 (Go Now) to Level 2 (Set). North of Waldo Lake Wilderness and Eastern Lane County, as well as western Deschutes County at this time, remain at Level 3. As of 7:30 am Monday, the Cedar Creek Fire remains at 0% containment.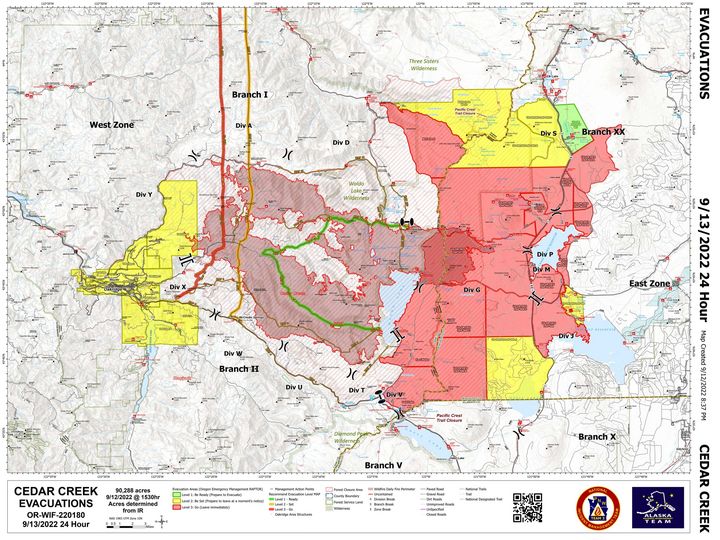 The air quality, due to the smoke, remains unhealthy and is expected to continue for several more days. Smoke is still prompting an Air Quality Advisory for Klamath and Lake Counties until 12 pm on Wednesday.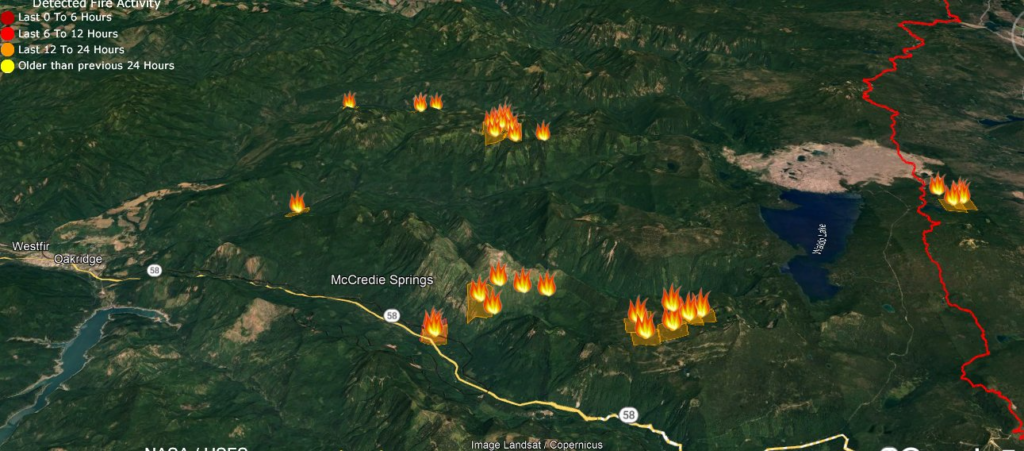 Per Facebook update:
Update 07:30am due to infrared flight data overnight. The fire is now 92,548 acres and 0% contained. While fire growth was limited with the moderation in weather as compared to the weekend, heavy smoke production and transport continues impacting much of the fire area.

Resources assigned include:

68 Engines

21 Handcrews

14 Dozers

20 Masticators

9 Helicopters

3 Scoopers – water dropping airplanes

2 Air Attack Airplanes
When it's extremely hot & dry, sometimes we see extreme fire behavior like this w/severe fire growth & convection columns like the situation seen in these photos of the #CedarCreekFire yesterday. These conditions make predicting fire behavior harder so we use extra precautions. pic.twitter.com/rwy9AK6y02

— Forest Service NW (@ForestServiceNW) September 12, 2022
Rural residents have had no choice but to flee their homes over the weekend, just before local officials slightly curbed evacuation orders Sunday night for just one of dozens of wildfires burning across the West. Nearly 1,500 Oregonians were ordered to evacuate, with nearly 6,500 on notice to be "set" to evacuate their homes.
For anyone in the area in need of food, FOOD For Lane County (FFLC) is hosting a Mobile Pantry distribution in Oakridge this Wednesday, September 14. from 10:00 am to 12:00 pm in the Oakridge High School parking lot located at 47997 W. 1st Street.
Evacuations: Sign-up for emergency mobile alerts by going to oralert.gov Please check with Lane County Sheriff's Office at 541-682-4150 and Deschutes County Sheriff's Office at 541-693-6911 for updates and changes. Go to https://bit.ly/3D51kvC to view a map.
Restrictions: Fire restrictions are in place on the Willamette National Forest and Deschutes National Forest.

Smoke: Smoke Forecast Outlooks are available at https://outlooks.wildlandfiresmoke.net/outlook.