Ten Portlanders filed a class action lawsuit against the city September 6, alleging that the homeless encampments blocking the sidewalk violate the Americans with Disabilities Act. If successful, the lawsuit could force the city's hand in providing a much-needed, albeit temporary solution to Portland's exploding homeless population. It would be a welcome relief. Residents have been struggling to cope with the crisis, and there doesn't seem to be any end in sight.
Fighting Portland's Homelessness Crisis
The lawsuit in question was filed by five attorneys, the most notable of whom was John A. DiLorenzo Jr., a successful lobbyist that won the largest jury verdict rendered against the state of Oregon in 2019--a comfort for many, to be sure. He's made a name for himself, and now he's taking on an issue that is plaguing the state's largest city, making it difficult for citizens to go about their lives. We may need someone like him to make this work.
The level of devastation is nothing short of appalling. What little effort has been made to stop the problem has been fraught with corruption, theft, and blatant resistance from both the public and city officials.
The lawsuit's premise is pretty straightforward. According to the Americans with Disabilities Act, sidewalks are a "service, program, or activity," which must remain accessible. Imagine trying to maneuver a walker or a scooter to the grocery store, only to find that your path is blocked by tents filled with the homeless. It's a scary proposition, which could keep people with disabilities from performing basic daily tasks.
The lawsuit addresses this issue by using one of the plaintiffs, 54-year-old Tiana Tozer, a former humanitarian aid worker, and 2-time Paralympic medalist as an example. It states that "[Ms. Tozer] frequently finds herself having to alter her routes to maneuver around tent encampments in the Lloyd District and in Downtown Portland." It goes on to say that "at times, Ms. Tozer has had to maneuver in the street because the sidewalks are completely blocked by tent encampments."
Many of the plaintiffs have mobility issues that make it impossible for them to simply alter their route. Certain chairs, walkers, and other devices can barely go over bumps in the sidewalk, much less curbs. Others have visual impairments that require them to use a cane--unthinkable when you consider the drug use and crime that tend to surround encampments.
It's important to remember that driving is out of the question for many individuals with disabilities, and rideshare services are far too expensive. So they're forced to brave the streets.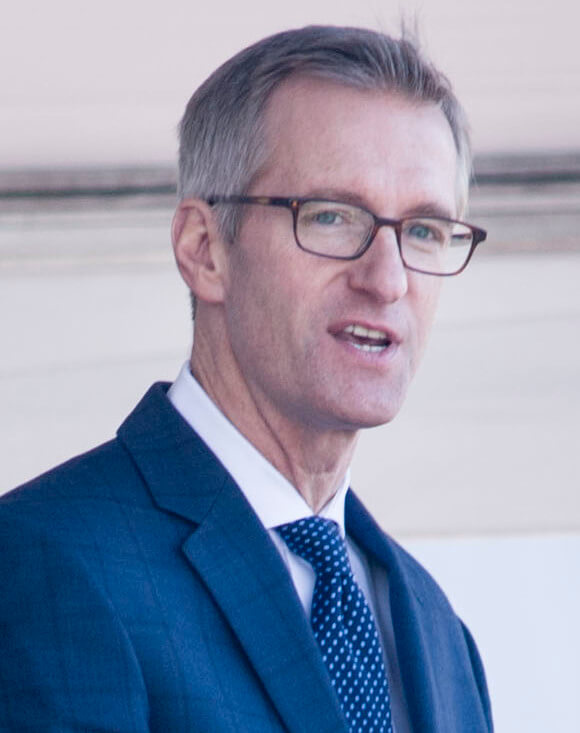 A Half-hearted Effort to a Dire Problem
Systemic issues and housing prices have long made it difficult for even commonplace residents to find housing in the city. Many who can find housing are forced into subpar conditions where they pay exorbitant prices. Homelessness in Portland has been at critical levels for nearly a decade.
Mayor Ted Wheeler (shown above) has been under pressure to clear the streets and restore order. So he's been making a show of sending police to raid encampments, telling everyone that he plans to address the problem.
The suit acknowledges that many of the encampments listed are already gone, but there aren't enough shelter beds. When one encampment comes down, another comes up. It's a game of musical chairs.
They're placating one neighborhood and ruining another, then doing it all over again. Wheeler has promised to ban encampments on certain important streets, but those aren't necessarily the streets the blind use to find their bus stops or the ones that people in wheelchairs and scooters have to take to get to the store. And part of this is about removing eyesores and keeping property values up, not clearing room for foot traffic. The focus isn't on the needs of the people.
The city currently has $161 million available to pay for housing, largely due to efforts to solve this crisis. It should be enough considering that there's only about 3,000 individuals sleeping on the streets according to a January survey.
Efforts have been made. Portland has been investing in tiny villages, essentially groups of small dwellings. There's a hotel with 40 beds and talk about expanding shelters. Like Wheeler's musical chairs game on the sidewalks, it's all well-publicized. But it's just talk, because the numbers don't add up. It's not enough beds.
An Imperfect Solution
The lawsuit recognizes that the homeless aren't going to go anywhere. But it still requires the city to sweep the encampments. Thanks to a 2017 court ruling, cities cannot criminalize homelessness if there are no viable alternatives to sleeping outside. What that means is that if this suit succeeds, Portland will actually have to build enough beds to shelter them.
If they do, the homeless may face a new set of problems. Shelters pose their own risk. There's worries about sanitation, privacy, and safety. Many in the homeless community deem shelters unsafe, and they're right to do so. Infestations and robberies are regular occurrences, along with discrimination and abuse from staff. The homeless are a vulnerable, demonized population. So they can't speak up for themselves and demand better treatment. They're more likely to avoid encampment sweeps and find other ways of living than let the authorities force them into a shelter.
This has happened before, and it's not the only concern. If the city is forced to build enough beds, those beds won't be permanent. The homeless will be moving from one situation to the next every day.
Encampments will still crop up, and we have to accept that more people are going to flow onto the streets until the housing crisis is addressed properly. This is a bandaid, but it will help to improve conditions in Portland. There are many areas with much larger homeless populations, and they're not clogged up because they have enough open beds to accommodate those who need them.
Let's hope for the best. With a Paralympian and a successful lobbyist on the team, this lawsuit might work. It does sound like the law will be on their side.