Portland Cider Co. just opened its third location, dubbed the Westside Pub Taproom, in Beaverton's West End District off of TV Highway. The Clackamas-based cidermaker has been expanding rapidly over the years, quickly becoming a staple in the Portland scene. Now cider lovers in the suburbs can enjoy their tantalizing take on the classic drink.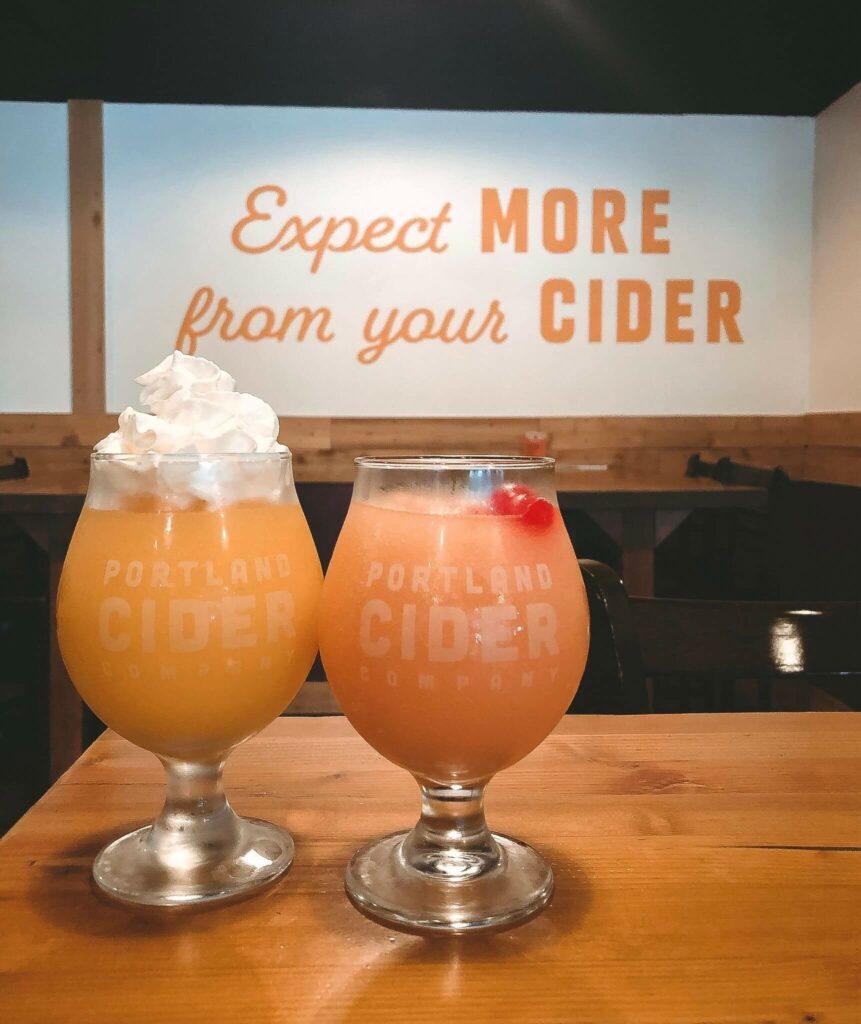 Portland Cider Co., An Innovative Model
In 2006, Lynda Parrish used match.com to find someone who loved cider. Only one name popped up: Jeff Parrish.
To her, the choice was easy. They both had a passion for the same thing.
When they first got together, Jeff was brewing cider in his closet, and he claims he wasn't doing a very good job. But he kept trying until he was able to turn his hobby into a small business.
In 2013, the couple decided to lease a small space in Oregon City. That's how Portland Cider Co. began.
Today, they are the second-highest seller in the state, just behind 2 Towns Ciderhouse in Corvallis. They brew 300,000 gallons of cider a year, and they've won numerous awards, including Willamette Week's Best Cidery in Portland from 2016-2018.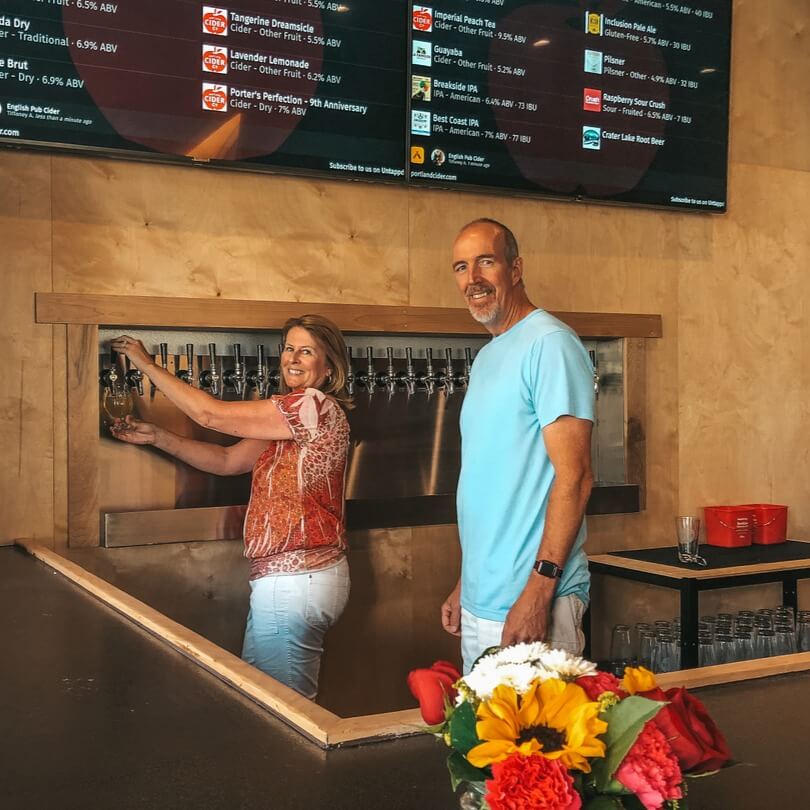 Portland Cider Co. Taprooms
Each Portland Cider Co. taproom is said to be styled after a European beer hall with a modern spin. There's small wooden tables, pull-out chairs, exposed spiral air ducts, and open ceilings.
They claim to serve basic bar food, but it's anything but basic. Their Clackamas location has shepherd's pie, bangers and mash, cider fondue, and brie and apple sandwiches.
Every taproom is different. The Beaverton location does serve bar fare, but even their chicken strips are made with gluten-free breading, and their burgers come on ciabatta buns. You won't find canned nacho cheese and tater-tots fried in black oil.
These aren't dives. People don't come to get drunk and laid. It's nicer than that. When you walk in, you'll be greeted by a server and shown to a table. They'll hand you menus and take down any dietary concerns you might have. It's a far cry from a bartender you can't flag down.
They also let customers bring their own food. If you come with a burger in hand or a slice of pizza, you won't get a tap on the shoulder. They want their customers to enjoy the experience and accent their drinks with whatever makes them happy.
The prices are reasonable. At the time of writing this, a can of cider is just $6, and the food is just as cheap.
Better Flavor, Higher Quality
The co-owners of Portland Cider Co. take their inspiration from the city the company was named after. Like Portland, they want to be creative and different, maybe even a little eccentric. That's why they experiment and try new things, and why their menu is so well-rounded and diverse.
Of course, they're not the only cidermaker with a long list of flavors, like Prickly Punch and Tangerine Dreamsicle. In a region where cider is as popular as a mug of beer, that type of thing is to be expected. What really stands out is the quality of their product.
The company only uses apples grown in the Pacific Northwest. They don't believe in using dyes, preservatives, or other strange chemicals. Their cider is pure and crisp, old-fashioned even. When you take a sip, you won't get a mouthful of that rotten vodka and cough syrup taste so many of us have grown accustomed to. It's just cider.

Community Cider
The company's take on charity is just as creative as the rest of its brand. For 7 years, Portland Cider Co. has held what they are calling the Fruit Forward Apple & Fruit Drive, encouraging participants to drop off their unwanted backyard fruit at one of their donation stations.
The fruit is pressed onsite and sold as PDX Community Cider. 10% of the funds that they raise will go to Hunger-Free Schools, a charity that advocates for free lunch programs throughout the state. They'll also be donating $2 from every six-pack sale this October.
In 2021, Portland Cider Co. raised $13,500, and they expect to beat that figure in 2022. What's most interesting about Fruit Forward is the fact that it cuts down on their overhead. Both the company and the charity profit from their efforts. It's a win-win.
If you'd like to take part in the drive, bring your backyard pears and apples to the Clackamas Taproom every Saturday this September from 9 AM - 3 PM. If you stick around, they will press the fruit right in front of you, and you can even take part in the fun. For more information, check out their website.