A new wildfire, dubbed the Cedar Creek Fire, is sparking alarm in the Willamette National Forest this week. As of Wednesday, August 3, it had grown to over 500 acres and it is spreading fast.
Cedar Creek Fire
According to the U.S. Forest Service, the Cedar Creek fire was caused by a lightning strike. It's located roughly one mile west of the Black Creek Trailhead on Forest Road 2421, 6 miles north of Highway 58, and about 3.5 miles west of Waldo Lake. It's less than 18 miles from Oakridge, concerning residents in the small town.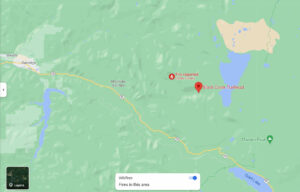 Emergency closures are being enforced. That includes the entire west side of Waldo Lake, all of the trails in that area, and the trail to Spirit Lake. The Forest Service is asking the public to avoid trails off of Forest Roads 2421 and 2424.
Smoke is pouring over the Cascades from the fire burning off Highway 58 east of Oakridge in the @willametteNF. Being called the #CedarCreekFire and was started by lightning.

Now blanketing the @DeschutesCounty fairgrounds and we're seeing areas of reduced air quality. pic.twitter.com/8DYJ55h6qY

— Emily Kirk (@EmilyKirk_) August 4, 2022
No evacuation orders have been sent out yet, but according to a Facebook post written by Oakridge Fire & EMS, authorities do plan on evacuating Waldorf Lake.
The US National Weather Service in Portland posted a satellite picture of the Cedar Creek Fire, showing that the plumes were so large they could be seen from orbit. In fact, the smoke seems to have made it all the way to Bend in the northeast.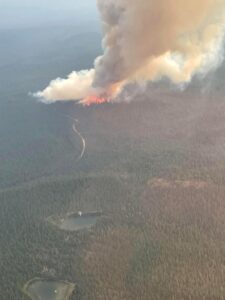 Authorities have faced a series of incidents and obstacles during their effort to put out the blaze.
The Cedar Creek fire was originally reported on Monday, August 1, after a series of lightning storms. At the time, authorities were struggling to respond to roughly 20-30 other reports.
On Tuesday, August 2, a group of helicopter rappelers were sent in to help put out the fire, but they declined to make a landing, claiming that the terrain was too hazardous for them to gain access to it.
The fire appears to be located on a steep mountain ridge, making it difficult to reach. While considering their options, authorities sent two firefighters down Forest Road 2421 to find an access point.
All they were able to do was confirm that there was a fire, which was reported to be about 5 acres at the time, but they weren't able to find a way to reach it by ground. Instead, a helicopter was sent out to do water drops.
Another helicopter was dispatched to the fire on Wednesday, but it was grounded due to mechanical issues. Authorities tried to send out a smaller, Type 2 helicopter in its place, but it was ineffective. They've since requested a replacement helicopter as well as a Type 1 incident management team.
Incident Commander Mike Minton will be taking charge of the effort to put out the blaze. He is expected to say a few words Thursday night. No word yet on what his plans will be.
Crews still have yet to find a way to safely access the fire. There are no escape routes available, and they haven't found any of the natural barriers they would need to put it out when they reach it. That means that as of yet, there is no way to fight it. This is after the fire grew from 100 to 500 acres in a single day.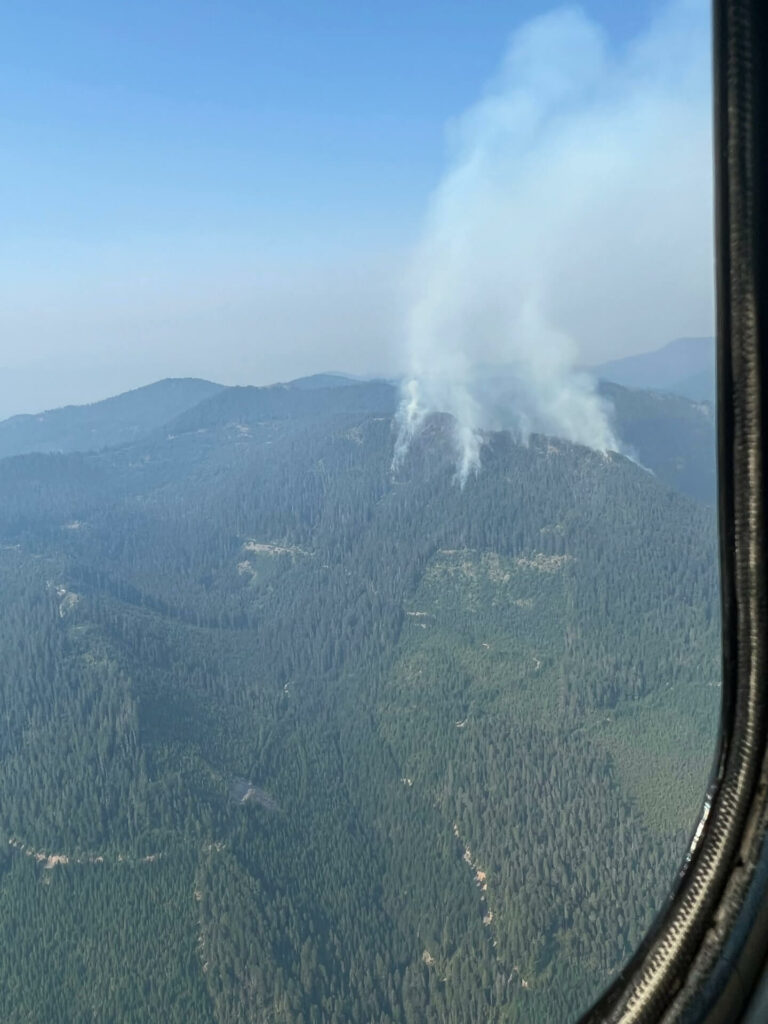 Facebook / U.S. Forest Service – Willamette National ForestCedar Creek is just one of several wildfires in the Willamette National Forest. On Wednesday, the Forest Service reported two new fires, potentially caused by the same lightning storms. They're still investigating to see if there are more fires they might have missed.
This is all in addition to the Potter Fire (pictured above), which has already burned 400 acres. Since July 31, they've had four teams of 20 fighting the blaze, located just 8 miles northeast of Clearwater.
New Start: The Cedar Creek Fire is near Oakridge Oregon. This IA Fire in the Willamette NF is already 500 acres in timber. Resources are on scene and responding. This is an evolving incident. 🙏to the individual who sent this 🎥 in. #oregon #or #portland #cedarcreekfire #wildfire pic.twitter.com/X1Y8DJAZin

— TheHotshotWakeUp: Podcast (@HotshotWake) August 3, 2022
Fortunately, the Potter Fire is no longer growing, and it appears to have burnt mostly fallen trees and dead logs, a huge sigh of relief for many. But there are other fires raging throughout the state.
Governor Kate Brown just invoked the Emergency Conflagration Act in response to the Miller Road Fire in Wasco County, which has destroyed more than 10,000 acres of land in less than two days. She claimed that it posed a threat to "life, safety, and property." Evacuations are ongoing.
This is not business as usual. There's a common misconception that wildfires can't harm the forest because they're a natural part of the ecosystem. But the fires we see every year go well beyond what nature intended. They're decimating entire regions and destroying the places we love the most.
It begs the question, when will this stop? Can anything be done? In this case, the problem appears to be drought. But how do you stop a drought? At this point, there are no sufficient answers.