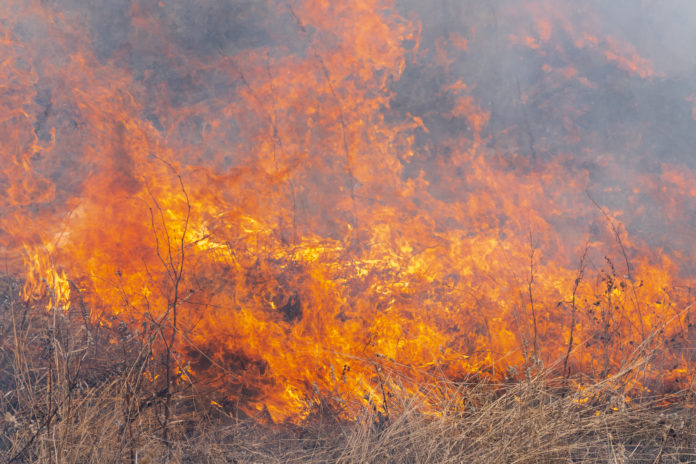 While much of Oregon is under heat advisories, Southern Oregon is under excessive heat warnings, red flag warnings, and fire watches this weekend and is preparing for thunderstorms and potential new fires. Many new wildfires have already started due to lightning strikes and dry conditions this weekend in Southern Oregon and Northern California near the border, and are now sending smoke around Southern Oregon.
Preparing For Wildfires In Southern Oregon
This weekend the Oregon State Fire Marshal pre-positioned 14 firefighters, four engines and a water tender in Klamath County due to elevated fire risk. This is in preparation for thunderstorms and dry conditions. The idea is that if a fire starts, there will already be firefighters nearby and ready to put it out.
Oregonians in Jackson County are also concerned about the McKinney Fire burning close to to the Oregon and California border. The McKinney Fire in Siskiyou County California broke out Friday July 29th, and by today, Sunday June 31st has reached 51,468 acres and is currently at zero containment.
Crazy footage of firefighters escorting residents out of the McKinney fire last night. The fire pushed hard into the evening. Today, due to visibility, tankers have been diverted to the nearby China 2 fire. 🙏to a subscriber for this footage #mcKinneyfire #cali #fire #california pic.twitter.com/SDUQzncztM

— TheHotshotWakeUp: Podcast (@HotshotWake) July 30, 2022
The northern edge of this fire is now just 7.9 miles from the Oregon border, though there are no evacuations in effect for Jackson County at this time, and the Jackson County Sheriffs office says there is no direct threat to Jackson County from the McKinney Fire at this time.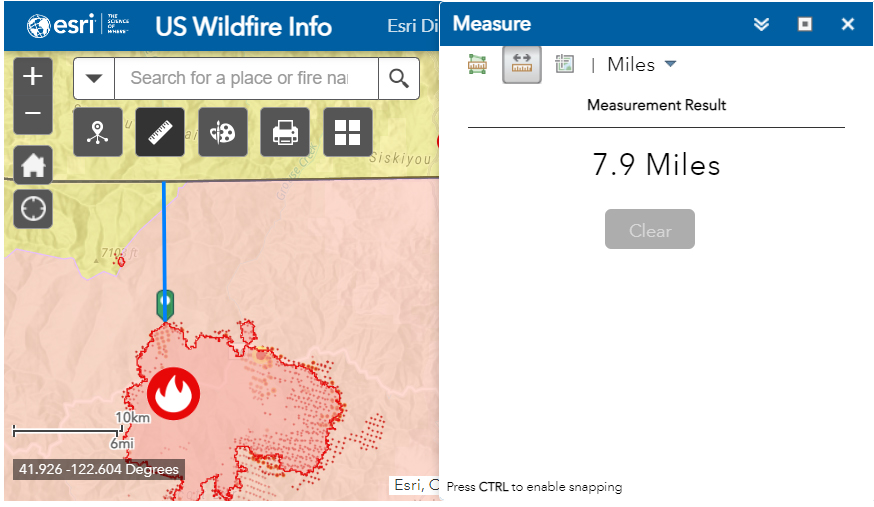 A 110 mile stretch of the famous Pacific Crest Trail has also been closed due to this fire, and at least 60 hikers have been found and evacuated from the trail.
The trail is currently closed from Mount Ashland Campground in Oregon south to Etna Summit in Northern California. Hikers in the area should evacuate to the nearest town immediately.
Excessive Heat Warnings, And Possible Dry Thunderstorms A Concern Through Monday For New Wildfires
Jackson and Klamath Counties have red flag and fire watch warnings through Monday evening. This is on top of the excessive heat warning for these two counties, where temperatures could rise up to 115 degrees in Jackson County and into the lower hundreds in Klamath County.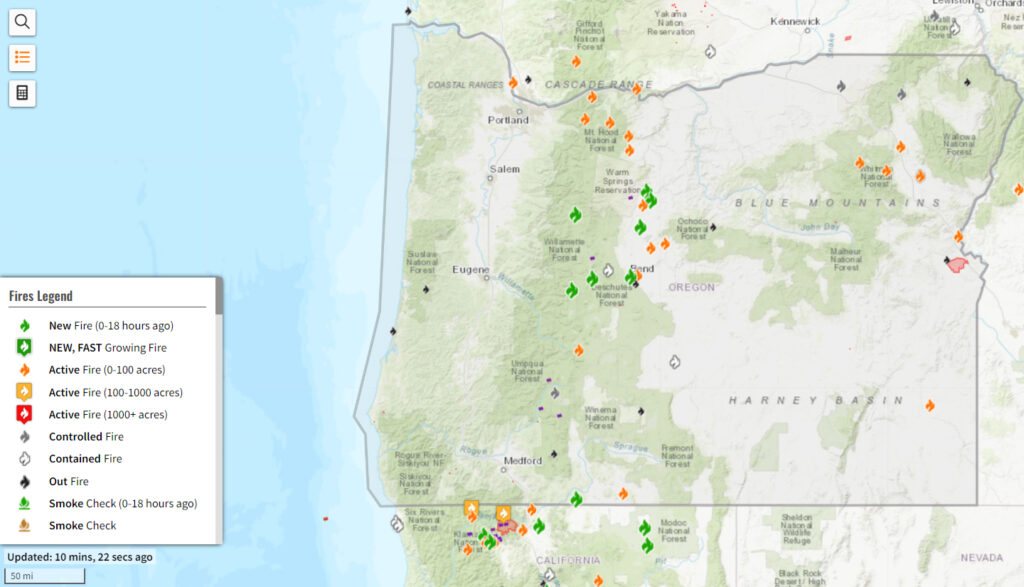 The map above shows current active wildfires in Oregon and Northern California near the Oregon California border. You can bookmark the map to stay up to date with new fires in Oregon.
Thunderstorms across Jackson and Klamath counties are expected through Monday evening. Abundant Lightning on dry fuels is expected.
Smoke And Air Quality In Southern Oregon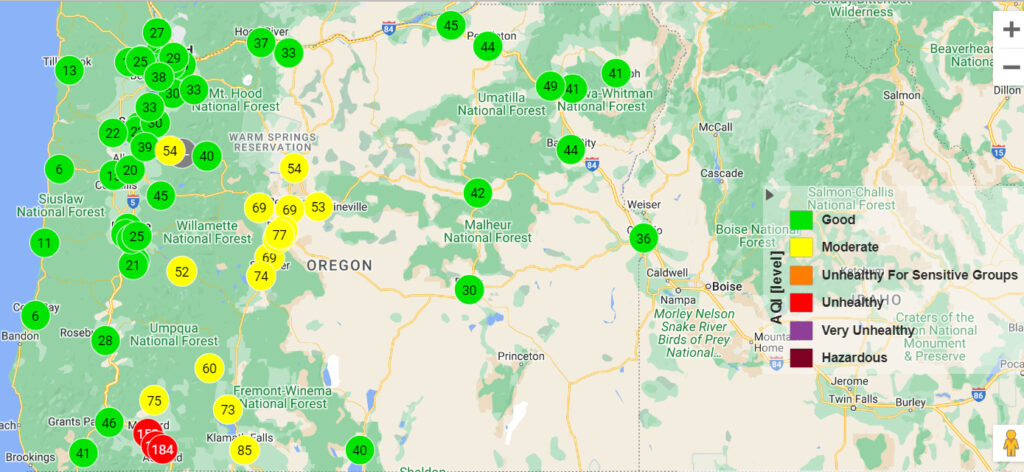 New wildfires mean smoke and dropping air quality. When smoke gets thick, the air becomes unhealthy to breath and dangerous for people with underlying health conditions like asthma. The map above shows the current air quality across Oregon as of Sunday at 9 am. The Medford and Ashland area are already experiencing unhealthy air due to smoke from fires just south of the Oregon California border. Stay up to date with the latest Oregon Air Quality here.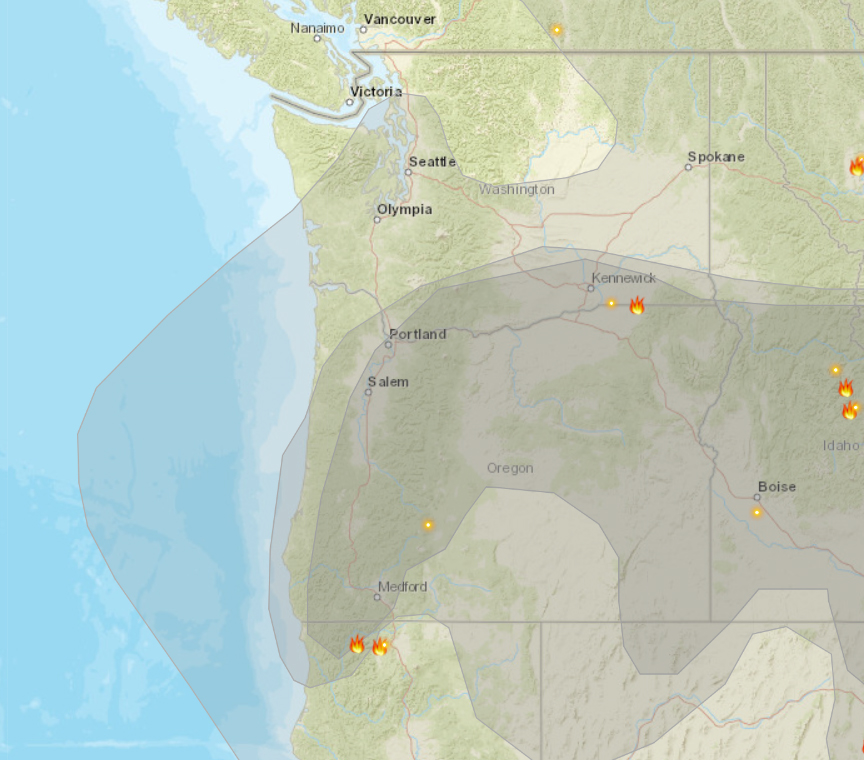 The above map shows smoke plumes as of Sunday at 9 am. You can stay up to date with the latest smoke plumes and where they're headed here.
Quick Links For Fire Season
Stay up to date with the latest Oregon news with That Oregon Life.