An absolutely awesome place popped up recently as I was looking into some fun things to do with my kids this year. While this place is not in Oregon, it's only a hop and a skip away and would make for a beautiful road trip – especially with spring right around the corner.
Some time ago I wrote about a pedal-powered rail ride in Oregon. When I say some time ago, I mean almost 5 years ago in 2016. To this day, the adventurous ride is still one of our most popular places with readers. This one is very much the same, but in a much different area – the famous Redwood Forest in California. So if you're in Oregon and up to some travelling, I'd say this one is well worth it.
View this post on Instagram
If you have never been to this jaw-dropping spot, I'd suggest seeing it at least once in your lifetime. You will find over a dozen state parks in California with "redwood" in their name, as well as a national park and more than one regional park. While we are on the subject, did you know you can find massive redwoods in Oregon? Hit the link here if you want to read more about where to find them in the Beaver state.
These massive trees known as redwoods are actually two distinct but related species. Said to be the tallest living things on Earth, Coastal redwoods (Sequoia sempervirens) grow up to 380 feet tall and 16 to 18 feet across. These magnificent trees can be found in redwood forests near coastal areas in California from the Oregon border down to Big Sur.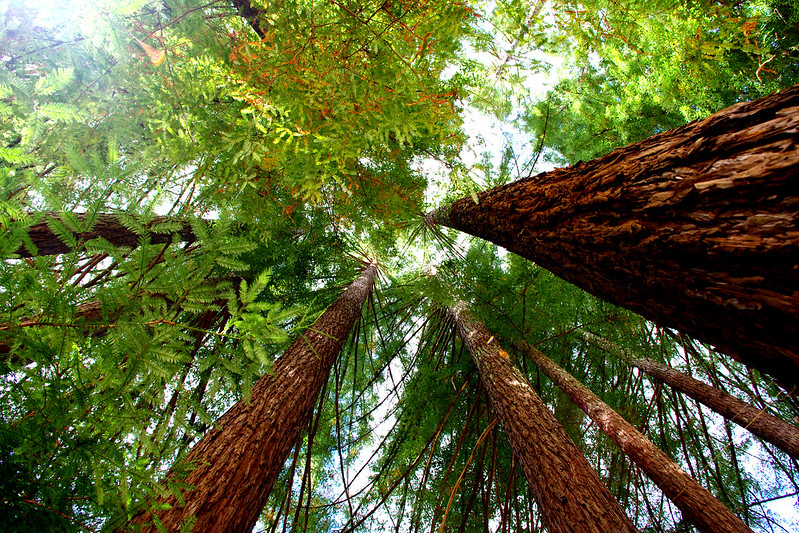 You will find Giant sequoias (Sequoiadendron giganteum) near the state's eastern border, as they grow only in California's Sierra Nevada Mountains. They are just over 300 feet tall and amazingly spread almost 30 feet across. These trees have been here for more than 3,000 years.
Fort Bragg, in northern California, is a small charming town with a population of just over 7,000 on California's Mendocino Coast. This popular tourist destination offers outstanding views of the Pacific Ocean and is home to the California Western Railroad.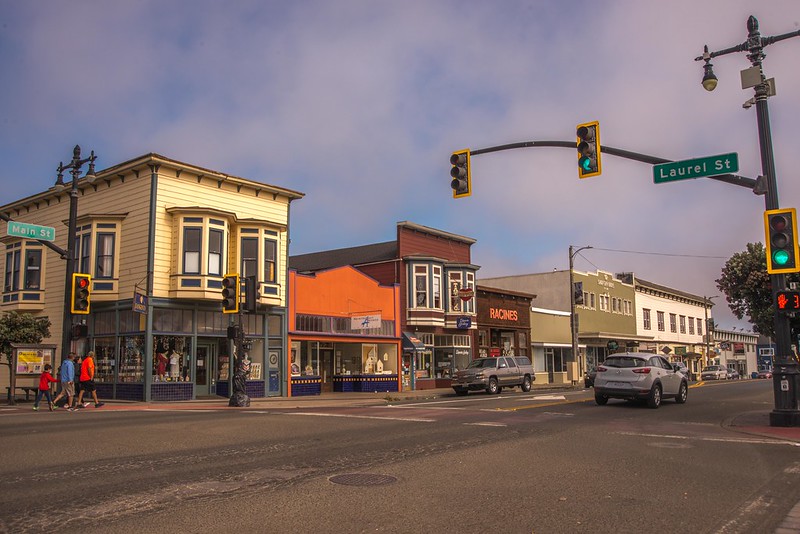 A scenic train ride follows the historic tracks through the densely forested redwood groves of Northern California, that were laid down by the railroad in 1885.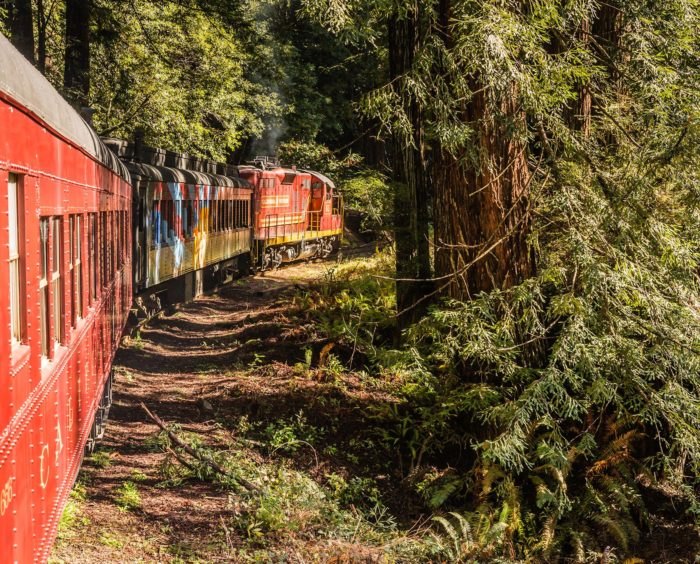 And today trains are not the only thing you can ride. The railroad, commonly referred to as Skunk Train, is currently owned and operated by Mendocino Railway. They now offer custom-built, two-person electric railbikes.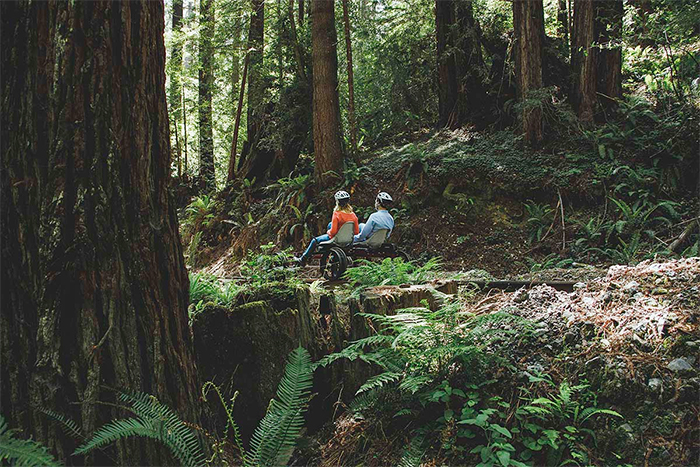 Guests will have the opportunity to ride through the world-famous Redwood Route, cruising along a scenic creek, while crossing over gorgeous wooden bridges with views of the majestic ancient redwoods.
View this post on Instagram

To make pedaling easier for riders, this unique rail bike is also powered by an electric motor.
View this post on Instagram
If you're ready to book a spot, check them out online where you can grab tickets. The ride will set you back around $250 for each two-seater bike. There is no discount if you are riding alone. A certified guide will lead you on your journey as a part of the experience, which departs from the depot at Fort Bragg.
You will head to Glen Blair Junction where you'll have a 50-minute layover to enjoy a picnic. If you're up to a hike, exploring the redwoods on foot is also an option. The iconic arched stone bridge can be seen here also. Afterward, you will head back to the coast.
View this post on Instagram
View this post on Instagram
View this post on Instagram
View this post on Instagram
Make sure and look at their calendar to see which spots are available. Keep in mind there are certain conditions that will need to be met before riding the rails! There is a maximum weight per rider at 250 pounds, and the minimum height is 31 inches from hips to floor. There is also a minimum age requirement of 6 years old. According to their website, they now even include a dog trailer that allows your four-legged friends to join you on your ride!
Once you have booked an excursion, you must arrive 30 minutes before the scheduled departure time. Casual attire is recommended and close-toed shoes are required. You are also advised to bring water to keep you hydrated during the excursion.
See the railbikes in action in this video below
Address: 100 West Laurel St, Fort Bragg, CA 95437, USA
You can also reach Skunk Train via phone at 707.964.6371.