The movie business has taken a huge hit, especially in light of the recent pandemic. In the age of streaming everything online, even movies recently released, not as many folks are going out to the movies. Incredibly, this historic indoor theater that opened June 3, 1937, is still open today and there's plenty of hot buttery popcorn for everyone to enjoy. On the marquee that opening day was the movie Personal Property, starring Jean Harlow. For those who are headed to the Oregon Coast and looking for something to do, the Bijou Theatre in Lincoln City is definitely worth checking out.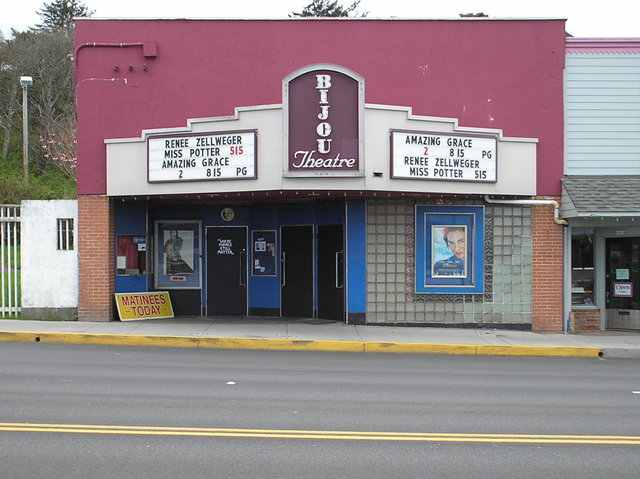 According to the North Lincoln County Historical Museum, it was originally known as the Lakeside Theater.
"The theater had 270 seats and movies were 35 cents for adults and 10 cents for kids," the museum writes. "The ownership changed several times and some of the Art Deco details were covered with a particleboard facade. In the 1980's the theater was renamed The Bijou (French for 'Jewel') and was remodeled to have more seating and transformed back to its Art Deco roots. In 1996, the current owners, Keith and Betsy Altomare bought the Bijou and have made great improvements to the theater's signage/marquee. Thanks to the hard work of the owners and theater-goers alike, The Bijou Theater is still going strong today."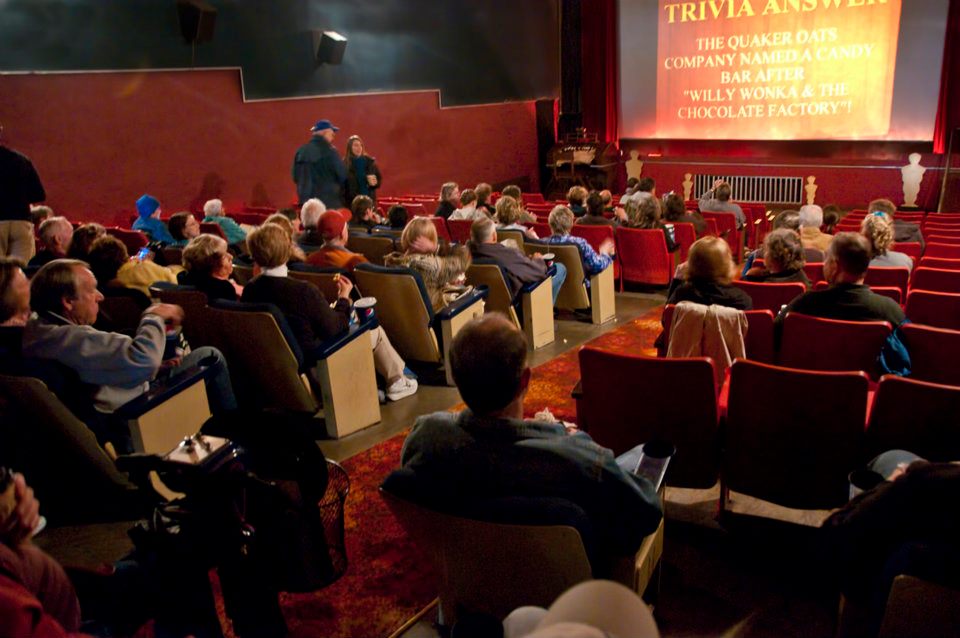 The theater, now a venue for film festivals and art films, has both 35mm and 16mm projection equipment. You will find your typical snacks in the lobby before entering the theater. Last weekend, we were able to see Wonder Woman 1984. Not only was it a great movie, we thoroughly enjoyed our visit. It's been over a year since we sat down for a movie!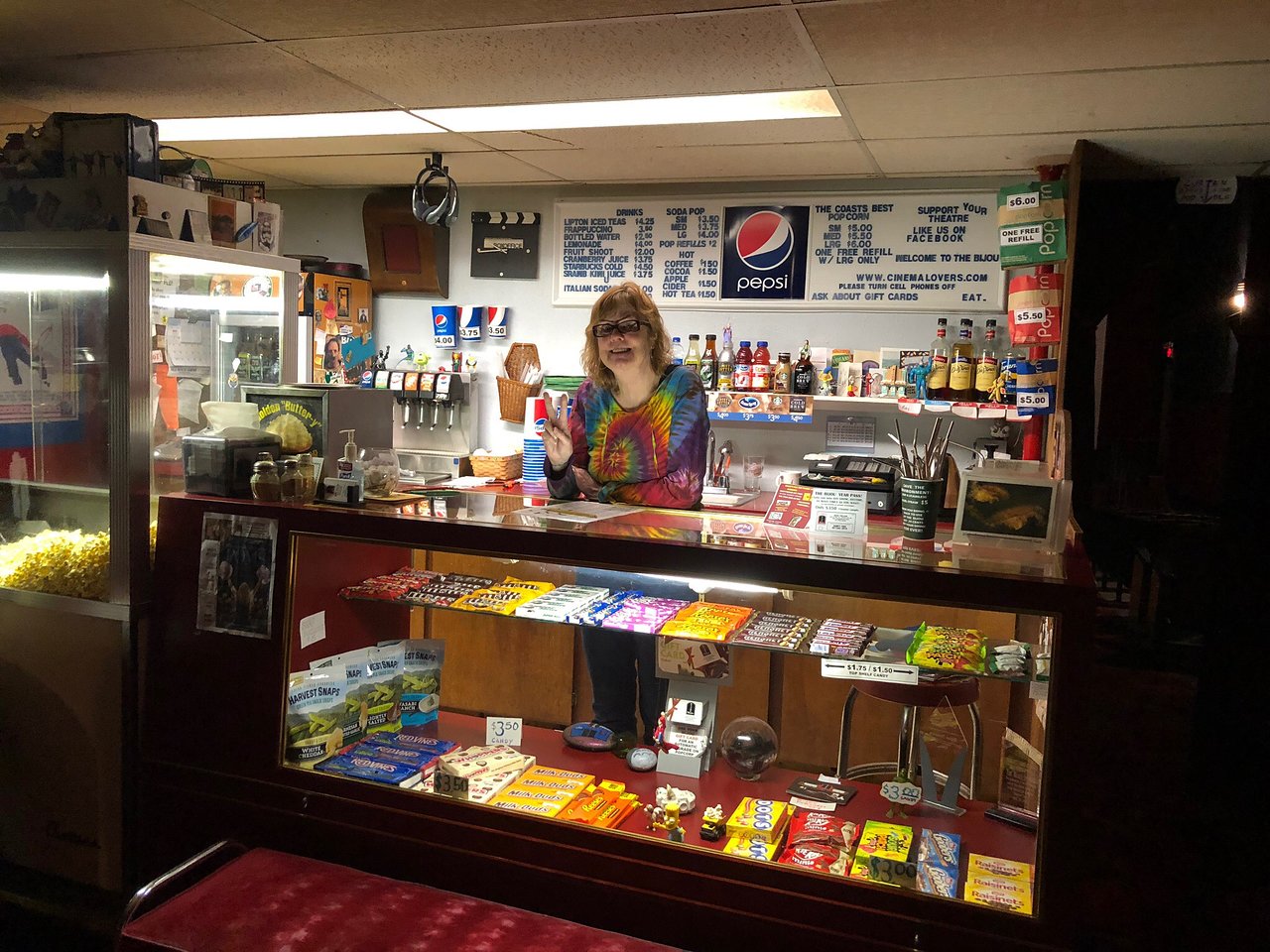 Safety first!
And with the pandemic, the theater takes being responsible while visiting very seriously. Here are some reminders to keep in mind before visiting, via their website:
BY PURCHASING A TICKET YOU (AND YOUR FAMILY) AGREE:
*TO STAND & SIT AT LEAST SIX FEET AWAY FROM ANY OTHER PATRON.
*TO ONE PERSON IN THE RESTROOM AT A TIME.
*TO FOLLOW DIRECTIONAL ARROWS AND SIGNS.
*TO STAY IN THE SEATS YOU HAVE CHOSEN.
* TO WEAR A MASK EVERYWHERE IN THE THEATRE- Except when drinking and eating.
* TO ENJOY YOURSELF.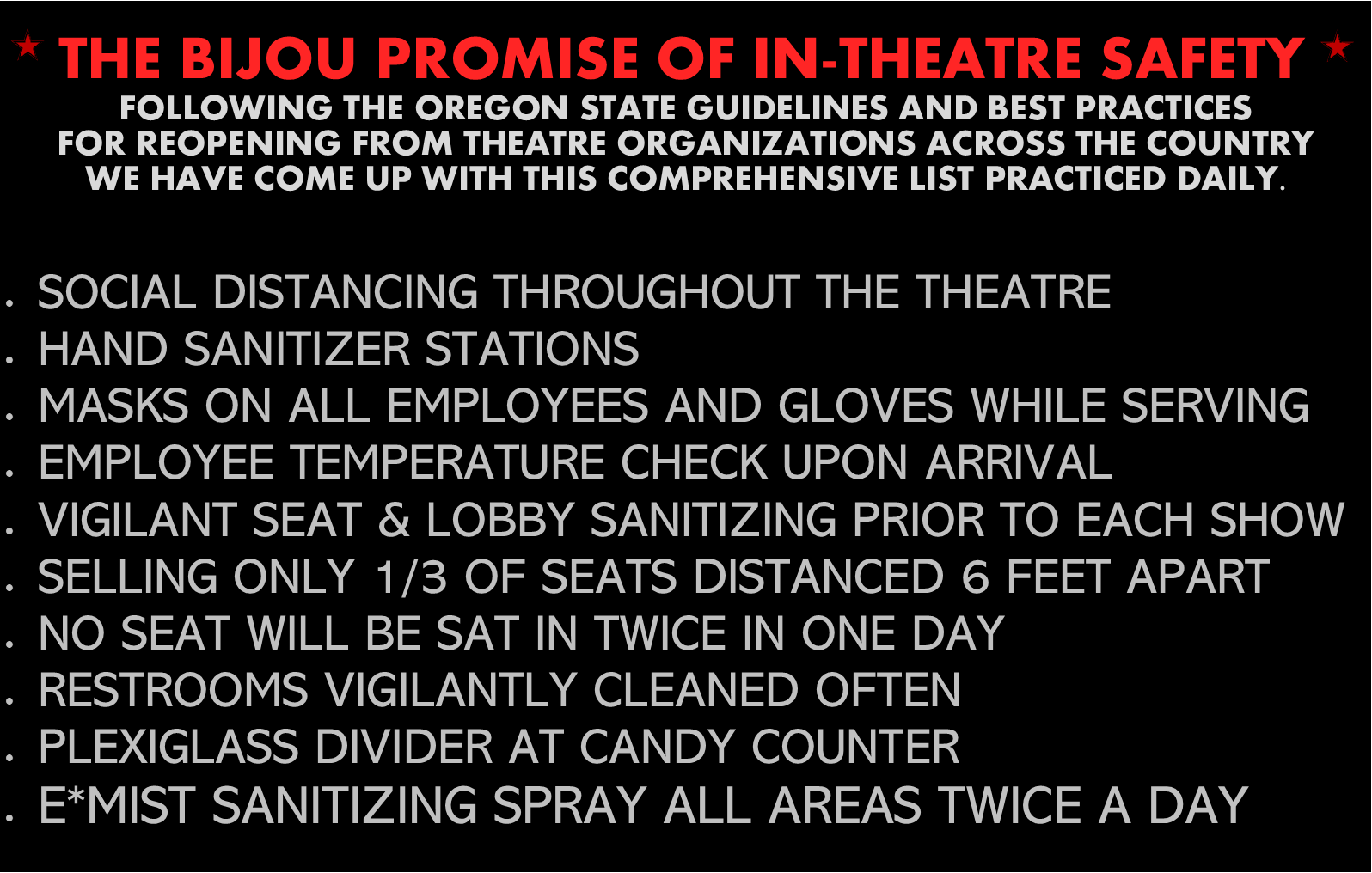 For those who are not quite ready to go out for the movies, the company is also offering a virtual theatre which you can read about more on their website.
Help support the historic Bijou Theatre!
From their website:
Now, with our website (cinemalovers.com) presenting more than 8 movies each week online, there are more options than ever for cinema lovers to get the quality curated film they should have. We are truly excited about these opportunities.
But with the pandemic lasting longer than anyone expected with no idea when we might get back to some normalcy we again are having problems keeping this going. Again we ask for your help.
Hit the link here if you want to learn how you can help support the Bijou Theatre Lincoln City.
Address: 1624 NE Highway 101, Lincoln City, OR 97367
Phone: (541) 994-8255
Website: www.cinemalovers.com
Facebook: BIJOU LINCOLN CITY