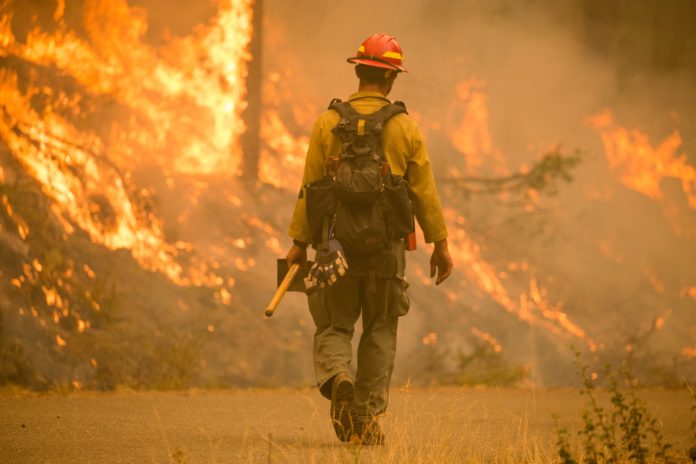 This week Oregonians have been stunned by the shocking number of wildfires that have started in Oregon. As of September 10th, 2020 there are still 37 active fires, with over 672,000 acres currently burning across the state.
These fires have led to loss of homes and lives as they have swept not only across Oregon's wild areas but also through cities and small towns. Officials are just beginning to total lives lost from fires such as the Almeda Fire which burned through Phoenix and Talent Oregon near Medford, as the remains of homes have not been able to be searched through yet.
As the fires continue, police have arrested one man suspected of starting fires, and are looking for another.
An Unprecedented Number Of Large Fires
Earlier this week 48 wildfires burned in Oregon. While the number today is only 37 fires, it's still unusual. Dry weather and high winds caused fires to grow at a fast rate and spread over large areas. High winds also made it difficult to fight the fires by air. In a tweet on September 8th meteorologist Nick Nausler called the number of large and rapidly spreading wildfires across Washington, Oregon and California unprecedented.
This event is unprecedented. I've talked to people who have been in fire for 20, 30, 40+ years and they've never seen anything like this before. Not this many large, rapidly spreading wildfires across such a broad region #CAwx #WAwx #ORwx #CAfire https://t.co/LjHcTikNqx

— Nick Nauslar (@NickyNaus) September 8, 2020
With so many fires people have begun to wonder what the cause might be. While some of the causes are known such as downed power lines, other fires are still under investigation, and two men in the past few weeks have been arrested for suspected arson.
Man faces arson charge in connection with Sweet Creek Fires 🔥 44 year-old Elias Newton Pendergrass faces an arson in the first-degree charge! Over 500 acres have been burned. https://t.co/GPAD5LDk4F https://t.co/Bfs9VLKPo9

— TheCyberChick (@warriors_mom) September 2, 2020
 A Mapleton Oregon resident, 44 year old Elias Newton Pendergrass is now facing charges of arson after being arrested on Tuesday September 8th in connection with the Sweet Creek Fires which burned over 500 acres.
 At the end of July a man was arrested and charged with two counts of first-degree arson after multiple fires were found burning northeast of Glide Oregon near McComas Creek. 39 year old Jedediah Fulton was armed with a machete and told firefighters on scene to give him a ride to Glide or he would start additional fires.
Almeda Fire UPDATE: The destructive Almeda fire in Talent and Phoenix Oregon just south of Medford was under investigation. The September 8th fire wiped out neighborhoods and businesses in a large swath of destruction and destroyed around 600 homes.  A body had been found at the origin point of the Almeda fire.  On September 11th Michael Bakkela, age 41 was arrested and charged with arson, criminal mischief and reckless endangerment. The fire Bakkella set is considered to be one of the two fires that caused the destructive Almeda Fire, according to Rich Tyler, spokesman for the Oregon State Fire Marshal's office.
CAN YOU HELP? Fire officials in Dexter, Oregon say a man tried to start two fires at a state park Wednesday.https://t.co/i1MuKTKznZ

— KATU News (@KATUNews) September 10, 2020
Be sure to check out the links we've given to all of the above sources of information. False claims of arson have been circulating on Facebook, and we've worked diligently to bring you only factual information. See one such instance of a false social media post below:
Resources For Factual Oregon Wildfire Information
Here are several resources where you can get up to date and factual information about Oregon's wildfires:
Stay up to date with the latest on Oregon's wildfires with That Oregon Life. Oregon has also set up an official wildfire resources page.
For evacuations, look to your county sheriff for accurate information. If the sheriff tells you to evacuate, you are urged to cooperate - for your safety, and the safety of firefighters working in the area.