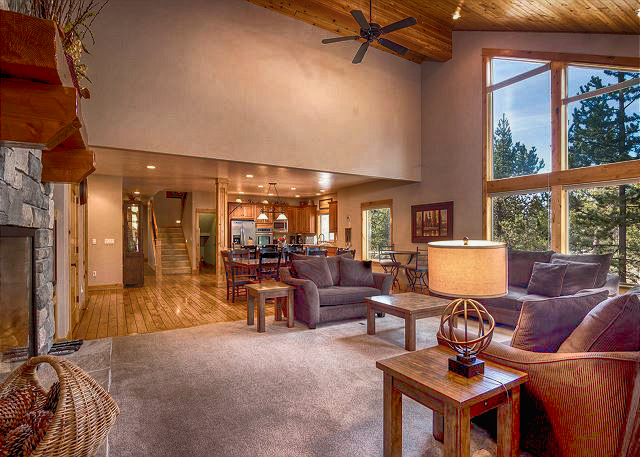 Sometimes it becomes very clear in our busy lives we are well overdue for a much-deserved vacation. A chance to get away from the norm, escape the chaos, and cleanse our soul. If you've been looking for that perfect getaway to clear your mind and spend some time with loved ones, we have just the place for you. And with so many vacation areas to choose from in Oregon, it can be difficult to choose sometimes! Well, you won't need to look any further, as Sunset Lodging in Sunriver, a family owned business established in 1987, has everything you need to thoroughly enjoy yourself in one of the most beautiful areas Central Oregon has to offer.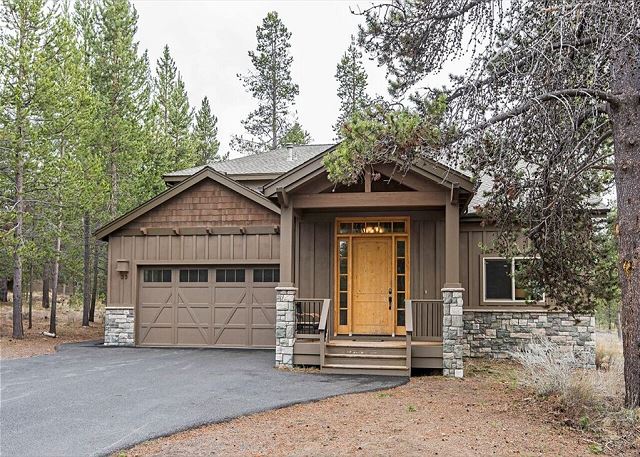 We recently were lucky enough to stay at one of the most incredible homes I've ever stayed at, and it's known as White Elm 33. With just 4 adults and a total of 4 kids, we had more than enough space to thoroughly enjoy ourselves in this immaculate home during our 3 night stay.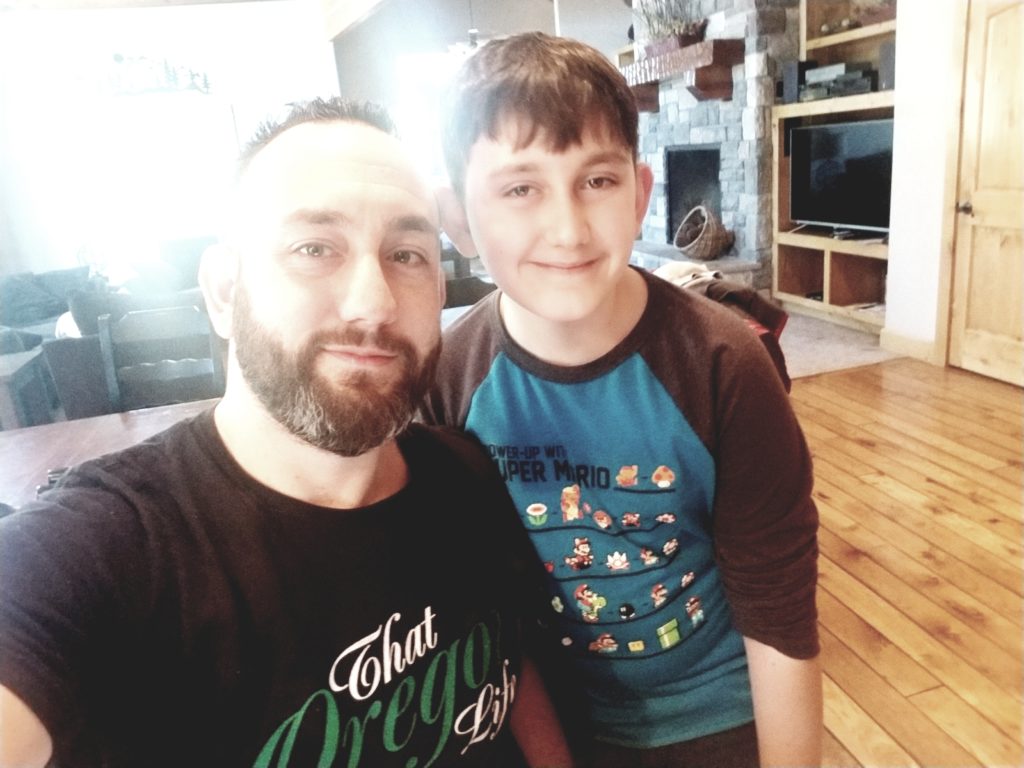 When pulling up to the home, I have to admit from the outside the looks are rather deceiving. It was hard to believe this place sleeps 16 until, of course, I stepped inside through the large wooden front door. This house is absolutely immaculate!
Upon entering the home, I was immediately blown away by the high ceilings, the beautiful decor, and the luxurious fully stocked kitchen with everything we needed for prepping our meals on our vacation. The kitchen includes 2 refrigerators, double ovens, and a large cooktop that overlooks the grand dining area that leads to the impressive living room.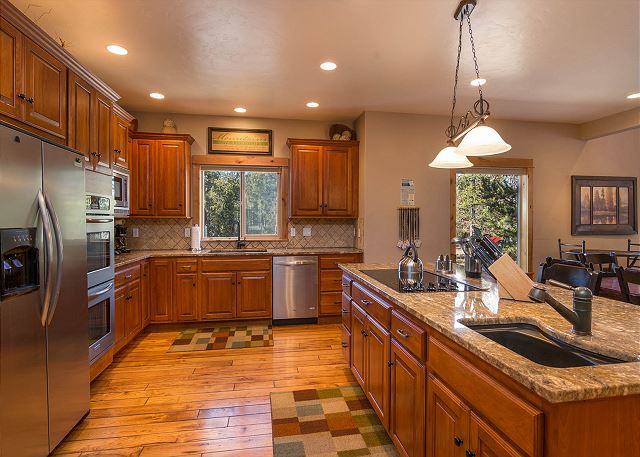 The huge couches were extra comfy when laying around at night. The very large table where we ate our meals was also impressive, to say the least. Our nights were spent enjoying the relaxing gas fireplace and multiple large windows with views of the spectacular countryside.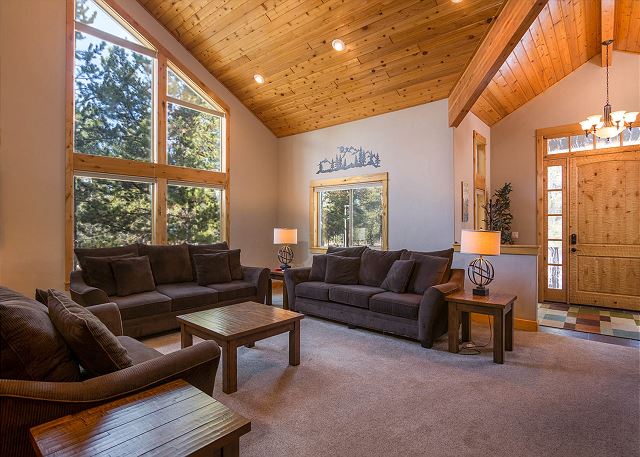 Down the hall to the left, was easily the most favorable part of the house – the indoor pool and spa. And you already know, we took every opportunity we could for a dip in the pool and some relaxing time in the hot tub. Of course, this was also a huge hit with our littles, we couldn't keep them out of the pool!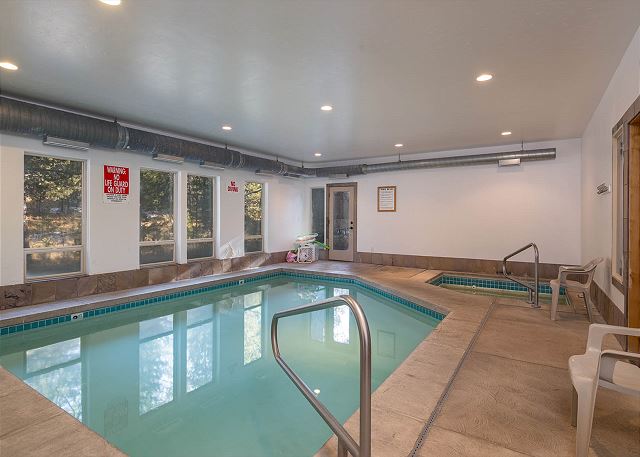 White Elm offers 5 master bedrooms, all including a TV with a DVD player, high end bedding and private bathroom.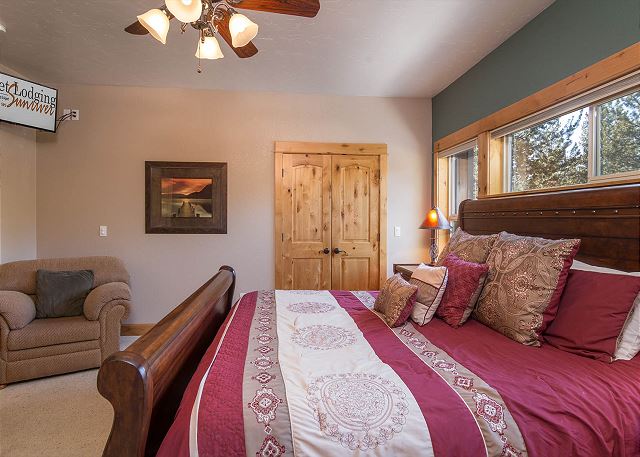 The upstairs game room area provides 2 sets of bunk beds, pool table and a foosball table with extra seating… Which was perfect for our kids! This dream home sleeps up to 16 guests, and dogs are also permitted here.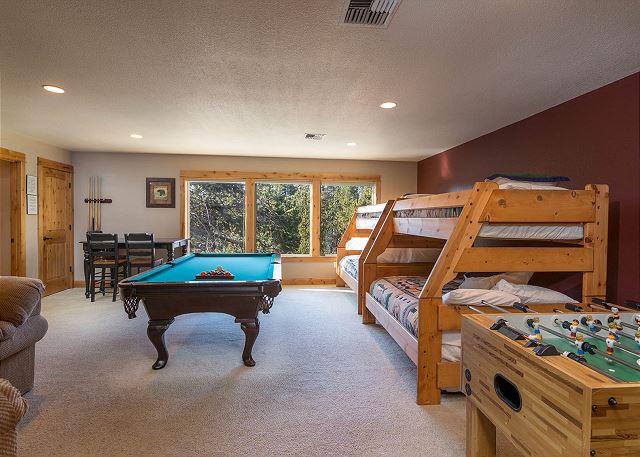 Surrounded by Deschutes National Forest, Sunset Lodging caters to the leisure traveler who enjoys the outdoors. Visitors can schedule anything from horseback riding to rafting and rock climbing to mountain biking.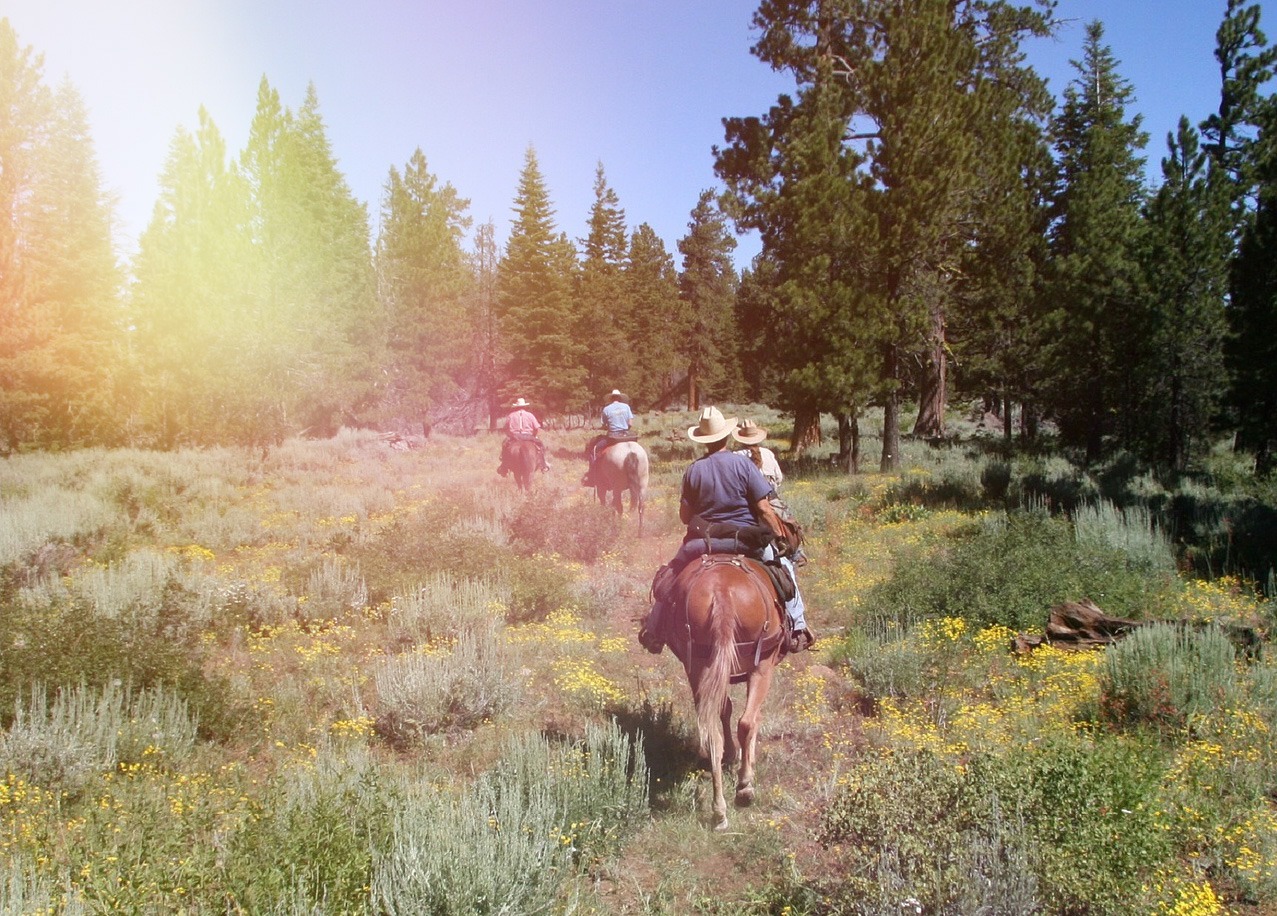 White Elm also had plenty of bicycles which we thoroughly enjoyed during our stay, and a bike ride was actually one of the first things we did when we arrived. If I had to guess I'd say we did around 5 miles roundtrip on the bikes exploring the area, and it was the perfect way to start off our vacation.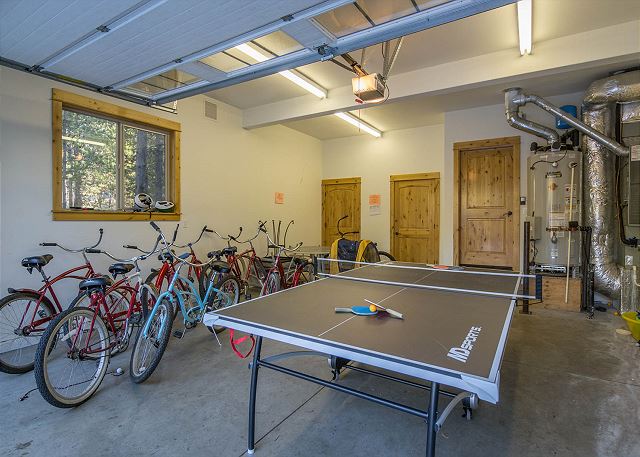 As we were staying during the winter, we also had a chance to enjoy taking the kids to the snow, and enjoy the local ice skating offered at the Sunriver Village as well.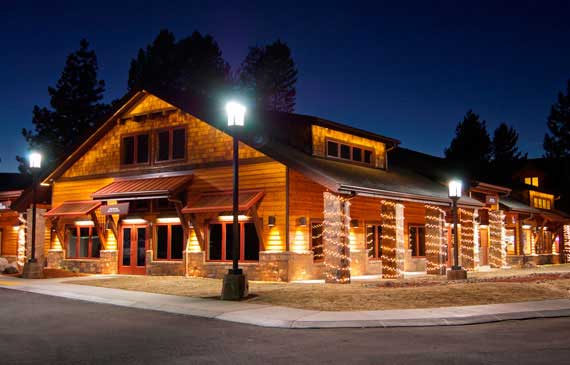 This home provides 12 Unlimited SHARC passes, free tennis, free Mt. Bachelor ski shuttle and free access to the Sunriver Marina! Plus, Sunriver boasts an astounding 63 holes of golf.
All in all, we thoroughly enjoyed our stay here and to be honest 3 nights was not enough. We cannot wait to visit again soon, as Sunriver has easily become one of our favorite places to vacation!
SHARC is the premier aquatic and recreation facility located in the heart of Sunriver, Oregon. Brought to you by the Sunriver Owners Association,
SHARC is an all-season center that offers heated indoor aquatics year-round and heated outdoor aquatics during the summer season! SHARC also offers a disc golf course, a winter tubing hill, a basketball court and fantastic events throughout the year.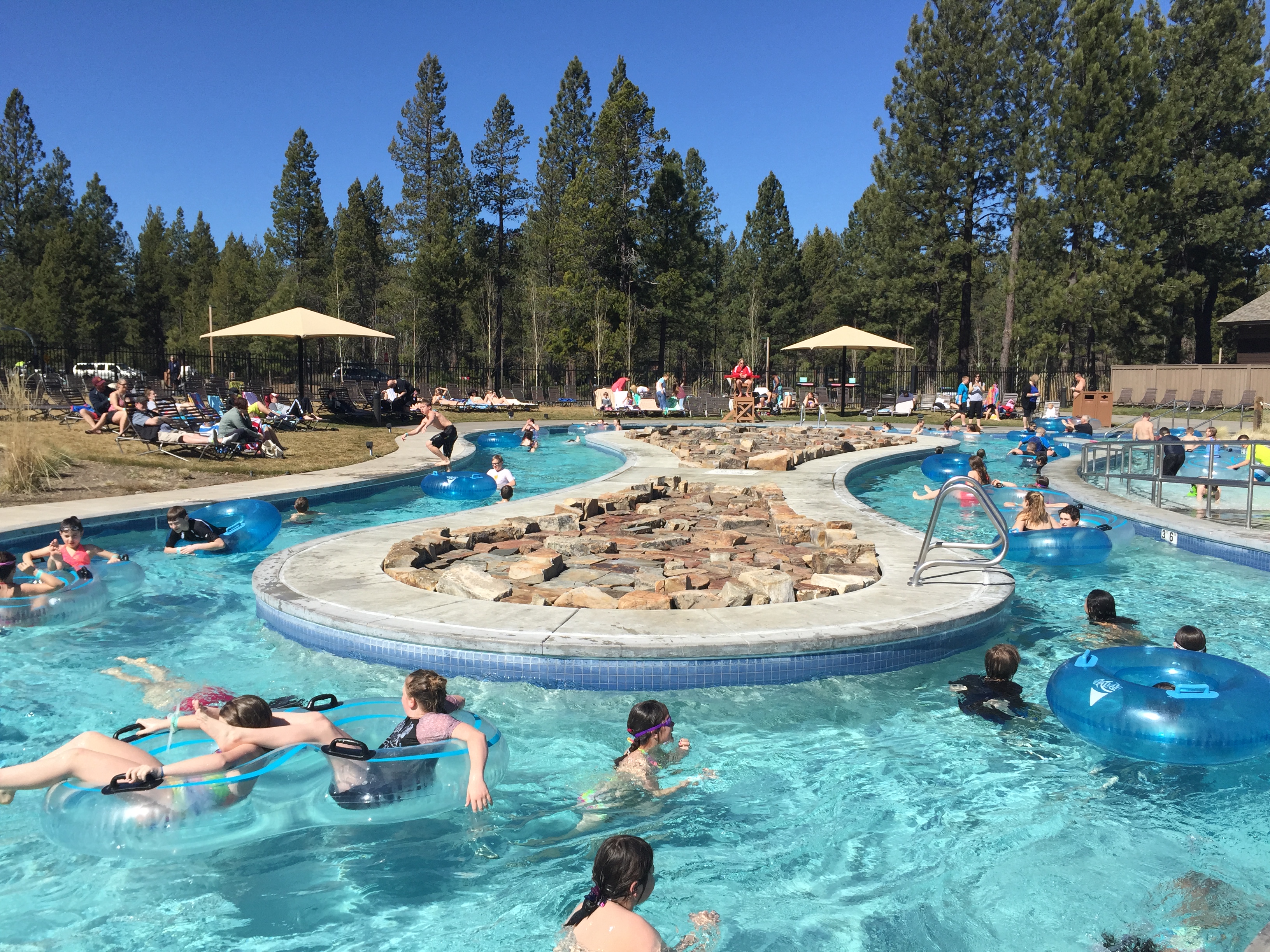 Make sure and check out this awesome 33 walkthrough we have included as well.
Details and contact info:
Head over to Sunset Lodging and book your stay now at White Elm #33.
Official website: Sunriverlodging.com
Call Sunset Lodging: Phone: (800) 541-1756
Everything included in room:
4 Kings, 1 Queen, 3 Sets of Bunks, 2 Rollaway Twin Beds, 2 Twin Trundle Beds, bonus room has a pool table, foosball, and ping pong tables, 5 master bedrooms, 7TVs (2 big screen TVs)/2VCRs, 7 DVD players, 2 CD stereos, double ovens, 2 refrigerators, microwave, large cook top, D/W, W/D, gas BBQ, gas fireplace, INDOOR POOL (4ft to 3ft deep; 15′ x 20′) with security access & HOT TUB, A/C, 2 levels, 8 bikes w/child's trailer, double garage, tennis rackets, 4686 sq ft, 12 Unlimited SHARC passes