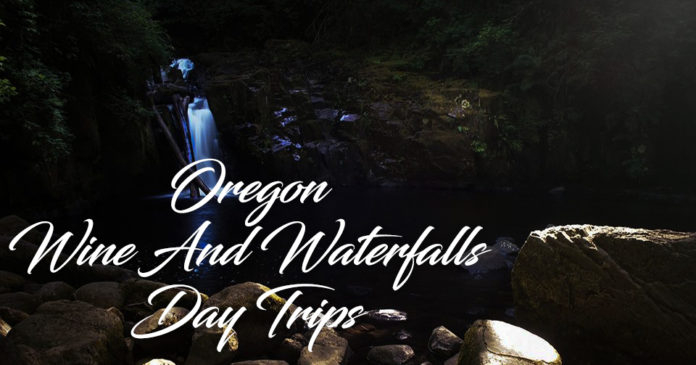 Looking for a unique and fun day trip in Oregon? How about combining two of Oregon's most popular attractions? Exquisite waterfalls and some of the finest wine in the Beaver State make for an absolutely perfect day.
Not only is Oregon known for beautiful countryside and incredible waterfalls, but we also are home to several wineries and vineyards that make for the perfect day to relax. So grab some friends who are ready to make an epic day trip with you, and pick whatever day trip works best for you!
Sign up for monthly emails full of local travel inspiration and fun trip ideas. In each newsletter we'll share upcoming events, new things to do, hot dining spots and great travel ideas.
There is nothing more satisfying than relaxing with a nice glass of wine (or beer) after a beautiful hike in Oregon.
Drift Creek Falls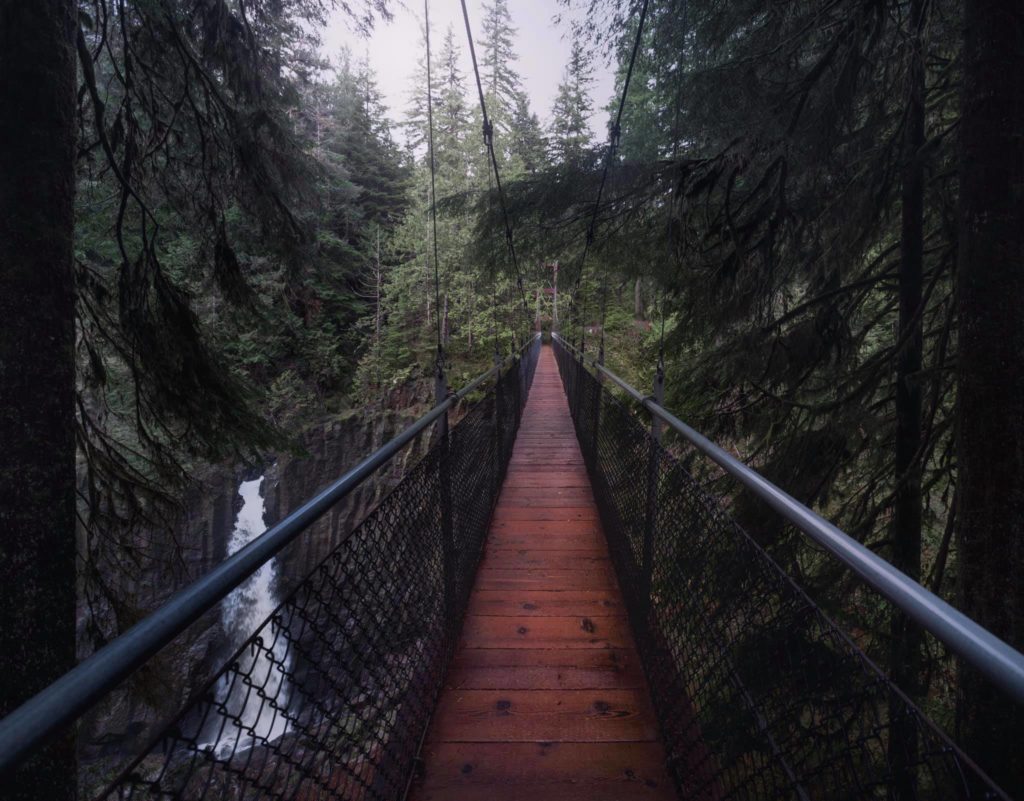 Seemingly one of Oregon's most talked about waterfalls lately, is this amazing little gem on the Oregon Coast. It's known as Drift Creek Falls, and the impressive bridge suspended around 100 feet in the air is enough reason to check this spot out.
The hike itself is pretty easy. The last time I visited here it was raining a considerable amount, and while my kids and I left muddy it was well worth the hike in. Two 29 foot towers support the bridge, which are anchored by bolts planted in rock on one side and concrete on the other. When crossing you will enjoy the beautiful view about 80 feet down to Drift Creek Falls.
The drive is not bad at all, and from Portland, you're looking at roughly 2 hours to get here. If you want full directions and more information, hit the link here to read our full article on Drift Creek Falls.
After you visit Drift Creek Falls, head over to the Depoe Bay Winery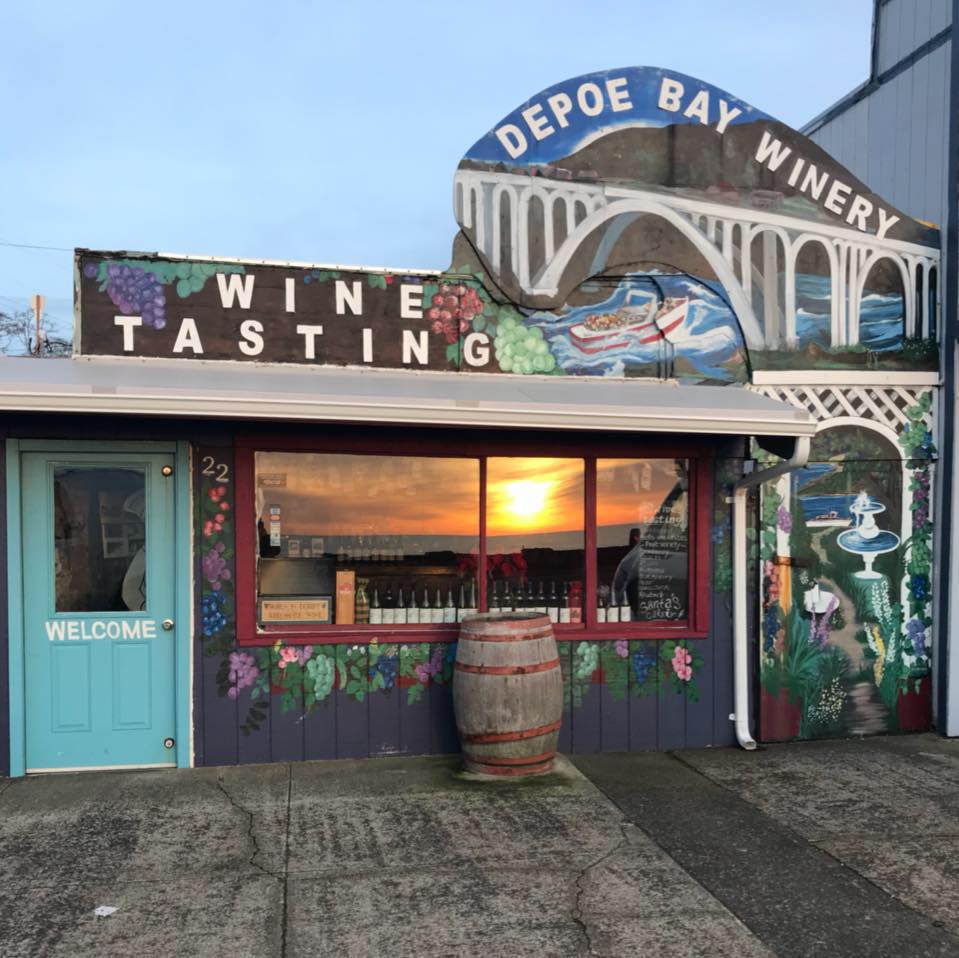 After checking out Drift Creek Falls, you're only looking at about a 20 minute drive to the Depoe Bay Winery. This hidden gem is a bit off the beaten path, and you might miss it if you aren't looking. Depoe Bay Winery has a papier mache "cave" ceiling that guests can write on while tasting wine, which they are said to offer for free!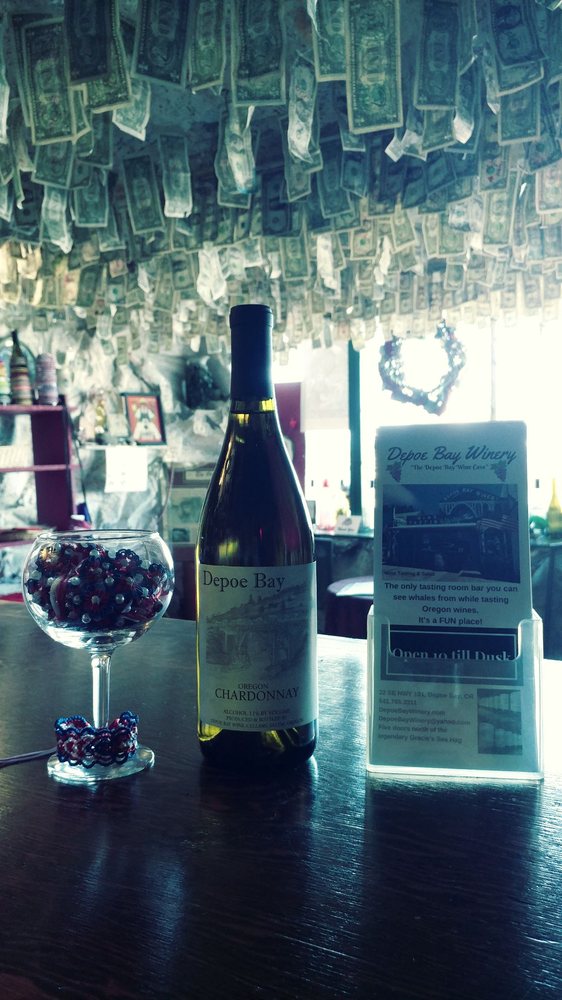 One really cool thing about this spot is the dollars hanging off the ceiling. The dollars are donations from customers and later exchanged at the bank to be donated to a charity of their choice. What a wonderful idea!
Address:
22 SE Highway 101
Depoe Bay, Oregon 97341
---
Multnomah Falls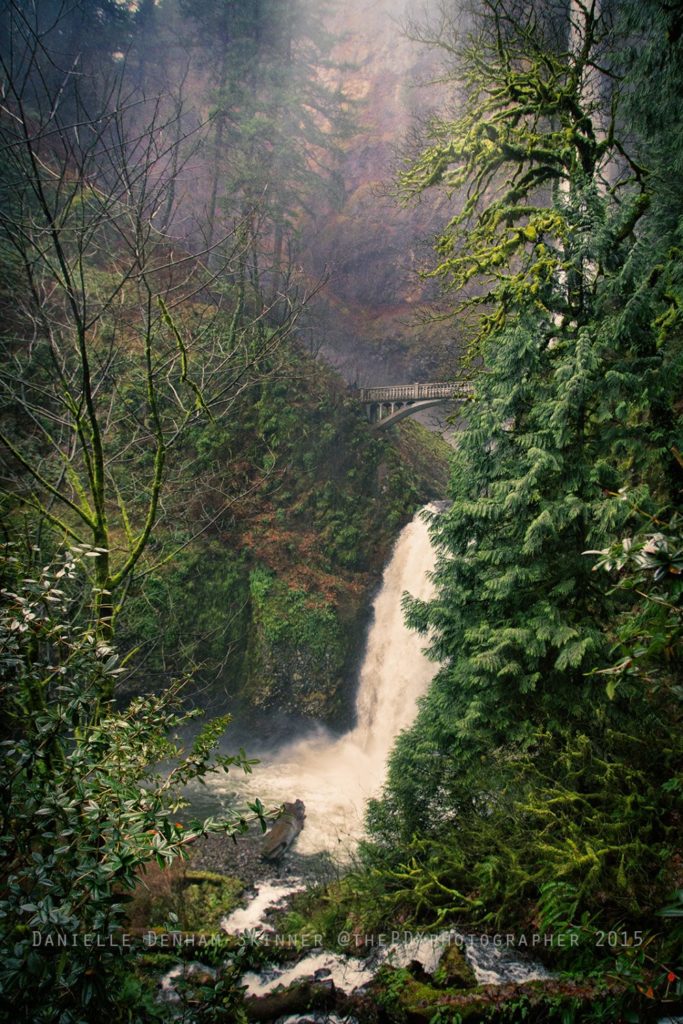 After you visit Multnomah Falls, head over to the Marchesi Vineyards & Winery
As you arrive you will feel as though you have been transported to Italy. Grape vines will stimulate your imagination as you enter the lovely outdoor patio. Here you can enjoy the spectacular view so reminiscent of the old country— undulating hills and fragrant roses under a splendid sky. Franco Marchesi, will be at hand to welcome you.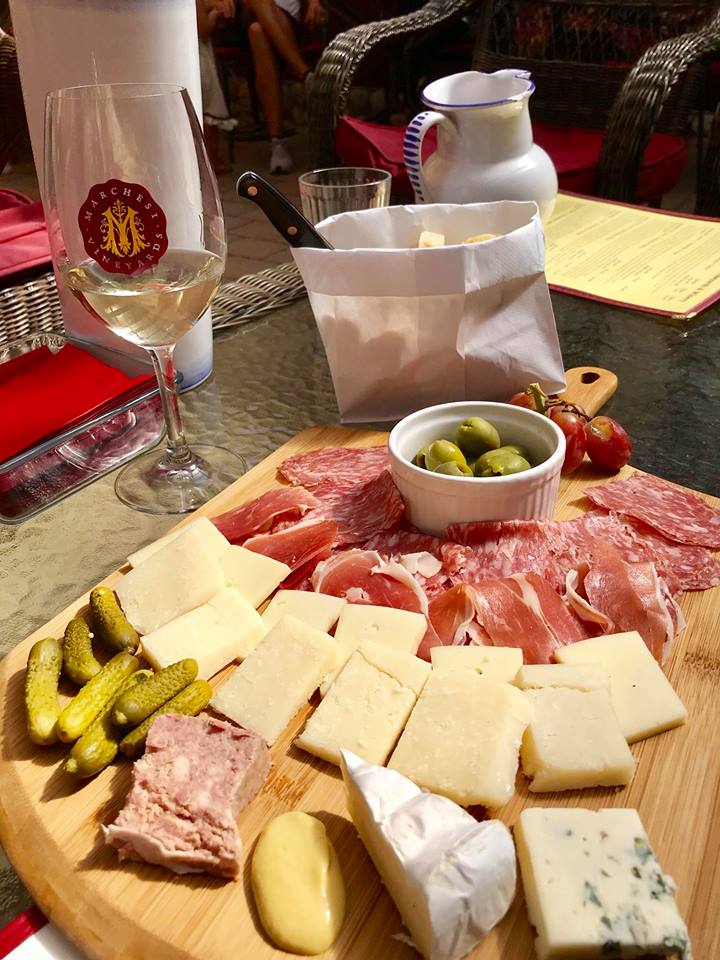 The decor is noticeably Italian, with a mural from Piedmonte. Black-and-white photos depict historic wine-making scenes from long ago. The shelves are filled with books about wines and wine making.
"Marchesi Winery is a place to visit, taste wines, and be spoiled," says Franco, "I love to share stories about Italy."
Address:
3955 Belmont Drive
Hood River, Oregon 970
---
Spirit Falls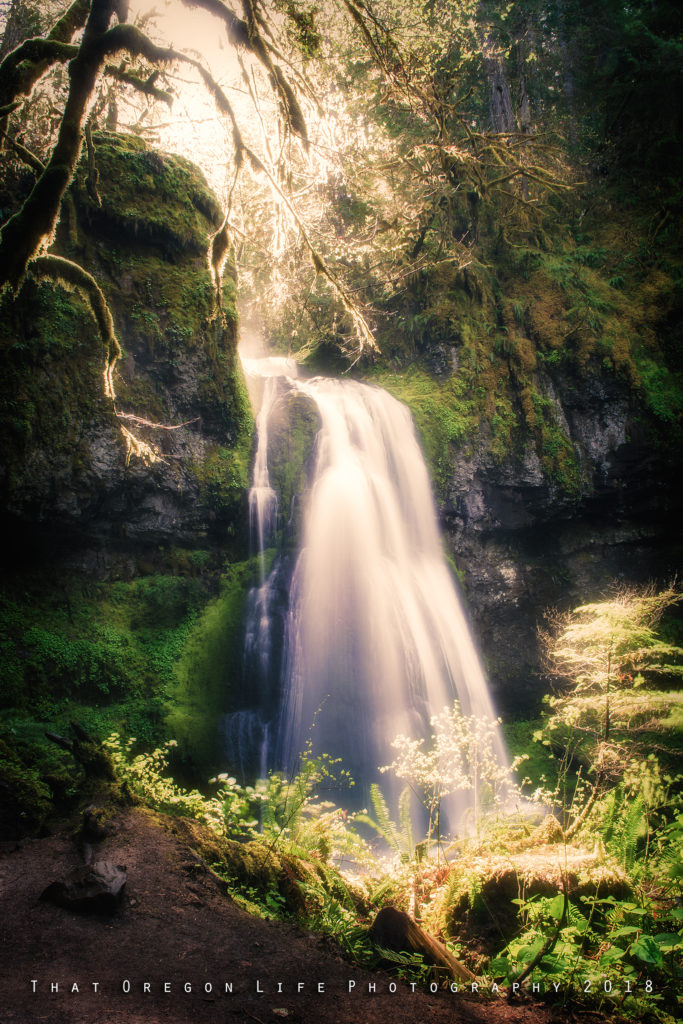 Spirit Falls is the easiest hike ever, which is every reason to visit the nearby Moon Falls as well. Spirit Falls is absolutely gorgeous, which you will find barreling 60 feet into a secluded pool at the end of a short trail, 0.4 miles to be exact.
Not only will you be rewarded with three waterfalls, but you have a rare chance of getting a glimpse at a Black Swift in the old growth forest, said to be one of the most enigmatic species in the northwest.
Although it's rarely been spotted, you do have a chance of seeing one. The Black Swift is one of the more poorly known North American birds. Seen by most people in flight high overhead, its comings and goings are only poorly documented. The best time to see one is before sundown in June or July. Read our article here to read more.
After you visit Spirit Falls, head over to the Saginaw Vineyard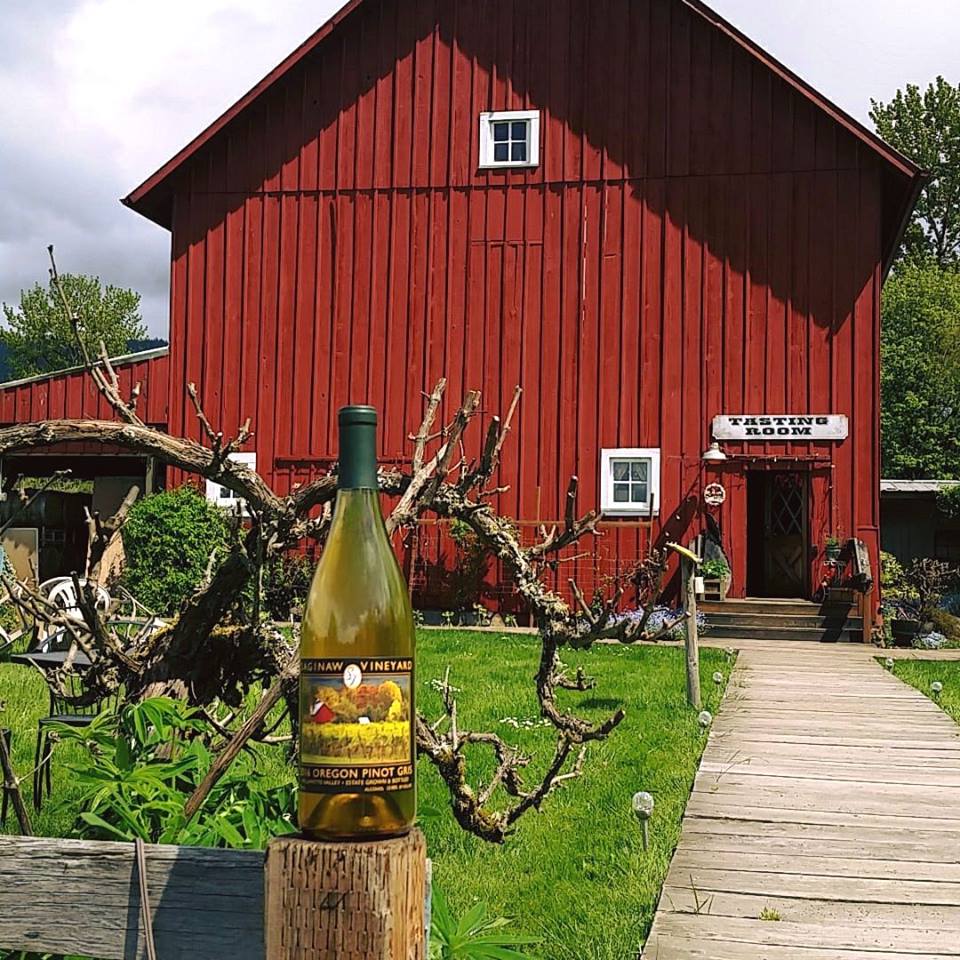 Saginaw is a small vineyard originally planted by the Byler family in the early 1990s. From Spirit Falls you are looking at about 30 miles to get here.
Today Scott still owns and runs the vineyard with his wife, Karen. Scott acts as Chief Wine Maker, and specializes in traditional, hand-crafted grape and berry wines. Karen acts as Chief Wine Taster and coordinates the many events held every year at the vineyard, both public and private.
The tasting room is located in the original, historic red barn of a 1900 farmstead. You'll be met with down-home smiles, in an easy relaxed atmosphere where you'll enjoy complimentary tasting of Saginaw's award winning red and white varietals and specialty, farm-fresh, fruit wines.
80247 Delight Valley School Road
Cottage Grove, OR  97424
---
Tumalo Falls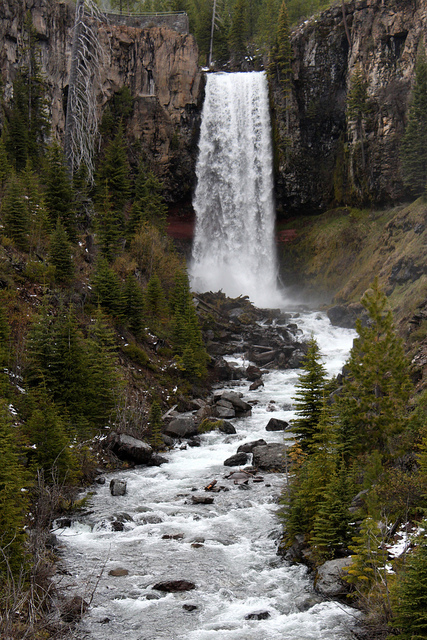 Tumalo Falls is a 97-foot waterfall on Tumalo Creek, in the Cascade Range west of Bend in the U.S. state of Oregon. Head upstream to find more beautiful waterfalls! Along Tumalo Creek and a tributary, you will find Bridge Creek and its Bridge Creek Falls. All of these falls are within the Deschutes National Forest.
The park at the base of the falls offers fantastic hiking trails, picnic areas and restrooms. If you're looking to catch some dinner, grab your poles because there is some great fishing here too. Along the way to the falls are informational kiosks that make it a great trip if you want to learn about the ecology of creeks, forests and fish habitat.
Getting there:  From Highway 97 in Bend, turn west on Franklin Street. About a mile from Highway 97, turn right and cross the Deschutes River on Galveston Street. After passing Century Drive, Galveston turns into Skyliners Road. Follow Skyliners for approximately 10 ½ miles, and turn left on Forest Service Road 4601, which is clearly labeled for Tumalo Falls. FSR 4601 is a gravel road and about three miles to the base of the falls.
After you visit Tumola Falls, head over to the Naked Winery Bend Tasting Room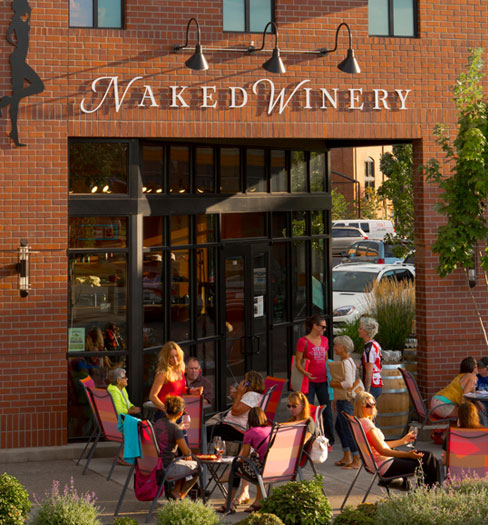 Naked Winery is definitely a local favorite, and a must stop if you're visiting the area. From Tumalo Falls, after getting into Skyliners Rd you're looking at about only 14 miles to the winery in Bend.
With a view of the Cascade mountain range from the outdoor patio, Naked Winery is an excellent spot for sipping wine after a day hiking, an early start to the weekend, or just about any other occasion you can think of. The tasting room is also the perfect destination for bachelor/bachelorette parties, reunions, girls' night out, or date night pre-funk.
This chill spot is located across from Chico's at the north end of the Old Mill District. Naked Winery is open seven days a week with a different special running each day. Stop in for Monday Madness (four bottles for $99), Wino Wednesday (buy one, get one 50% off), and Mimosa Sunday ($5 mimosas all day). Whether you get Naked by the glass or the bottle, or join Club Naked, Naked Winery is focused on the fruit and on making sure you enjoy every sip.
Address: 
330 SW Powerhouse Dr #110, Bend, OR 97702
---
Youngs River Falls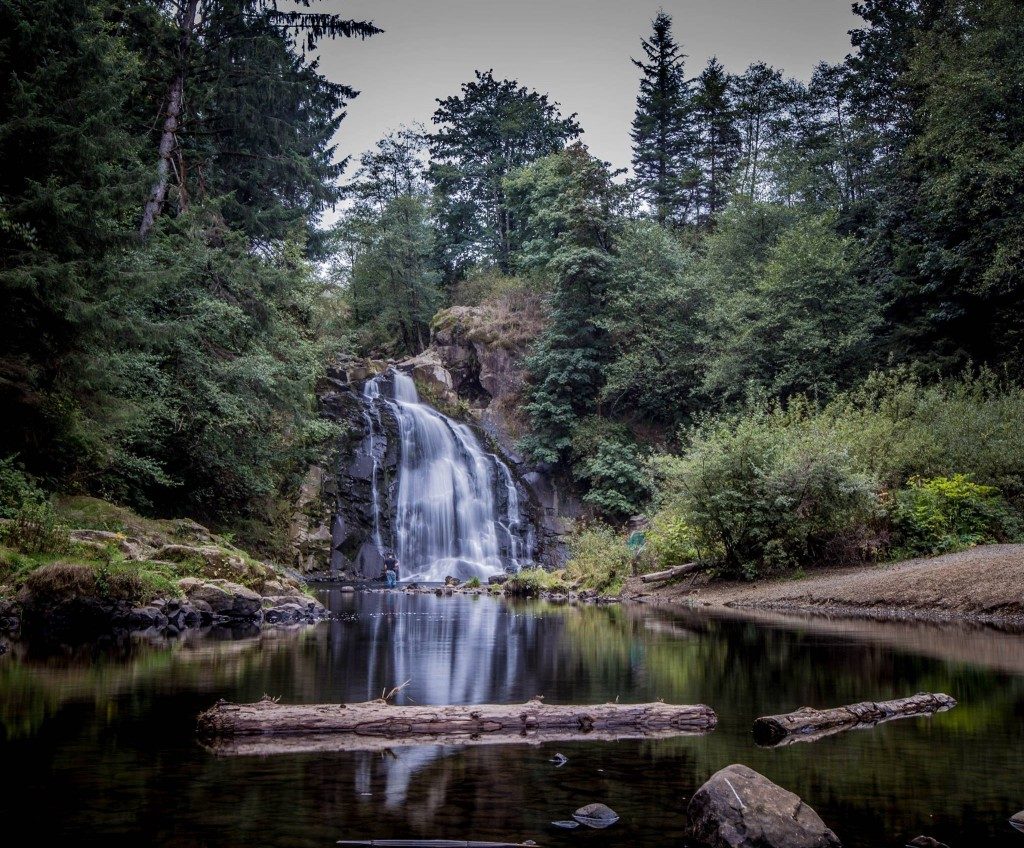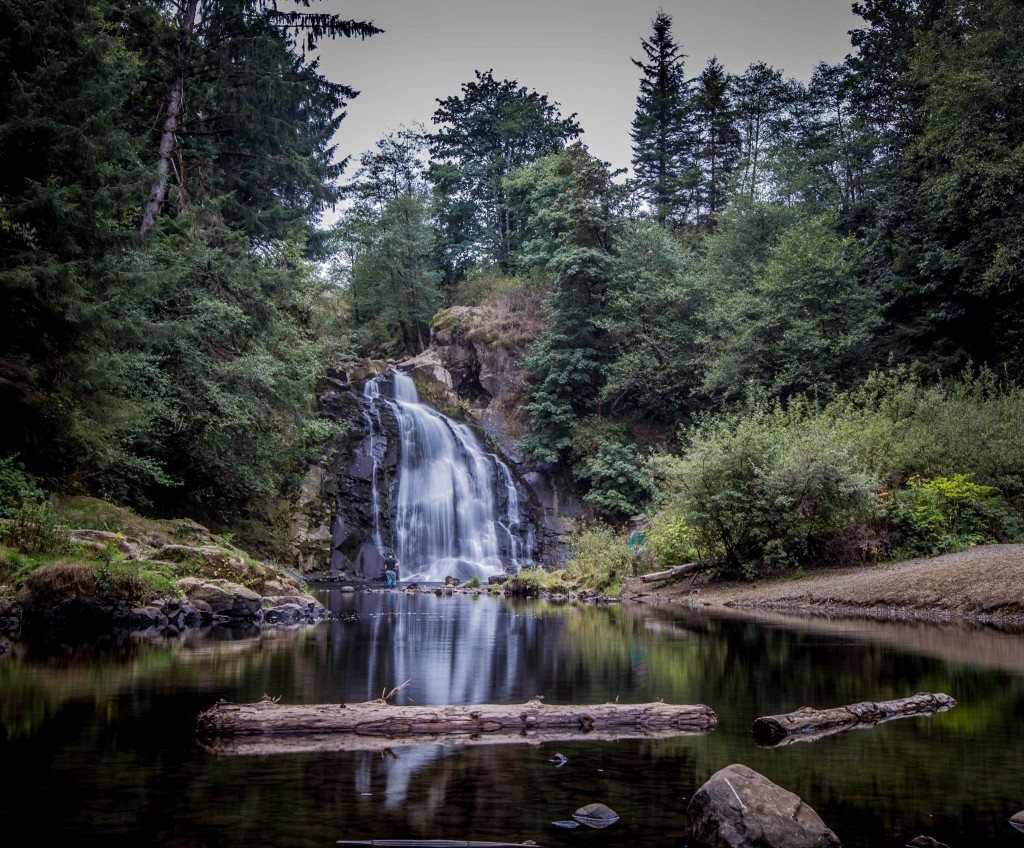 While this waterfall isn't much of a hike, it's absolutely worth checking out while in Astoria. Youngs River Falls plunges over a large wall, veiling 54 feet into a pool locked in by large gravel bars. The falls are somewhat unique in that the base is located only about 10 feet above sea level – a modest tsunami could easily wash all the way to the falls. Did we mention the falls are famous? Youngs River has been featured in Free Willy 2, Teenage Mutant Ninja Turtles 3, and some other flicks.
After you visit Youngs River Falls, head over to WineKraft in Astoria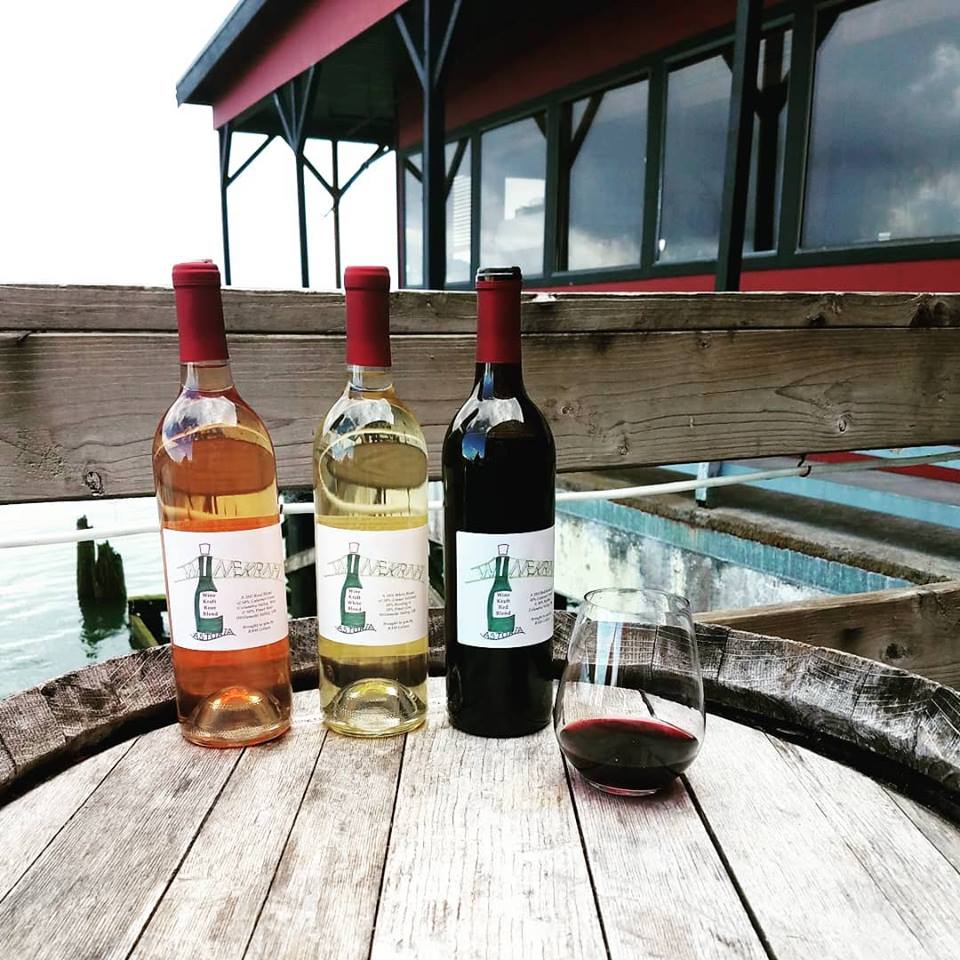 Only about 10 miles from Youngs River Falls, WineKraft you will find a great selection of Northwest wines and seasonal beers, as well as tasty ciders. This wine bar is a must stop when visiting gorgeous Astoria, with great prices, great owners, and an excellent view of the water. Stop on in and enjoy yummy appetizers and chowder, and enjoy live music on most weekend nights. WineKraft is said to even be dog friendly, if you care to bring your furry little buddy.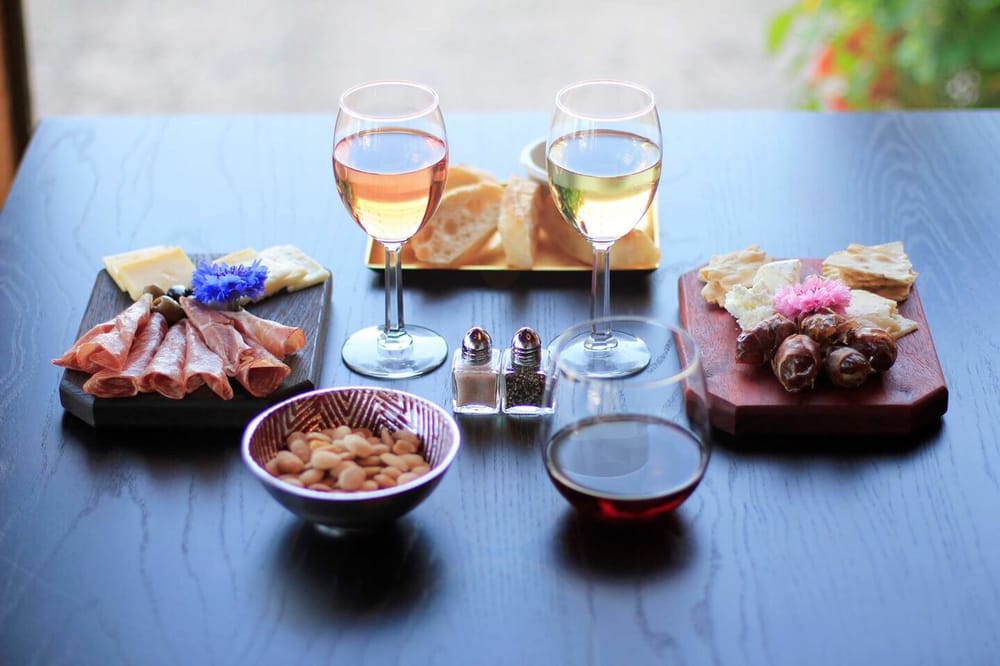 80 10th St
Astoria, OR 97103
---
Sweet Creek Falls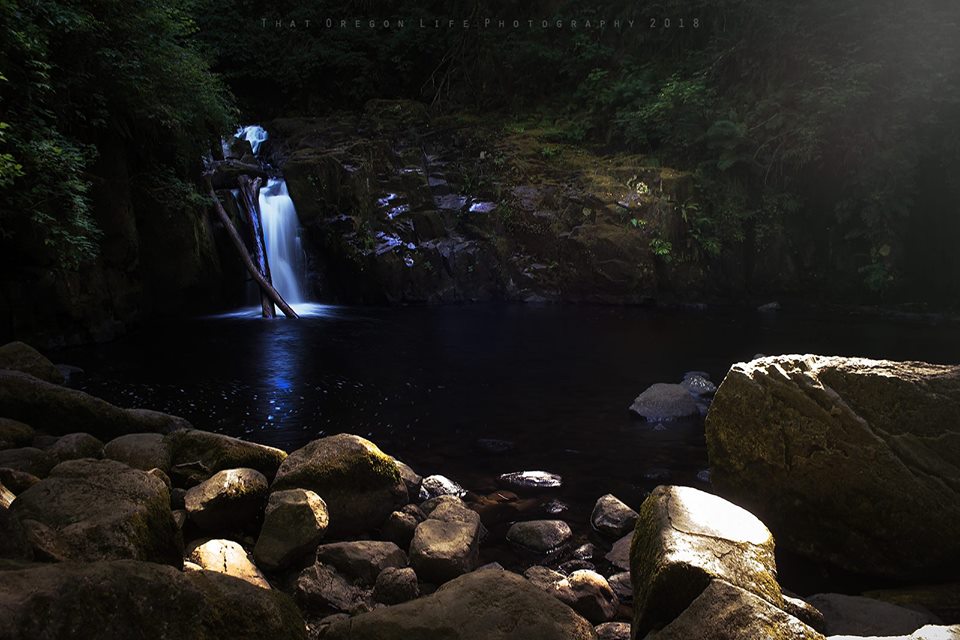 Just an hour west of Eugene, 10 miles south of Mapleton and just east of Florence, you will find one of my favorite all-time hikes ever in the Siuslaw National Forest. It's known as Sweet Creek Falls, and it's definitely one you will want to check out in the near future if you haven't already. Its stunning cascading creek was settled in 1879 by the Zarah T. Sweets, a family of Oregon Trail pioneers.
After you visit Sweet Creek Falls, head over to Le Bouchon Wine Bar & Kitchen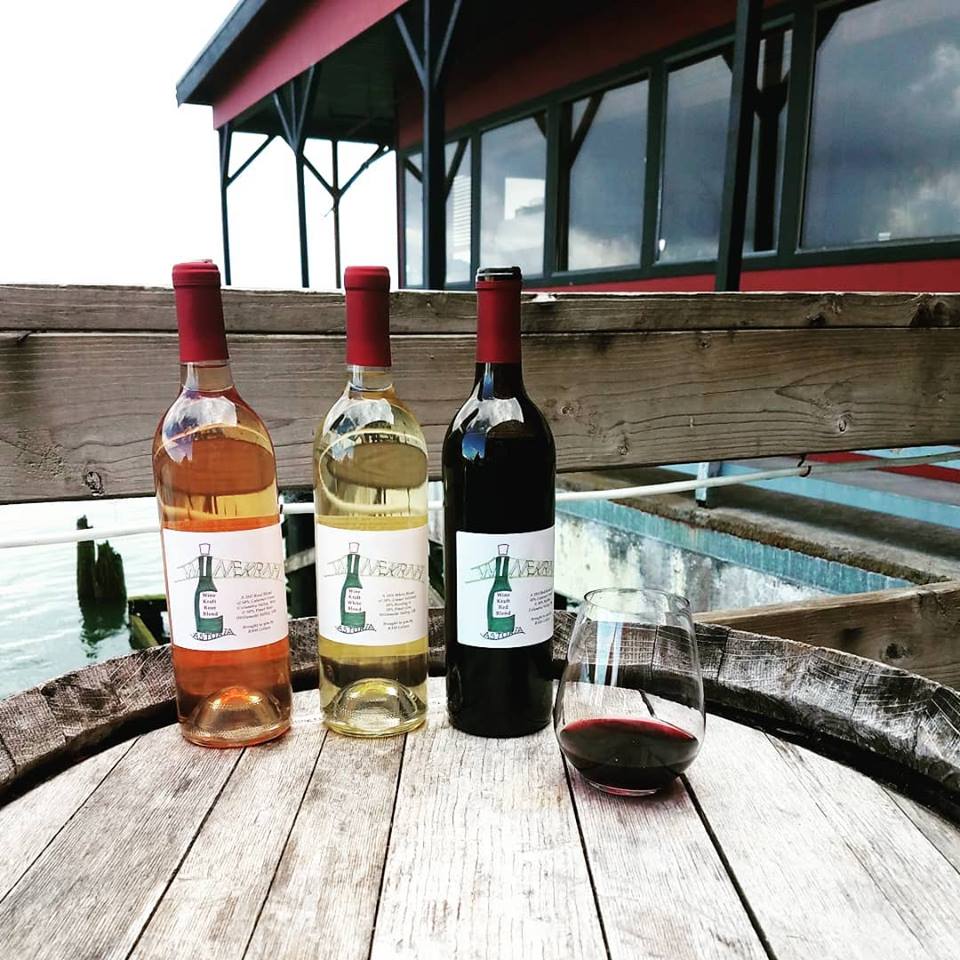 After leaving the gorgeous Sweet Creek Falls trail, you're definitely going to have an appetite built up. From Sweet Creek you will jump back onto Hwy 126, and head to Florence. The drive itself is not too bad, at around 25 miles.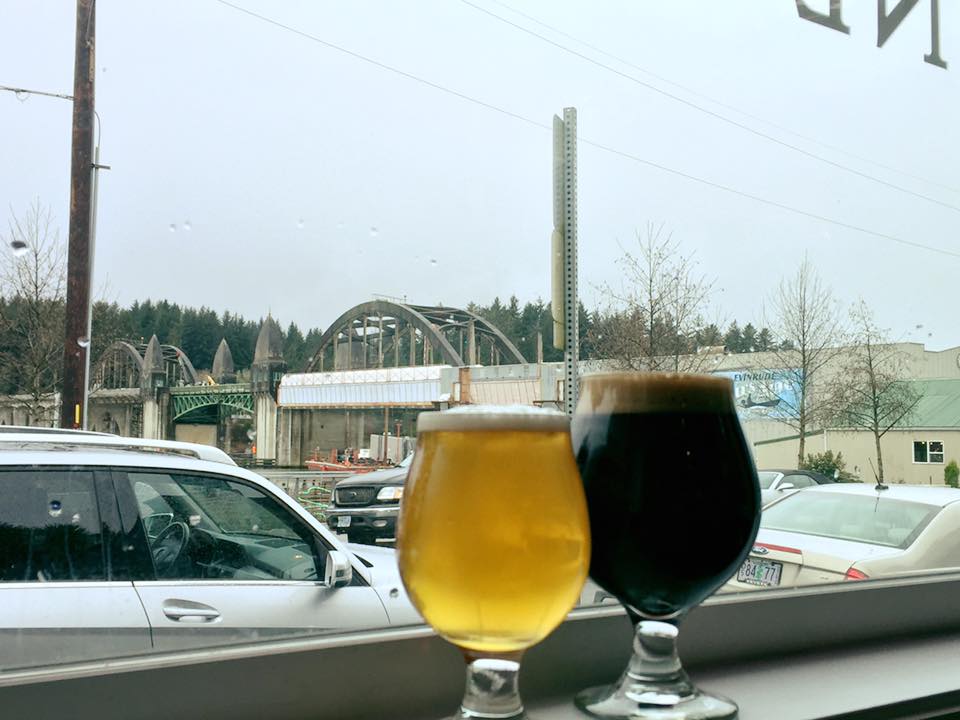 Le Bouchon European Kitchen and Wine Bar is known for their great atmopshere, and features fine wines from local, regional, and international vineyards. Salmon stuffed with brie cheese and topped with crab meat, and their exquisite mushroom pasta dish is just a couple of delicious things to try here.
---
White River Falls State Park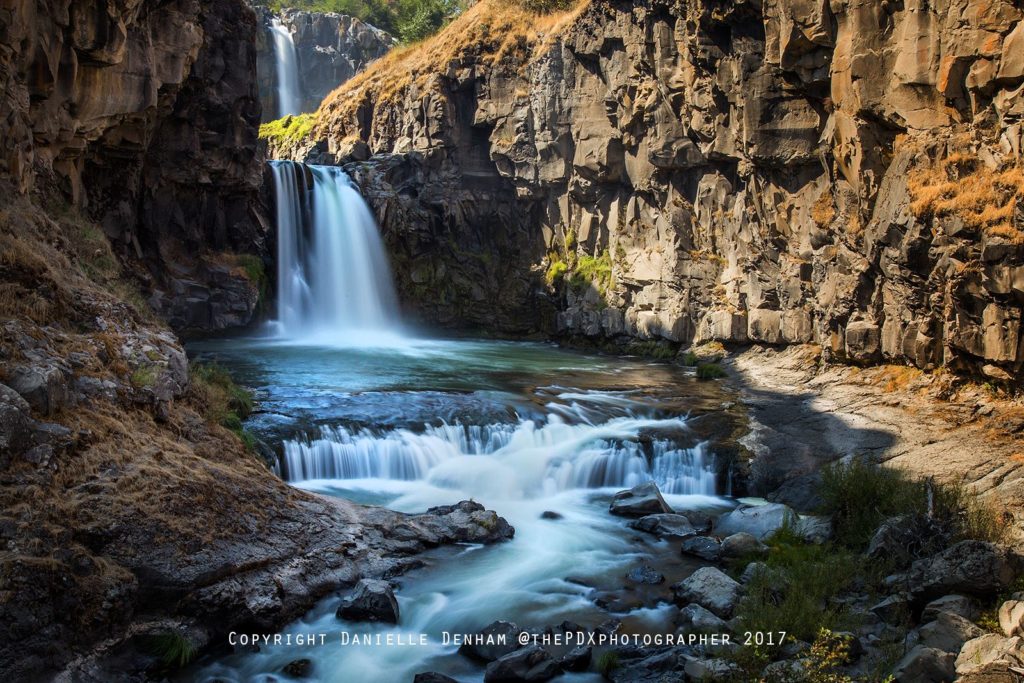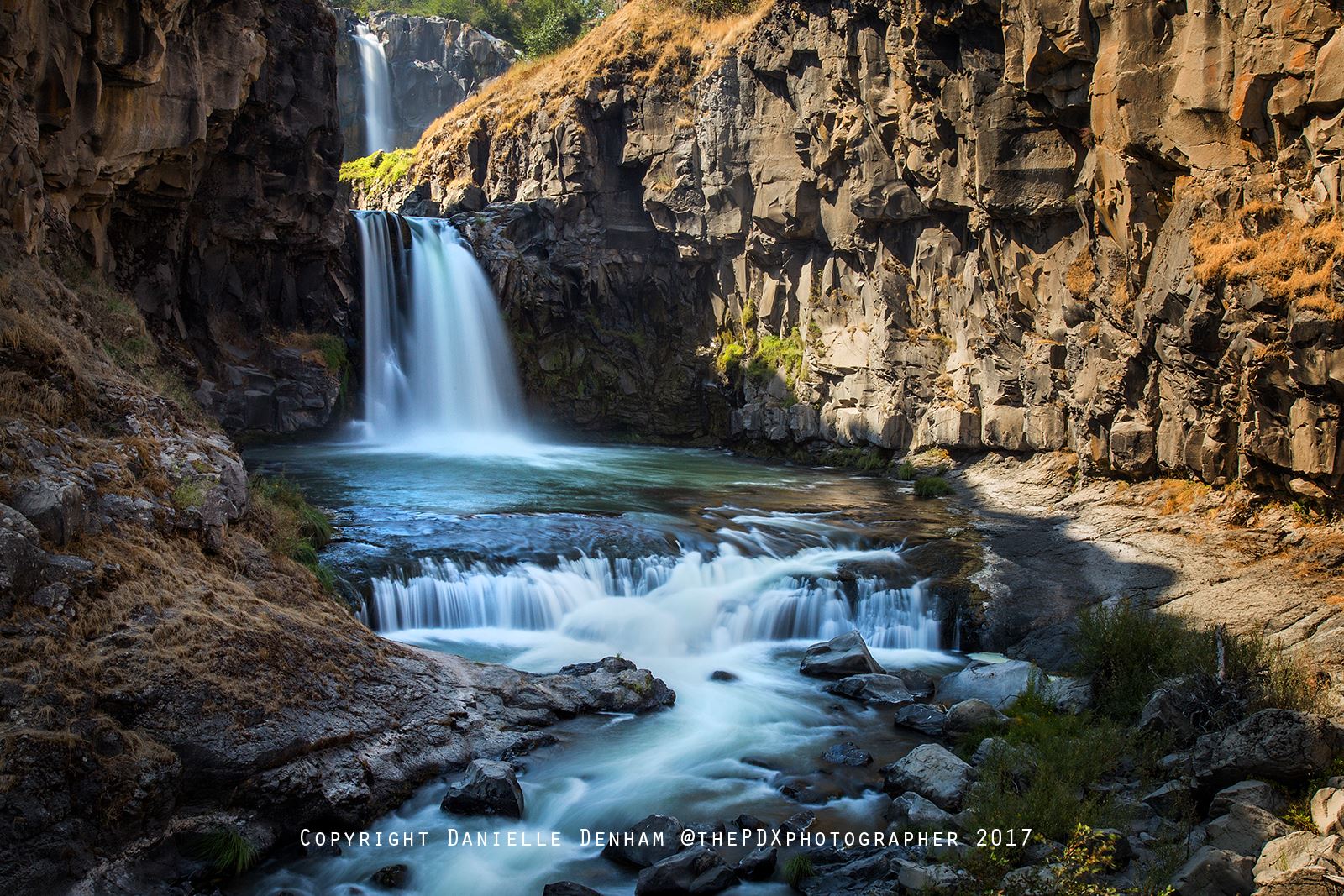 This little hidden gem is known as White River Falls State Park, and you will find just 35 miles south of The Dalles, along Highway 216. One person on TripAdvisor refers to this hike as "heaven on Earth". It's not the largest park, and definitely far from town, but as you can see in the photos it is absolutely gorgeous.
How do you get here? 
White River Falls is accessed within White River Falls State Park, located east of Tygh Valley between Maupin and The Dalles. Take Highway 197 south from The Dalles then turn east on Highway 216 (signed for White River Falls and Sherars Bridge). The park is found 4 miles from Highway 197. The trail leads downstream from the parking area to the bottom of the falls.
After you visit White River Falls, head over to the Sunshine Mill Artisan Plaza and Winery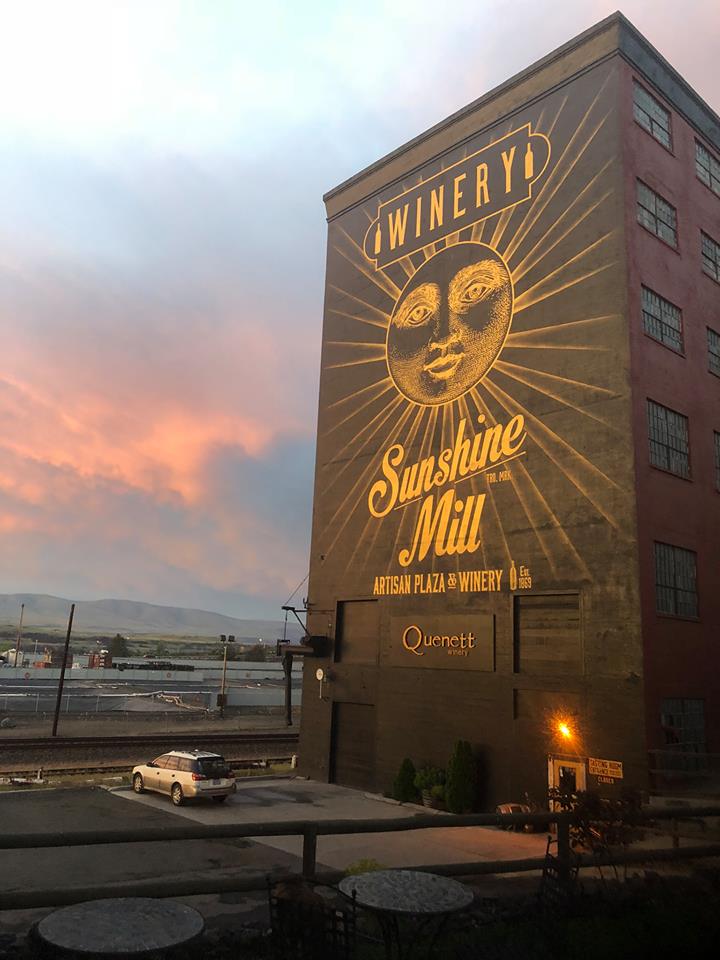 Open daily, 36 miles from White River Falls State Park you will find The Sunshine Mill. This beautiful winery was opened in a 100-year old former Nabisco flour mill and is well worth the stop.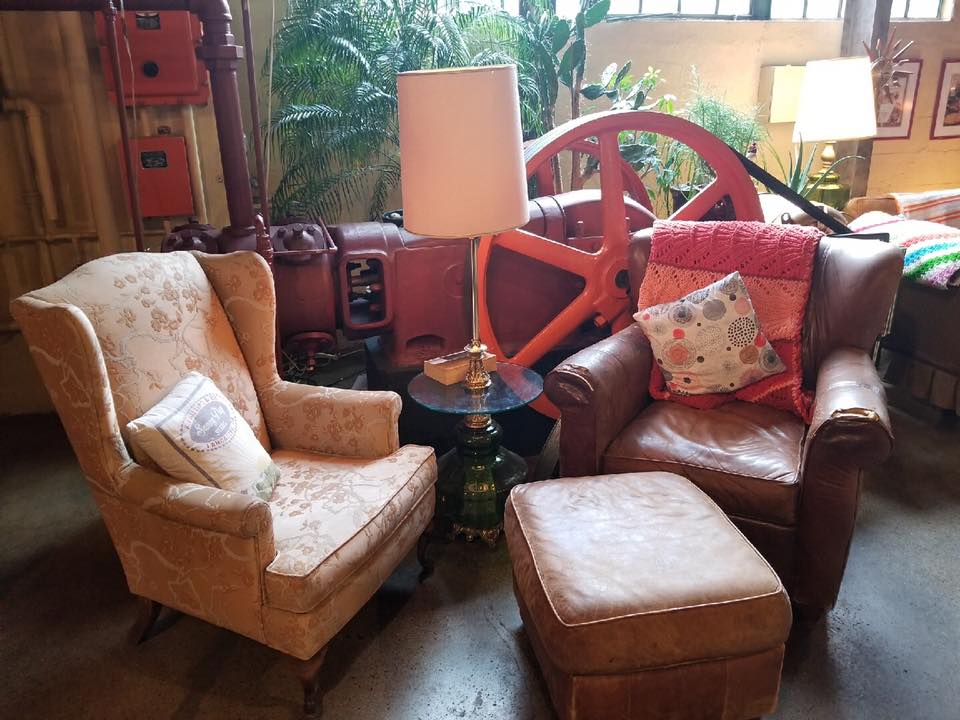 Sunshine Mill has plenty of gourmet lunches and tasty wines to treat yourself after an amazing hike. Order an Antipasto platter to enjoy in The Boiler House Bar and drink differently at The Sunshine Mill.
---
Hug Point State Recreation Site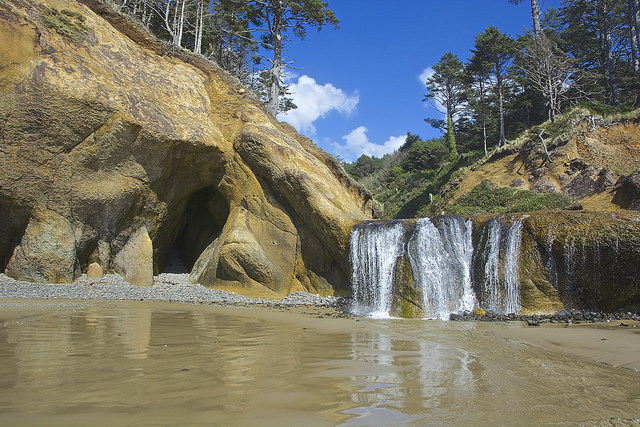 If you're looking to escape the crowds of Cannon Beach, just head 5 miles south to Hug Point for a quick and easy hike. The name Hug Point has an interesting history, as stagecoaches would travel along the beach, hugging the point as they rode by. The original trail traveled by early settlers is still here to this day just north of the parking lot. Before the highway was built, the beach was the only way to travel along this stretch of coast.
The best time to see the waterfall is during the wetter seasons, as during the summer there isn't quite as much water. Hug Point Trail is just over a mile, and located near Tolovana Park, Oregon.
After you visit White River Falls, head over to The Winery at Manzanita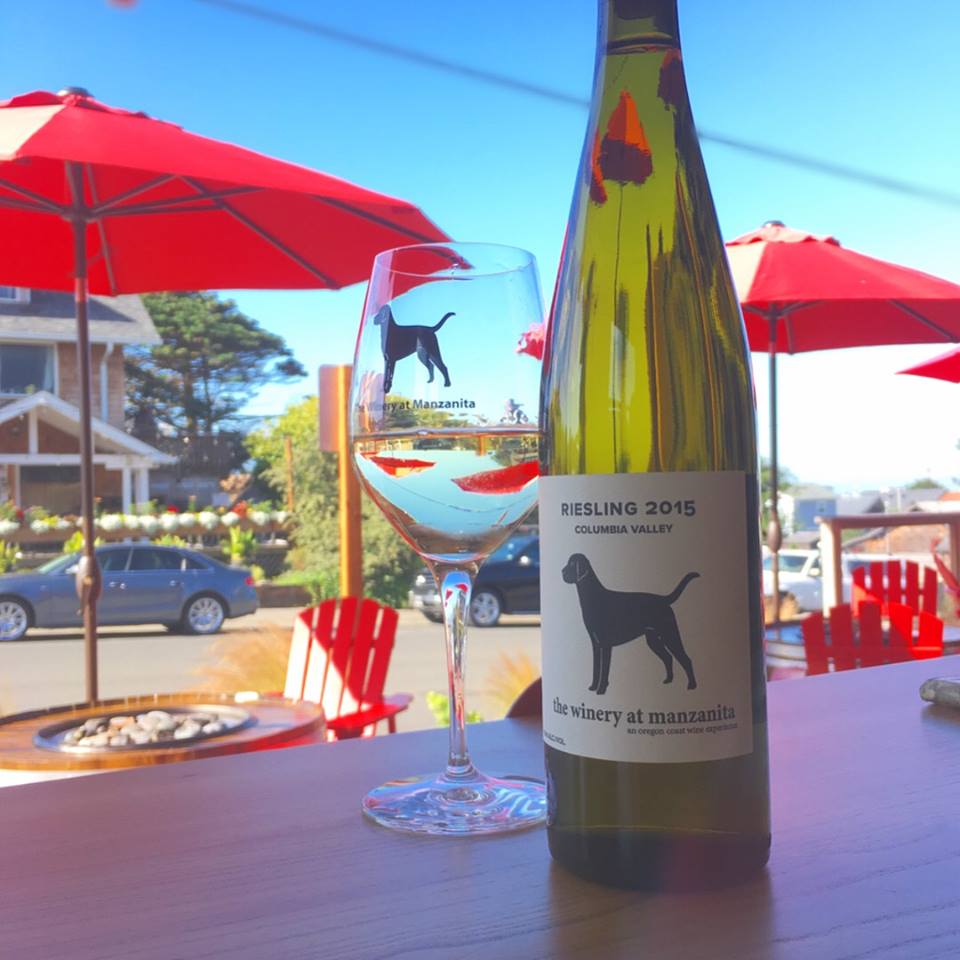 Talk about ultimate relaxation after a hike on the beach! Only 14 minutes from Hug Point at the Winery at Manzanita, you'll find incredible wine, coffee, fire pits, a tasting room, winery, ocean view deck and friendly customer service to welcome you.
Lounge around their fireplaces on the patio while sipping wine or coffee, and enjoy some good music. Wine tasting in the afternoon and evenings around the firepit is an absolute must here. Can you say S'mores and red wine? Both adults and kids are welcome to build their own S'more around the fire pits. Turn off the cell phones and reconnect!
---
Are you ready to embark on one of our Oregon wine and waterfalls day trips? Who are you taking with you? If you love taking road trips, check out this
Ghost Town Road Trip in Oregon
.