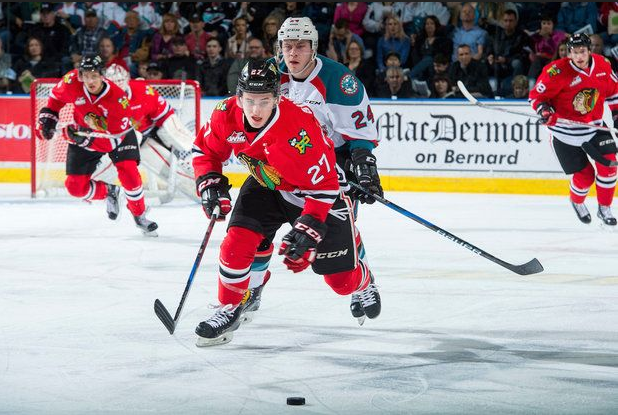 Although the Portland Winterhawks season ended in a Game 5 defeat in the second round, no one can make a claim this was a disappointing season. A team who was allegedly rebuilding, won 40 games, and took out the top team in the B.C. Division in the first round. Not too bad for a rebuild.
In one of the most hard fought series in recent memory, Kelowna slammed the door on the Winterhawks in convincing fashion. They smelled blood and came out with purpose. They capitalized on their Power Play opportunities putting up three goals in the first period alone. The Winterhawks fought back with two in the second, including this great effort from Matt Revel to make it a 3-2 game.
.@matt_rev8 makes it a one-goal game in Kelowna! @pdxwinterhawks trail 3-2. #KELvsPOR #WHLPlayoffs pic.twitter.com/bkbDgqdcvM

— #WHLPlayoffs (@TheWHL) April 15, 2017
However, Kelowna shut it down in the third, scoring three more en route to a 6-2 victory. They're a great team, but it still stings. There was such hope for the second round after the Winterhawks dispatched the Prince George Cougars unexpectedly. Although, asking for two upsets, against opponents who finished one point apart in the regular season, is a bit much.
The vaunted line of Keegan Iverson, Skyler McKenzie and Cody Glass is no more, as Iverson has maxed out his time in Juniors. The Captain leaves with six seasons played in Portland, all of which the team made the playoffs. As far as points go, the Minnesota native had his best statistical season in 2016-2017, acquiring 70 points.
He was drafted in the third round of the 2014 NHL draft by the New York Rangers and I have to believe his linemates will be higher picks this season. Glass took major strides, and is being projected as high as a top 10 pick, and McKenzie definitely made his stock rise with inspired play on both sides of the puck.
As for the rest of the Winterhawks, the future is bright. Some of the younger players took big strides this season, earning themselves valuable playing time and exposure. While making the playoffs may have been unexpected from this squad, success is not. Even in "down" years, the Winterhawks continue to be an exciting team to watch, and one not to be taken lightly in the WHL.