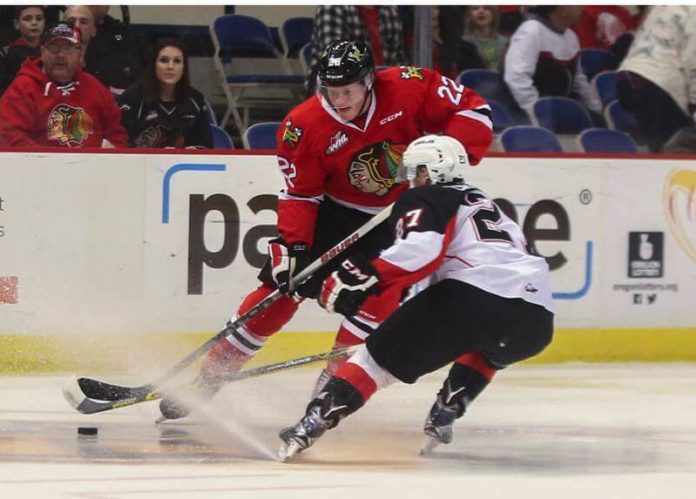 After a strong finish to the season (8-2-0-0), the Winterhawks have been rewarded with the third best team in the Western Conference, the Prince George Cougars, in the first round of the WHL playoffs. While third doesn't seem that scary, the Cougars are having a historic season.
Prince George started the season with a bang, and didn't slow down, amassing 96-points. They held off division rivals the Kelowna Rockets (95-points) and Kamloops Blazers (90-points) to capture their first divisional banner since 1980-81 when they were still in Victoria, BC. They also stayed in the CHL Top 10, which includes teams from the OHL and QMJHL.
The biggest challenge the Winterhawks will face is the multi-faceted attack of the Cougars. The team boasts several threats up front in led by Jansen Harkins, Jesse Gabrielle, Brad Morrison, Nikita Popugaev, and Radovan Bondra. However, the Winterhawks are pretty solid up front as well.
Their potent offense mainly comes from their top three of Cody Glass, Skyler McKenzie, and Keegan Iverson, with Defenseman Caleb Jones chipping in with an impressive 62 Points in 63 Games Played. While scoring doesn't seem to be too much of an issue, keeping the puck out of the net might present the biggest problem for the Winterhawks.
Portland Goaltender Cole Kehler had a strong finish to the year, and a good reason for the eight wins in their last ten games. However, the Cougars have received some stellar goaltending from Ty Edmonds, and the team as a whole gave up the third fewest goals. The big matchup will be in both sides special teams.
The Cougars Penalty-Kill (83.1%) was potent enough to finish fourth, which is exactly where the Winterhawks Power-Play placed them (24.8%). This should be a great matchup, and has a great chance to decide the series. The Winterhawks seem to have the edge though, as their Penalty-Kill was eighth to the Cougars 17th ranked Power-Play. But it's a lot more than rankings and percentages.
The Winterhawks Defenseman and Checking Line will have their work cut out for them in this series. With the Cougars playing tight on the defensive side of the puck, and spreading out scoring it will take strategy to crack them, but I think Head Coach Mike Johnston is up to it, as he has great experience in these situations.
In regards to history these two teams haven't faced each other in the postseason since the 2000-01 season, when Portland beat Prince George 4-2 in the series. This does have all the makings of a solid, evenly matched series though, as we will see if Portland's high-scoring up tempo style can defeat the defensive minded Prince George Cougars.