This may be my favorite natural wonders in Oregon, right up there with the Redwoods. Crater Lake is serene, and it's blue hue cannot be described – you must see it for yourself. Crater Lake is so majestic that it's not only one of Oregon's wonders, but it's also one of our country's crown jewels as well.
Crater Lake is so deep – it's actually the deepest lake in America – and one of the deepest on earth! It's sheer surrounding cliffs are almost 2,000 feet high, creating spectacular views. A picturesque island and a violent volcanic past make it a place unlike anywhere you've ever seen. There is a entry fee of $15, but it's worth every penny. You could easily spend a day exploring the park by hiking up mountain peaks, cruising through the volcano area on daily boat tours, or learn more about the area's natural and cultural history on a guided walk.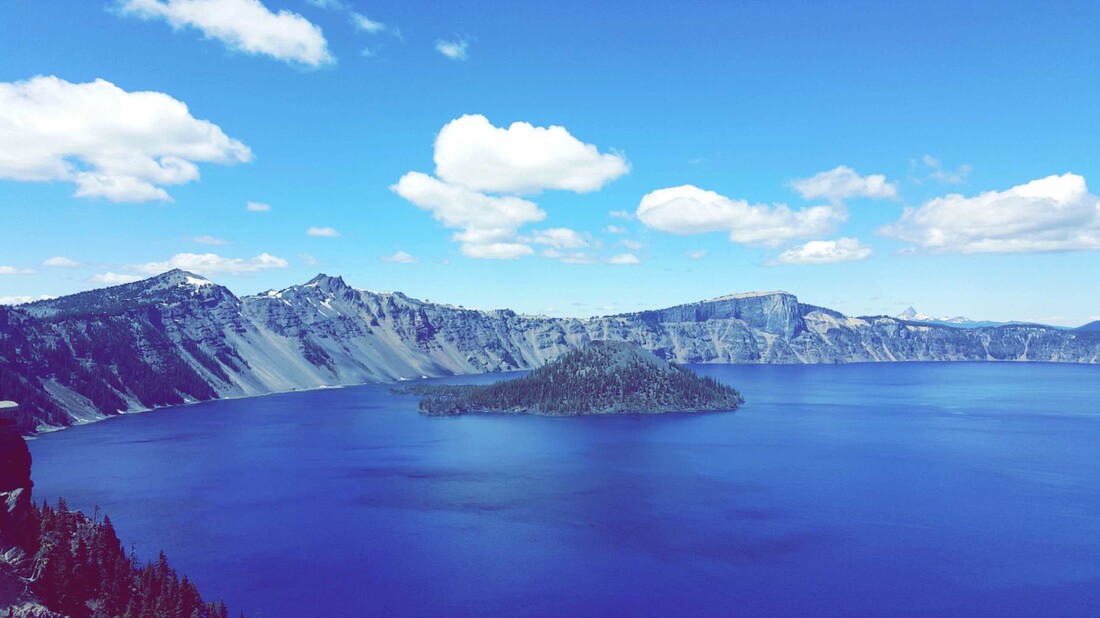 Most visitors come to Crater Lake National Park during the months of July through mid-September when the weather is generally mild. If you go during the winter months, from October through June, weather conditions make preparing for extreme winter conditions necessary. Be prepared for extreme cold and heavy winds in those months.
I suggest beginning your visit to Crater Lake at the Steel Information Center, it's located south of Rim Drive next to park headquarters and is open year-round. Now, there is plenty of hiking, backpacking, camping, picnicking and sightseeing to do in the area, but if you're looking for something a little more romantic and mellow, I'd stay at either the historic Crater Lake Lodge or in one of the peaceful cabins or campgrounds at Mazama Village. http://www.craterlakelodges.com/.
Make sure to check road conditions before driving up. They do get a lot of snow. All that being said Crater Lake National Park is by far one of the most beautiful places you will ever see, so stop waiting and go already. It's only 4 hours outside of Portland. The pics you see here were taken in May.
Thank you for reading. My name is Lance Reis, and if you like this article please feel free to read more of my articles here.