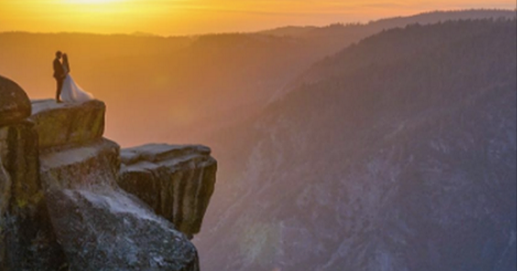 As a photographer, you never know when you may be at the perfect place to capture in time an extraordinary moment.
And that's exactly what happened with Mike Karas, when he was at Yosemite National Park, venturing along the Pohono Trail. In his surreal photo which he shot with his zoom lens, you see two recent newlyweds at Taft Point — the image now has almost 7,000 shares now on Instagram and has made national news. He is said to have been several hundred yards away when he captured this magical moment.
"I was with some other hikers and saw [the couple] pop out on that ledge just as the sun was setting," Karas told Mashable. "It was surreal."
Karas said he had took various photos throughout the area, capturing the entire golden scene, until the sun had set completely. When returning home, his buddies encouraged him to find the two lovebirds so they could see the incredible photo he had of them. One his friends sent the photo to the Oregonian hoping to get the attention of the press.
While the couple was found, according to their photographer Copenhaven, they wished to remain anonymous.
"As much of an amazing moment it was for me to capture, it was clearly an even more special moment in [their] life." he told a Bay Area NBC affiliate.
h/t Mashable