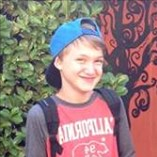 Last updated on February 21st, 2017 at 08:28 am

KEZI is reporting Eugene Police are looking for a 13 year old boy, David Nicholas Temple, who was last seen between Kelly Middle School and Emerald Park in Eugene, at about 5 p.m. Wednesday.
He was last seen wearing a black baseball cap with a purple character on it, a black hooded sweatshirt, black t-shirt, and ripped blue jeans, along with black "Vans" sneakers. David did not return home, and his parents are hopeful that anyone who knows his whereabouts will call EPD at (541) 682-5111.
h/t KEZI