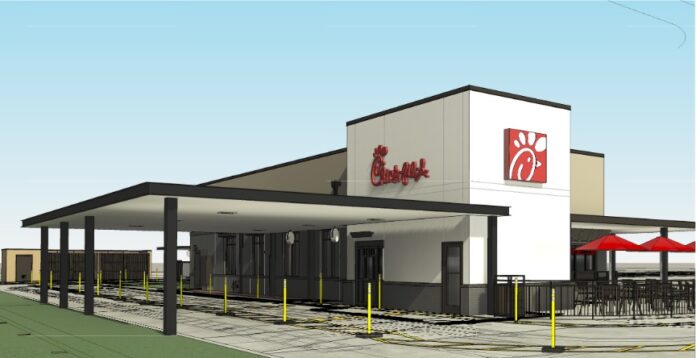 Get ready for a thrilling addition to Medford's dining scene! Chick-fil-A, the famed Georgia-based chicken sandwich empire, is set to open its second location in Southern Oregon, promising a wave of excitement and dozens of job opportunities for locals. Mark your calendars for "spring 2024," as this much-anticipated spot at Highway 99 and Garfield Street gears up to dazzle the community.
The buzz around this development began to intensify earlier this week when the company, responding to inquiries from the Rogue Valley Times, shared an enthusiastic statement: "It's our pleasure to confirm we will be opening our second restaurant in Medford. We're thrilled to become a part of the community, offering not just our signature delicious food but also an experience brimming with genuine hospitality."
Remember the first Medford Chick-fil-A that opened in January 2020 near Rogue Valley Mall at 10 Rossanley Drive? This new venture promises to be an even bigger hit! Each Chick-fil-A restaurant typically generates 80-120 jobs, making a significant impact on the local economy.
The upcoming establishment isn't just any restaurant; it's a culinary marvel spanning 4,947 square feet, complemented by a delightful outdoor dining area of 993 square feet. This grand vision was part of a construction proposal approved in December 2022 by the Site Plan & Architectural Review Commission.
But that's not all! This project is the crowning jewel of Stewart Meadows Village's fifth construction phase, a development saga that has already graced Medford with its first Panera Bread and a sprawling 134-unit multi-family apartment complex. The new Chick-fil-A is more than just a restaurant; it's a landmark in Medford's evolving culinary and social landscape, set to become a hub of community and flavor.
Sign up for monthly emails full of local travel inspiration and fun trip ideas. In each newsletter we'll share upcoming events, new things to do, hot dining spots and great travel ideas.