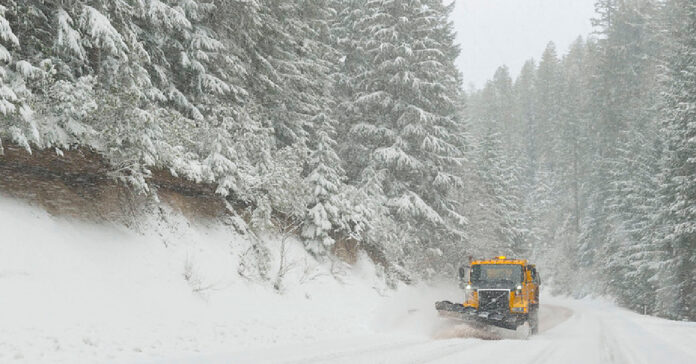 Fall in Oregon is about to get a frosty twist! As leaves continue to cascade, the Cascade Mountain passes are set for a spectacular snowy interlude. According to a recent article by Statesman Journal, the Cascade Mountain passes in Oregon are gearing up for their inaugural significant snowfall of the season, set to commence Tuesday evening. With a substantial drop in temperatures, residents and travelers can anticipate a hard frost later in the week.
Forecasts indicate that both U.S. Highway 20 crossing Santiam Pass and Oregon Highway 58 traversing Willamette Pass could be blanketed with a snow accumulation ranging from 6 to 8 inches, particularly between Tuesday evening and Thursday. The most intense snowfall is projected for Tuesday evening, easing into lighter flurries by Thursday.
RELATED: Oregon's Top 11 Ski Resorts for Unforgettable Winter Memories
Further to the north, around the vicinity of Oregon Highway 26 near Government Camp, the snow predictions are more modest, ranging from 1 to 4 inches. Although the snow might descend to altitudes as low as 2,500 feet, the majority of the snow accumulation is anticipated to be concentrated above the 3,000-foot elevation. For those venturing into the more remote areas of the Cascade Range, snow depths might even surpass a foot, especially at elevations exceeding 5,500 feet.
As the week advances, the Willamette Valley will witness a drop in temperatures, sinking into the upper 30s. By the weekend, temperatures might plummet below freezing, potentially affecting the houseless community with the onset of a sharp frost. Eugene is likely to experience frost by Friday morning, while the broader valley might only confront frost over the weekend, with potential lows diving into the 20s. However, as the following week unfolds, forecasts suggest a return to more temperate and possibly above-average temperatures. Long-term predictions for the subsequent two weeks hint at both warmer and rainier conditions.
Sign up for monthly emails full of local travel inspiration and fun trip ideas. In each newsletter we'll share upcoming events, new things to do, hot dining spots and great travel ideas.
Source: Statesman Journal