Fall: leaves turning brilliant shades of red and gold, the crisp autumn air bringing with it the scents of burning wood and roasting marshmallows. For those in St. Paul, Oregon, it's also a time to revel in the festive activities at French Prairie Gardens. A cherished local landmark, the garden's history and family-driven approach make it a must-visit during this colorful season.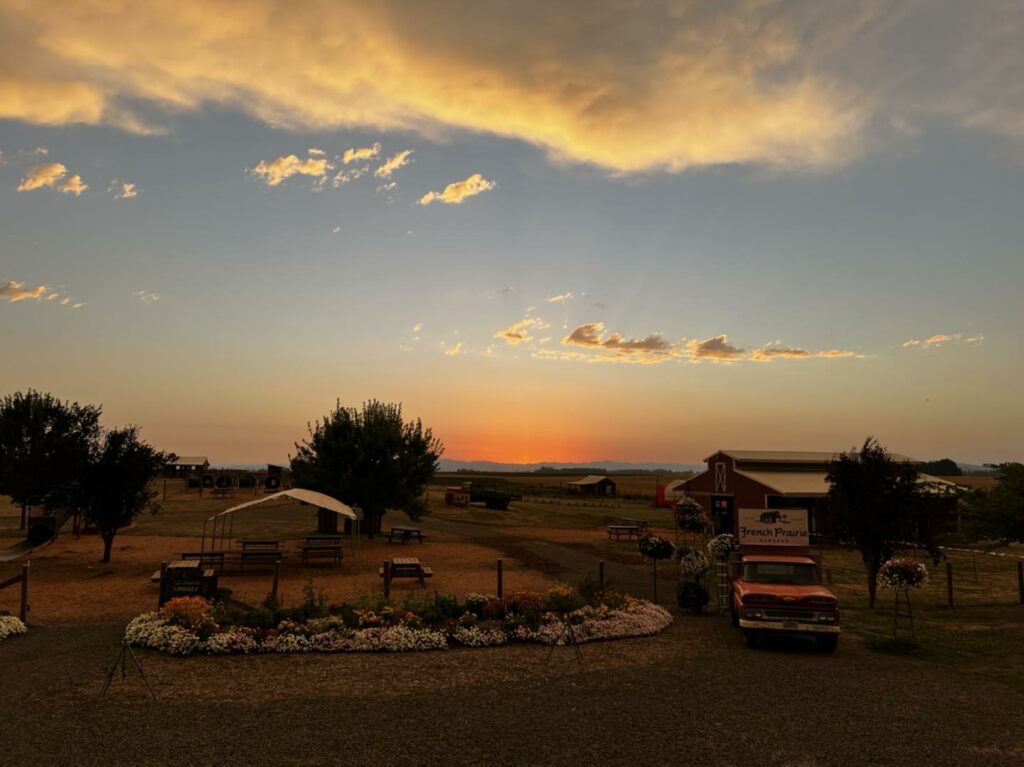 An Autumn Extravaganza at French Prairie Gardens in St. Paul, Oregon
Fall on the farm is an absolute treat. From the lively pumpkin patch that draws families for some delightful pumpkin-picking to the myriad of activities, there's something for everyone. And the talk of the town? The Pigtucky Derby Pig Races! An exhilarating spectacle that has kids and adults alike cheering with glee. The Barnyard play area too, complete with seasonal additions, promises endless entertainment.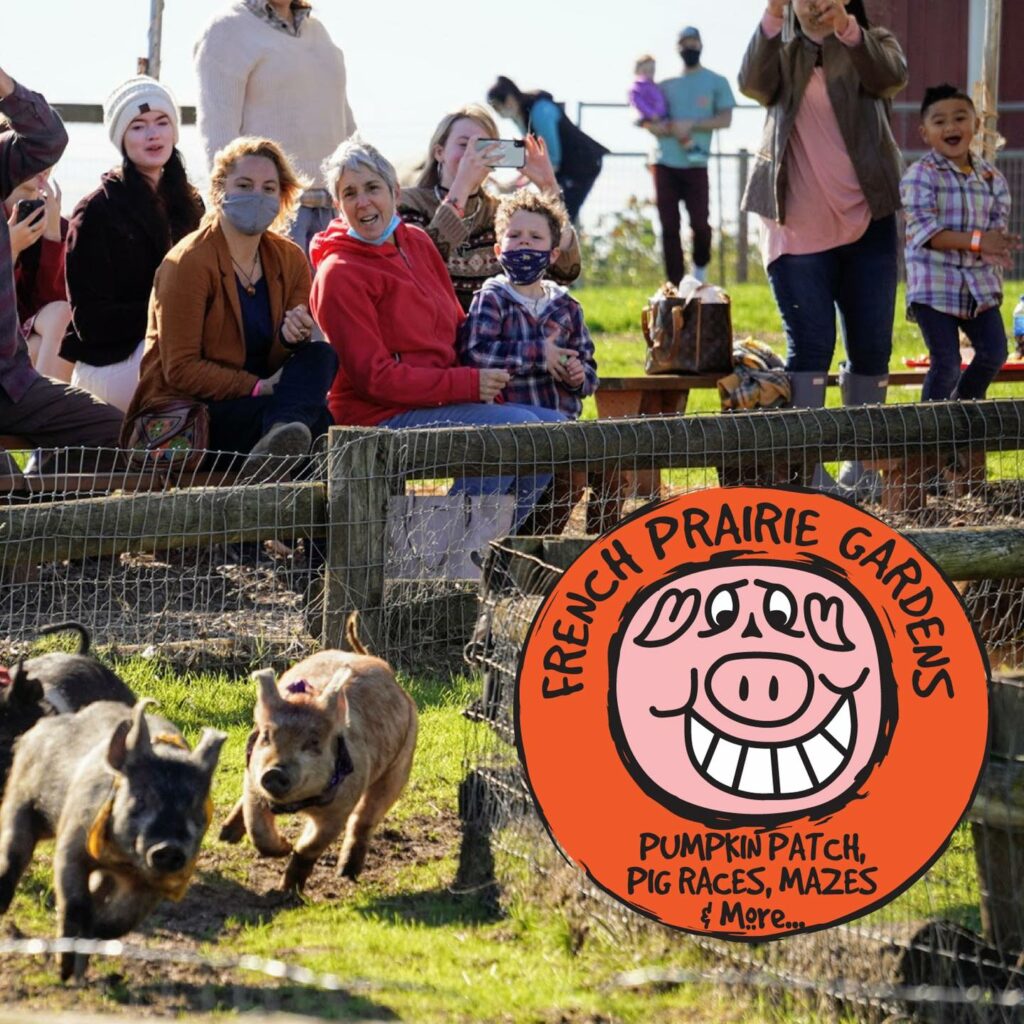 The patch features 12 acres with 20 different varieties of pumpkins, a six-acre corn maze complete with games inside, and a 175-ft. double super mega ride & slide.
Humble Beginnings
Picture this: the year is 1987. Beside a quiet roadside, the Pohlschneider family sets up a modest stand. This small gesture was the seedling that grew into the sprawling French Prairie Gardens we adore today. By 1995, the Pohlschneider's dream blossomed further with the establishment of a farm market. Over the years, they haven't just rested on their laurels but expanded, adding a scratch bakery, a comprehensive garden center, and numerous delightful agri-tourism events.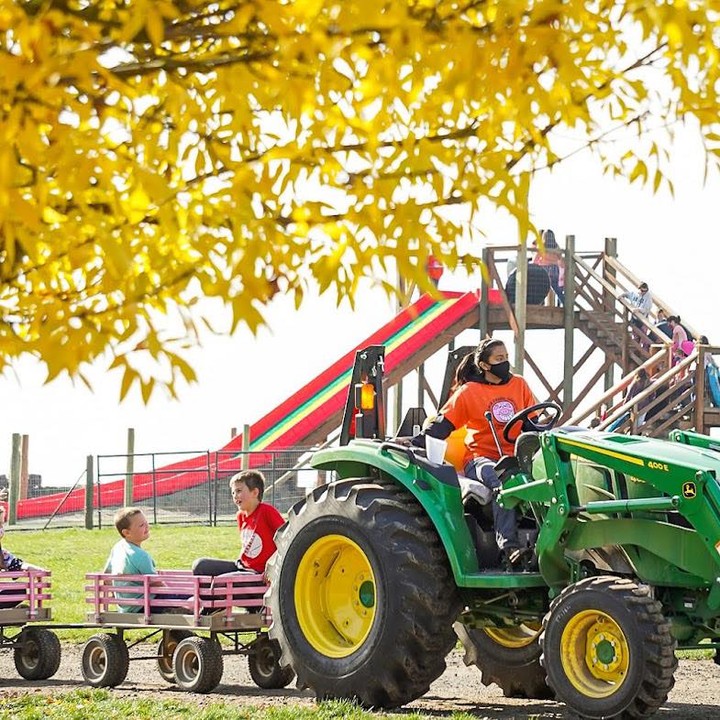 Home-Grown Wonders
One step into the garden center and you'll be surrounded by nature's finest. A whopping 95% of the mesmerizing plants and flowers have been lovingly cultivated in the on-site greenhouses by the Pohlschneider clan. And while you're there, don't forget to take in the mouth-watering aroma wafting from the bakery. There, Karren Pohlschneider masterfully crafts baked delicacies every morning using the freshest ingredients.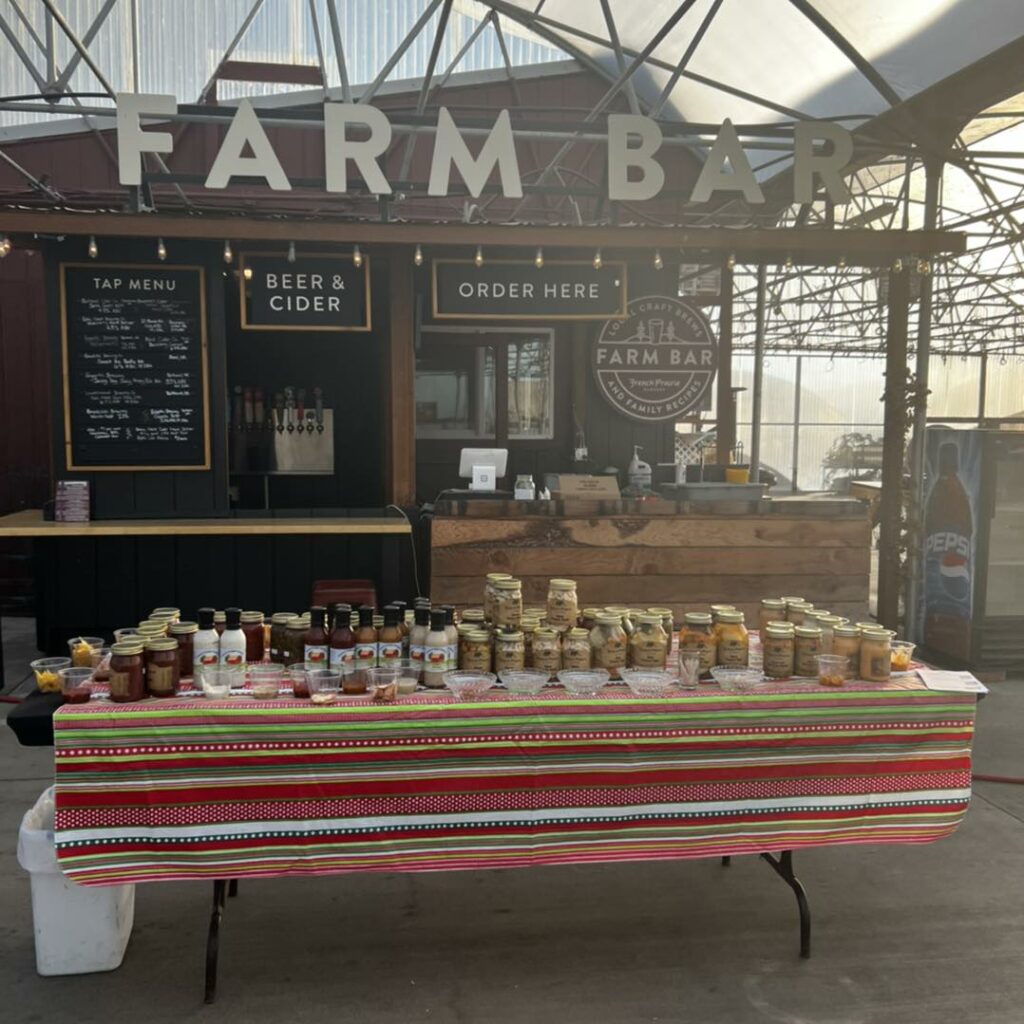 Thirsty or hungry from your garden stroll? The Farm Bar, with its 12 taps of beer and hard cider, awaits, serving cherished family recipes. And for those with a penchant for the gourmet, the Farm Market brims with tantalizing food items, unique gifts, a buzzing Espresso Bar, and a tempting Ice Cream Bar.
More than Just a Garden
Beyond the gardens, the Pohlschneider family's agricultural prowess extends to a sprawling 500-acre farm where they produce Grass Seed, Wheat, Clover, and Hazelnuts. Today, the torch of tradition and passion is carried forward by John and Karren Pohlschneider, along with their children Eric, Katey, Stacy, and their son-in-law, Albert.
A Symphony of Flavors
One image that stopped me dead in my scrolling-tracks was French Prairie Garden's Apple Cider Float. This flavor explosion is topped with an apple cider donut, caramel, & whipped cream, which is enough to make me drop what I'm doing and drive over there ASAP.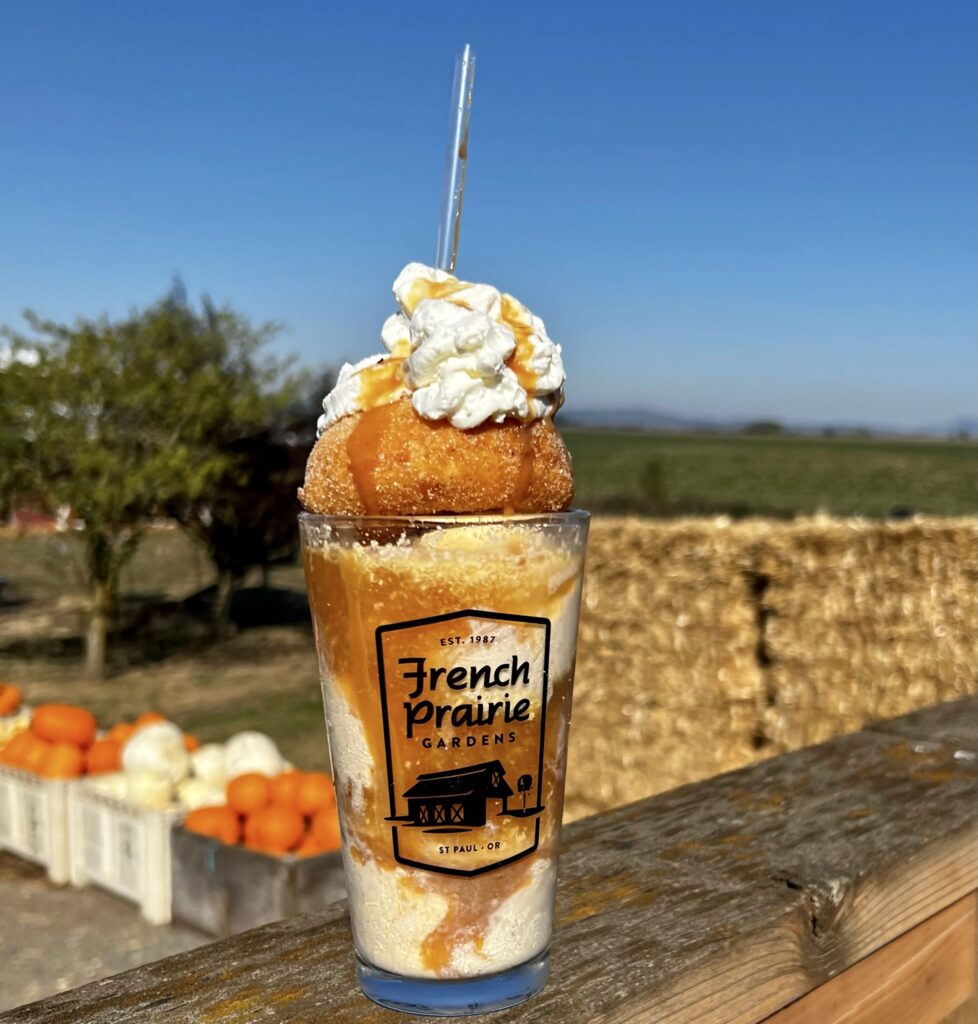 The crown jewel, for many though, is the Scratch Bakery. Traditional recipes handed down over generations come to life every day. Favorites? Fresh cookies and the scrumptious marionberry scones. But that's not all – from apple pies brimming with 2 lbs of farm-grown apples, to an array of delectable fruit pies, apple cider donuts, and various scones and breads – the list is endless and delicious. The best part is that all the fruit is grown right on the farm.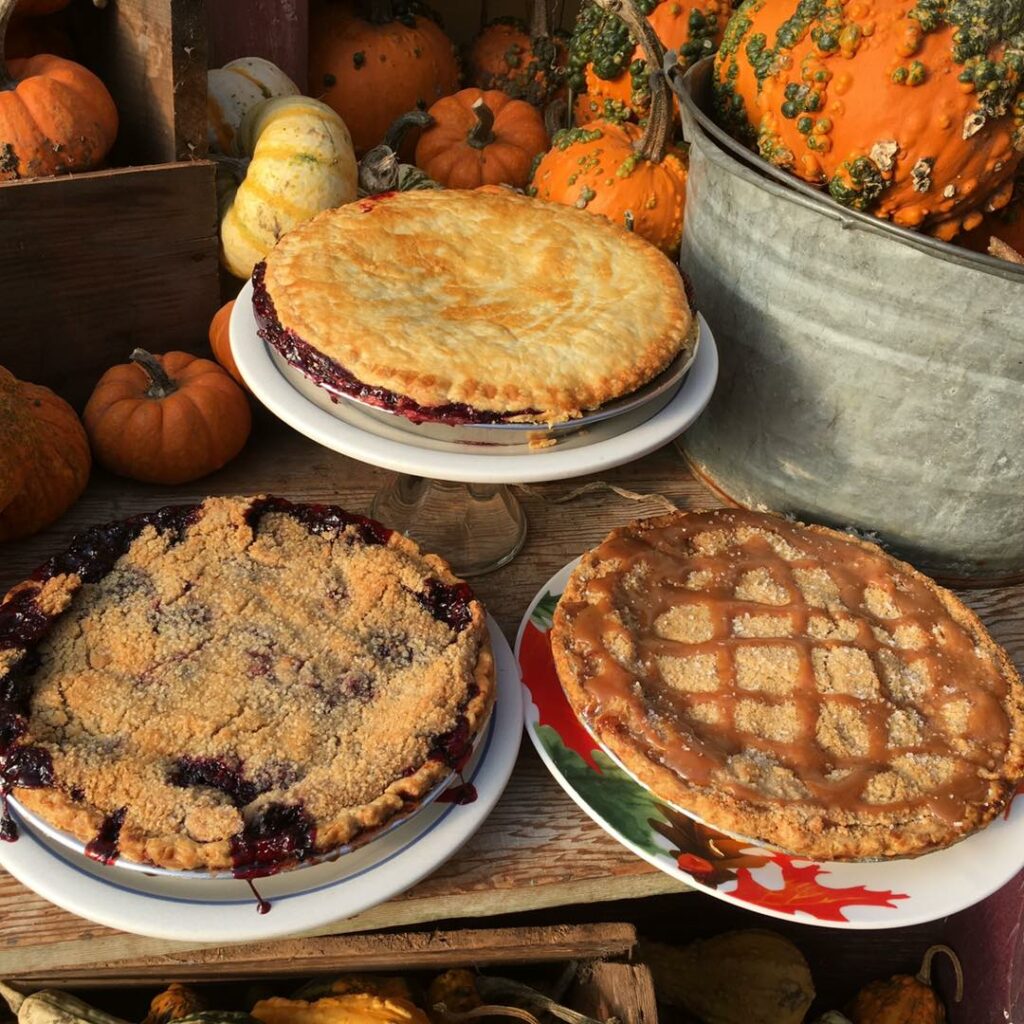 Want to know the magic behind their Strawberry Rhubarb Pies? They've got a video showing the process! Each baked item showcases the family's commitment to blending age-old recipes with fresh farm produce, ensuring a burst of authentic flavors in every bite.
So, this fall, gather your loved ones and head to French Prairie Gardens. It's not just a visit; it's an experience – one filled with fun, family, and flavors! 🍂🥧🎃🍻
Where is French Prairie Gardens Located?
Address: 17673 French Prairie Road, St. Paul OR 97137
Phone: 503-633-8445
Website, Information, and Tickets: fpgardens.com
Facebook: facebook.com/FrenchPrairieGardens
Instagram: instagram.com/frenchprairiegardens