Just when Oregonians thought they were getting relief at the gas pump, gas prices are rising sharply in Oregon once again. For fourteen weeks gas prices were falling in Oregon, but this week gas prices have risen over 50 cents a gallon. According to OPB, the rising price of gas in Oregon has skyrocketed faster than in any other state in the country. With several refineries in California undergoing planned or unplanned maintenance, this is creating extremely tight supplies on the West Coast.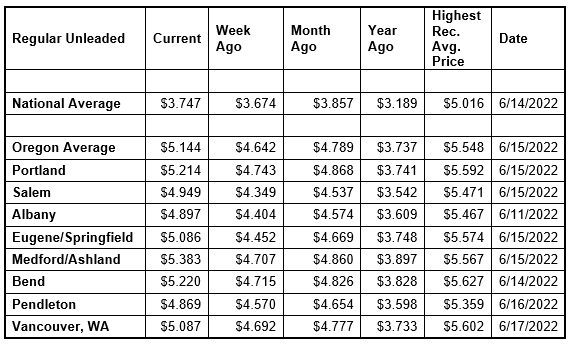 While Oregon's average cost of fuel is $5.14 per gallon in the last week of September, this still isn't as high as fuel prices were back in June when gas averaged $5.55 in the state. Currently, the national average cost of fuel is $3.74 per gallon, significantly less than the price of fuel in Oregon. Gas prices in Oregon is the third highest in the nation, behind California and Nevada. Just two years ago, the Oregon average cost of fuel was $2.67 per gallon, with the national average being $2.17 per gallon in 2020.
According to AAA, the sharp rise in gas is due to supply constraints with several West Coast refineries being offline for maintenance. "Multiple refineries in the Los Angeles area and a refinery in Washington State are experiencing either planned or unplanned refinery work which could last several more days. This has put a significant crimp in supplies and sent pump prices soaring in this region. In addition, the Olympic pipeline in Washington is due for maintenance, perhaps as early as this week," said Marie Dodds, public affairs director for AAA Oregon/Idaho, in a statement.
Hurricane Ian could also be contributing to the problem, depending on the storm's track, by disrupting oil production, refining, and transportation in the Gulf of Mexico.