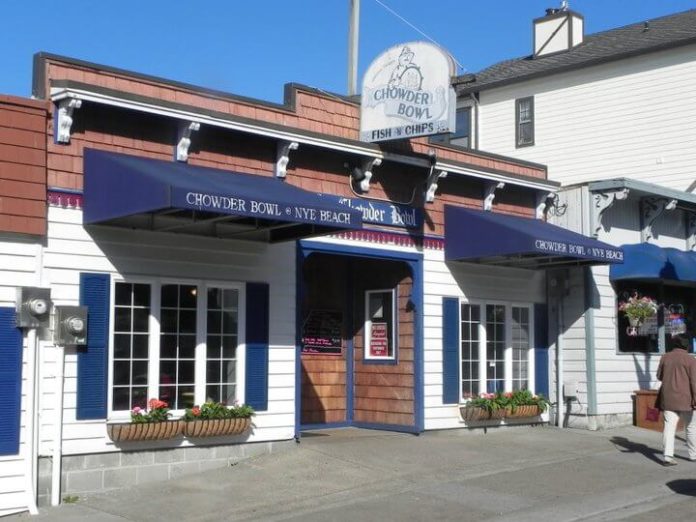 Imagine sitting at a table near the edge of a sea cliff, watching the tide pull in, while you enjoy the perfect bowl of clam chowder–something fresh and authentic–the essence of the sea. It could fill you up, but it will always leave your mouth watering, begging for another bite.
That's what it's like to visit the Chowder Bowl at Nye Beach in Newport, Oregon. With less than 100 yards between the restaurant and the sand, they don't just serve food; they serve an experience. That's how they earned their spot on "The  Today  Show", why they were featured in Coastal Living Magazine, and why they received the 2010 and 2011 Newport News-Times "Best Clam Chowder" Award.
Sign up for monthly emails full of local travel inspiration and fun trip ideas. In each newsletter we'll share upcoming events, new things to do, hot dining spots and great travel ideas.
The Perfect Chowder Bowl
The Chowder Bowl lobby is warm and welcoming, styled after its New England counterparts, making it the perfect contrast to the harsh coastal climate. Even the outdoor seating is cozy, packed with space heaters and semi-transparent coverings to protect diners from the rain. It's welcome relief, especially if you spent the day in the sand or on the water.
The restaurant also has a dog-friendly deck, which couldn't be more perfect. You can take your pup out for a walk, then pop in for a beer without having to take them home first. It's all in time with the congenial attitude you can expect from the staff there. It's rare to hear about bad service at the Chowder Bowl, which is one of the reasons why Newport loves them so much.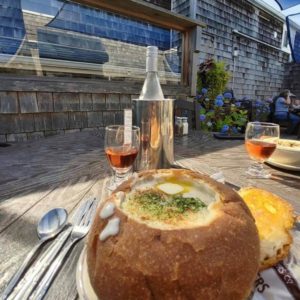 What To Order
Unlike many chowder houses, Chowder Bowl is based on variety. They have a gigantic menu, showcasing almost every American seafood dish you could think of. But their main item, of course, is their chowder. It's served several different ways. You can get a cup, a bowl, or a local sourdough bread bowl, all overflowing. You can also order it with a topping of Pacific shrimp, a most welcome addition. It goes great with garlic bread or cheesy garlic bread, which adds to the flavor when you dip it in the broth. If you're in the mood for a drink, it pairs well with one of their dark beers–so well in fact, that you'll never eat chowder without a bottle again. It's the one flavor the dish is missing, and trust me, it is sorely needed.
The menu can be a bit overwhelming for first-timers. There's a lot to sift through, and for the most part, you can't go wrong. There are sandwiches, salads, fried seafood, fish and chips, and even burgers. Many of the items already come with a cup of chowder, so you can order what you want without missing the main course.
But unless you've been dragged along for the ride, you're probably not there for ham and swiss or a jalapeño burger. You want seafood. What stands out the most is their sandwiches from the sea section, particularly their shrimp-wich, clam-which, and oyster-wich, which are all fried and served on a toasted pub bun. They come with either tartar sauce or a side of cocktail sauce and coleslaw. The reason these items were chosen is because the Chowder Bowl has somehow managed to come up with the perfect combination of breading and fish. It's not too crispy, not too meaty; it's just the way you want it, and the flavors and textures combine, creating a finished well-balanced product that's suited to most palates.
Another standout sandwich is their cajun oyster club. If you haven't tried grilled oysters, order them. They're topped with homemade cajun seasoning–robust but not spicy–on sourdough bread with lettuce, tomato, and bacon–that's right, oysters and bacon. The seasoning mixes in with the rest of the sandwich, turning the once bland club into a gourmet smorgasbord. It's a genius combination, both unique and satisfying.
The chipotle shrimp bacon wrap is another item you won't want to pass up. It's a spinach wrap with avocado, baby greens, tomato, pacific shrimp, and bacon. The chipotle ranch sauce gives it the tangy kick it needs to round out the flavors and enhance the meat.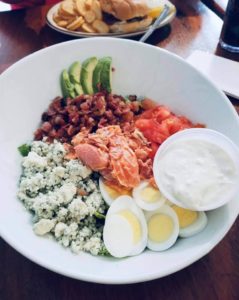 The Chowder Bowl excels at turning basic items into feasts, even if the ingredients are basic or simple. This cobb salad is the perfect example. There's greens under the bleu cheese, chicken, bacon, avocado, and tomato, but you can't see them because everything else is displayed on top next to a giant cup of dressing. That's not a salad; it's a buffet, but it looks delicious.
The fried fish and seafood selection is impressive and grilled options are available for those who would prefer something leaner. There's Pacific true cod, oysters, clams, calamari, and three varieties of shrimp: coconut shrimp, popcorn shrimp, and regular shrimp. All of these platters are served with golden fries and either cocktail sauce or tartar sauce.
They appear to use a mix of corn meal and flour in most of their breading, which means there's a crunch, but there's enough starch that you can still expect the same battered texture you're used to. A nice dark beer and a cup of clam chowder, and you'll have the full Chowder Bowl experience.
What Not to Order
Sorry to disappoint, but the fish is not fresh-caught, and most of it is probably not local. Chowder Bowl's menu is carefully crafted to avoid calling items fresh unless they are actually fresh, like the bread from Panini's Bakery, or their fresh homemade soups. Most of their food comes from unlisted locations, except for their oysters, which are in fact from Yaquina Bay. They also sell Washington clams if you pay extra. With the rest, all they can guarantee is the species, and they do a fine job of talking that up. Does this mean that you're getting shrimp from sludgy farms or the oil-ridden depths of the Gulf of Mexico? Maybe. There are beachside restaurants on the West Coast that get their shrimp from Mississippi, but the taste points to something closer.
Another tricky subject is the tacos. Those aren't flour tortillas. Tortillas are made from flour, oil, salt, and water–not caking agents and preservatives and definitely not sugar or corn syrup. Real tortillas aren't puffy. They look nothing like the tortillas that they serve at the restaurant. It's a shame because Chowder bowl does try. All of the ingredients are there. They have fresh pico de gallo, mango salsa, and breaded fish. They even have chipotles, and to their credit, they do what they can to work with the so-called tortillas they have, but it's still way off the mark. Chowder Bowl has the same problem with their corn tortillas. The masa used to make them should be fresh and semi-pliable, not crumbly and old. Without that, there's no point in ordering their Mexican dishes.
Don't let that stifle your craving. What Chowder Bowl does right, it does right. They made the news with their chowder because it is the best. Their seafood, their drink selection, and their sandwiches are all a taste of the divine. If that doesn't convince you, try getting a table. As the website says, they're popular for a reason.