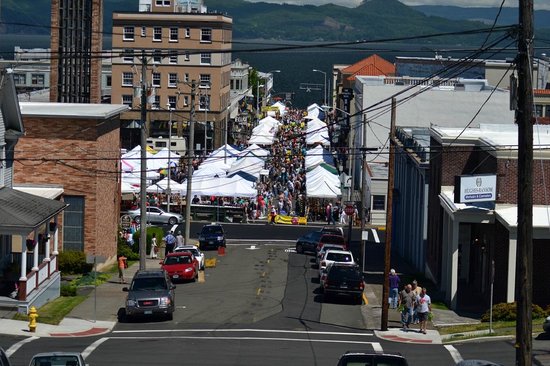 As some things look to be opening up again this summer, the Astoria Sunday Market is expected to fire up again in a few days just in time for the weekend, May 9.
This will mark the 21st year for the popular market, which began in 2000. The market was formed to revitalize Historic downtown Astoria and improve the economic viability for small business owners and farmers in the Pacific Northwest. For 2021, the market will include over 125 vendors and will take place in its usual location of downtown Astoria on 12th Street from Marine Drive to Exchange.
Kettle corn, beautiful art, fresh flowers, baked goods, and locally grown produce are some of the things you can expect to find at the market.
"Remember: keep wearing your masks, keep appropriate distance from others, wash your hands often, and if you or someone you live with is not feeling well, please stay home," market officials said in a press release. "Please wait to enter the market, if at capacity, and be brisk when shopping to allow others to shop."
Safety precautions due to COVID-19 from their site:
Sign up for monthly emails full of local travel inspiration and fun trip ideas. In each newsletter we'll share upcoming events, new things to do, hot dining spots and great travel ideas.
We welcome shoppers to the market! We have a greater variety of vendors now but we will look very different! Our market is designed to allow appropriate social distancing but we need your help!
Customer Expectations 
1) Please:  If you or someone you live with is sick or not feeling well, stay home.
2) Please: Stay 6' feet apart:  We are asking customers to maintain safe distances from each other while shopping or passing through the market.
3) Please send no more than two people per household — large groups create difficulty for social distancing. If this is not possible then please be especially mindful of making sure your group is allowing others to have ample room to be socially distant (don't block aisles, send only one person to the vendor for purchase, step aside if others want to approach a booth, etc.)
4) Please Follow COVID-19 safety protocols:
CDC recommends wearing masks and so do we!
5) Lastly: Please dispose of single-use gloves and masks in trashcans or take home to dispose of.
​According to their site, the 2021 season runs from May 9 through October 10 and open at 10 am, going until  3 pm every Sunday. Head over to their site at astoriasundaymarket.com to read more.