50,000 miles. Two countries, 25 states. Eight legs, eight wheels, and two horns. Meet the unique family behind Argosy Odyssey, living their best Oregon Life.
Even better? Watch them on Discovery+'s The Bond, a four-part mini series that "tells remarkable, moving and surprising stories of men, women and children bonding deeply with animals that we might think of as wild".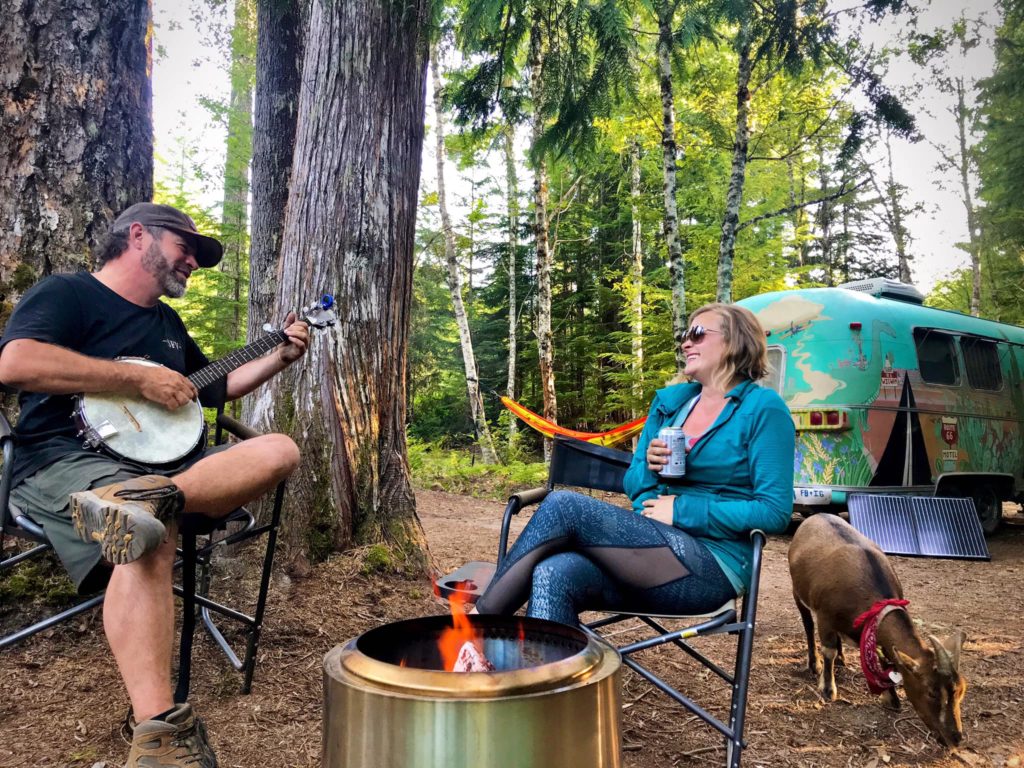 Chad and Cate Battles knew they wanted a unique lifestyle for themselves after meeting and marrying in Asheville, North Carolina. "We bought our 1976 Airstream Argosy in 2015 after scouring Craigslist for a long while. It was pretty dilapidated when it was delivered to us; basically a shell that we had to totally renovate and make our own. The Argosy was the only model of Airstreams that came out of the factory painted white, so for an artist like myself- it was one big blank canvas. While Chad [gutted and restored] the interior, I hand painted the mural around the outside (inspired by Woody Guthrie's "This land is Your Land')," Cate relates.
Unlike some Airstreamers, the Battles' still have full-time jobs; Cate as an artist, travel writer, and social media manager, and Chad at Schmidt Family Vineyards in the Applegate Valley near Grants Pass, OR. Their story has caught the attention of and been covered in such publications as People Magazine, Bored Panda, RV Life, and Airsrteam Inc.
"After we toured the country, we finally decided on Grants Pass as our new home-base. For us, the selling point was that within 2 hours, we could be exploring the coast, hiking through Redwoods, rafting down the river, skiing down the mountain, or on our way to Southern Oregon's high desert. Being avid campers and outdoor-oriented people- the diversity of options are amazing here."
And along came Frankie.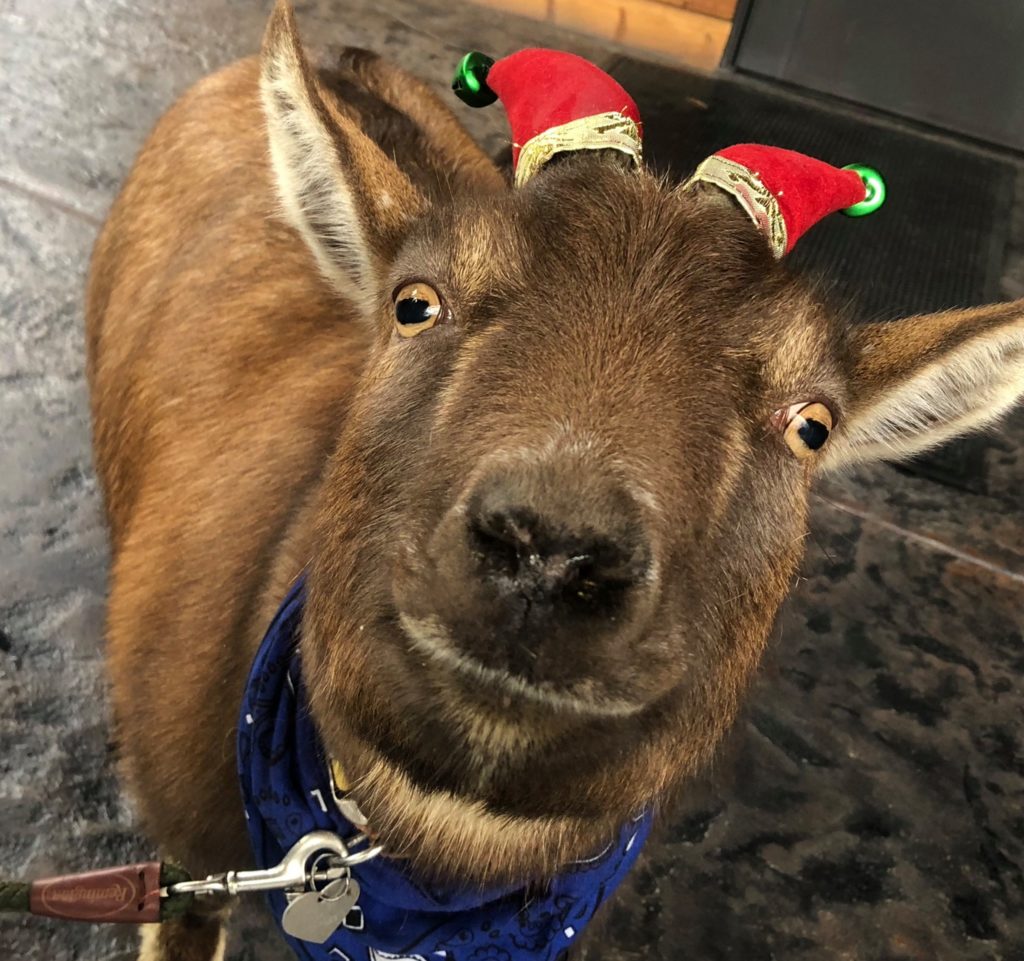 When I first discovered the Argosy Odyssey's Facebook Page, I was instantly smitten with the Battles' hooved and horned travel companion. She goes by many names ("Baby Franks", "The Franks", "Tubs", "The Frankus"), but to her fans Frankie Rae Battles is simply "Frankie". When Cate and Chad were still living in NC, the half Nigerian dwarf/half pygmy goat was gifted to the couple as a baby.
Sign up for monthly emails full of local travel inspiration and fun trip ideas. In each newsletter we'll share upcoming events, new things to do, hot dining spots and great travel ideas.
Cate says, "Frankie grew up with our three dogs and always has had regular play-dates with other goats. We bottle fed her so she would bond with us and immediately trained her to be an outdoor/indoor goat, and we would take her on regional camping trips in the mountains of Western North Carolina."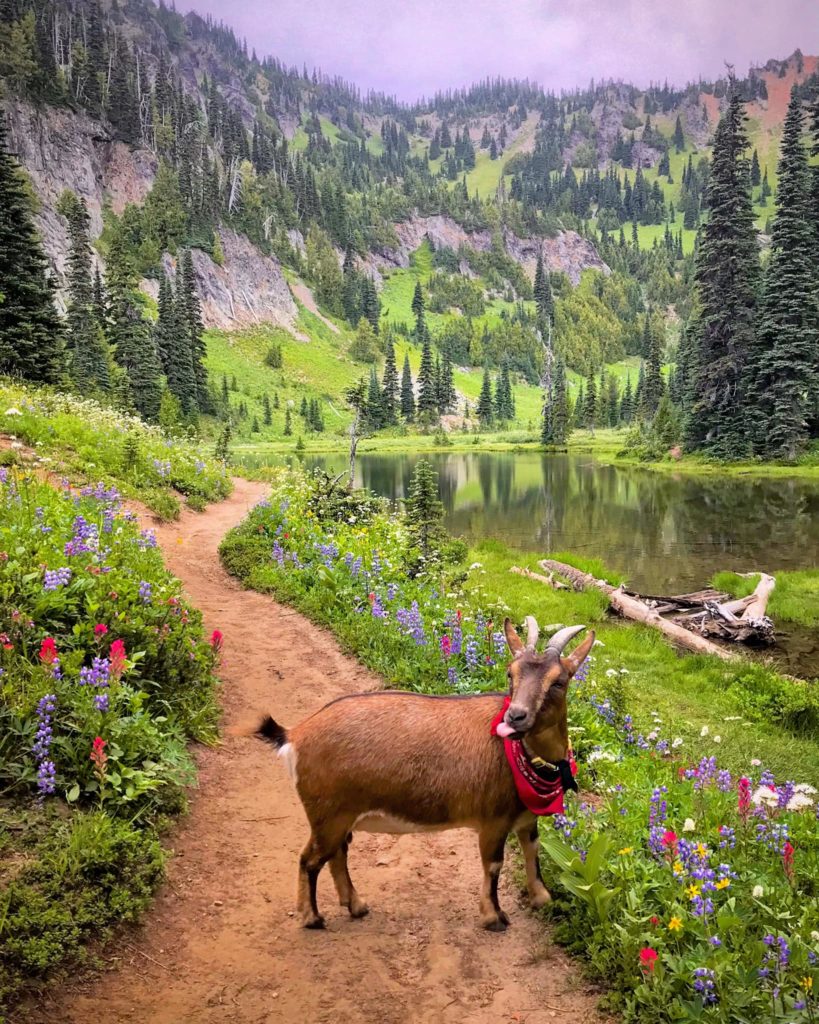 While at home in Grants Pass, the family lives on a farm and the Airstream is parked in a two acre fenced in pasture with a barn, where Frankie spends the majority of her time in the great outdoors. At night however, she is inside and sleeps at the end of the Battles' bed where she has her favorite perch and can look out the window. When they're traveling, she sleeps in the backseat of the truck.
Can you potty-train a goat? Why, yes. Yes you can.
"Frankie was taught from a young age to go to the bathroom before coming inside and to lie down while in the car or trailer, which keeps her from getting into stuff she isn't supposed to. Goats are very smart animals and can also be very stubborn. Like dogs, they need lots of affection and really bond with the humans and animals they are raised with."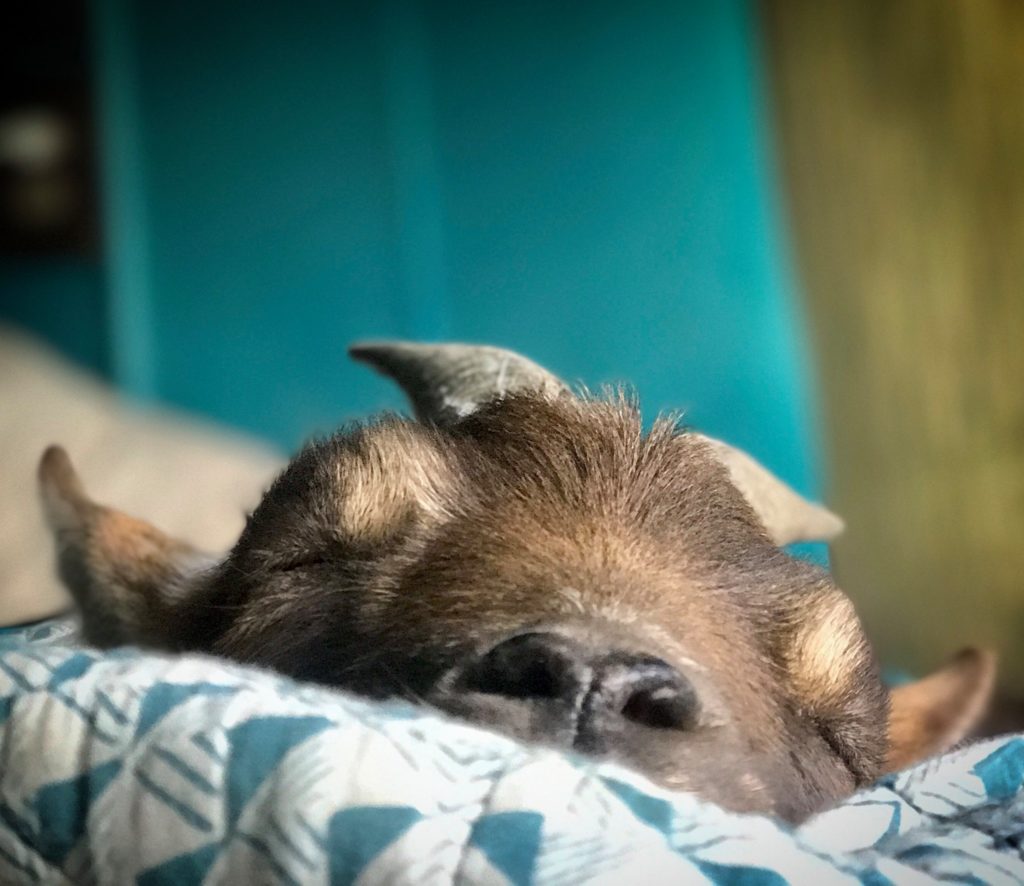 "Frankie has explored dozens of national and state parks and the surrounding areas from the Grand Canyon, Crater Lake, to Yellowstone's Old Faithful. She's hiked snowcapped mountains, adventured in caves, and explored beaches up and down the pacific coast. A few of her favorite spots include the Alabama Hills along CA hwy 395 and the Southern Oregon Coast since both places offer plenty of rock climbing opportunities and salty surfaces to lick."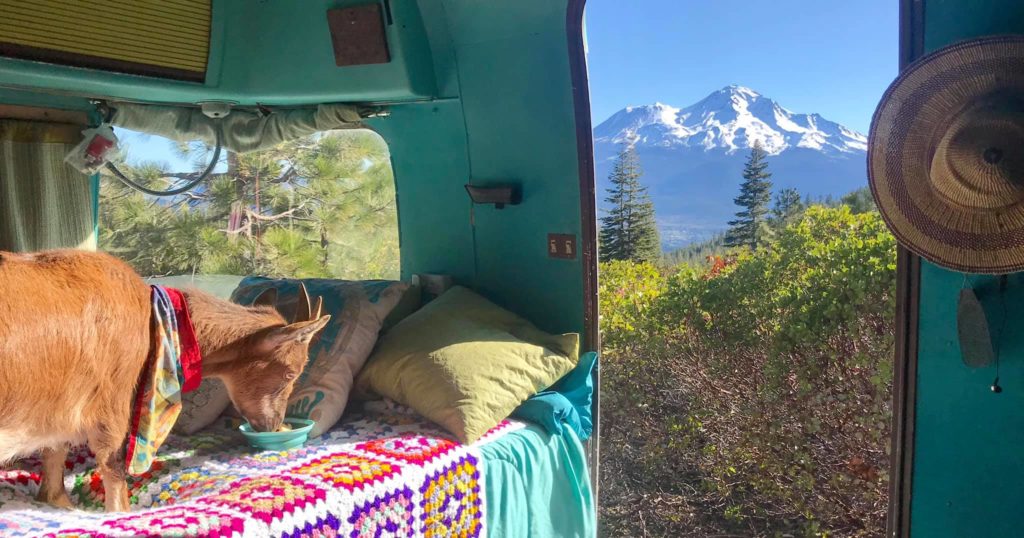 This is the Oregon Life we dream of.
Freedom to explore at your pace and with a sense of wonder. Furry companions by your side. Cozy fires, good beer, and great friends. I asked Cate if she believes her family is living That Oregon Life.
"If that means exploring Oregon as much as possible- then yes! We think a defining characteristic that epitomizes Oregon Life is an appreciation of the outdoors and lifestyle that allows you to connect with nature on a regular basis. The fact that we all get to call this gorgeous, geographically diverse state our home, makes us all super lucky. Whether we are rafting down the Rogue, hiking along the Oregon Coast trail, or exploring hot springs in the Eastern Oregon desert, we have so many unique outdoor experiences to enjoy here. We also like to share our experiences with others, so they too are hopefully inspired to do the same. We also are strong believers of "Leave it better than you found it" and encourage people to enjoy but also respect the land. By picking up trash, and leaving no trace- we all can continue to do our part by leaving Oregon unspoiled for future generations."
I couldn't have said it better myself.
To follow the ongoing adventures of Chad, Cate, and Frankie, visit their Facebook Page or Travel Blog. You can also view Cate's wonderful art HERE.