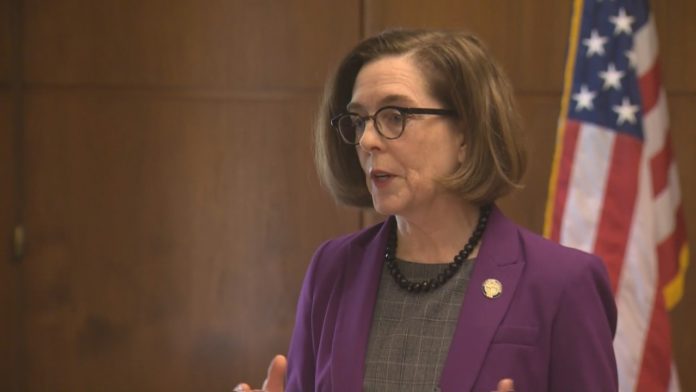 With COVID-19 rapidly shutting down every state across the nation, Oregon's Governor Kate Brown has followed suit by issuing an executive order on Monday. According to KEZI, Governor Kate Brown ordered Oregonians to stay at home or face the penalty of a misdemeanor.
I want to make it perfectly clear what's allowed and what's not under my new Executive Order. If you're still not sure about an activity, skip it. Staying home will save lives. pic.twitter.com/Fi8i1oxv4C

— Governor Kate Brown (@OregonGovBrown) March 23, 2020
While it's not a full lockdown, the governor is encouraging every Oregonian to stay home unless you're going out to exercise, get groceries, or go to work. THe order comes just days after Kate Brown said she would not order Oregonians to remain at home in an effort to slow the spread of coronavirus.
"I am issuing a new executive order further requiring social distancing measures because we know this is the most effective way to flatten the curve and slow the spread of this virus," Brown said in a statement. "I hope everyone in Oregon abides by its core message: stay home unless absolutely necessary."
Brown has also expanded the list of businesses forced to shutter as Oregon tried to contain the virus. Those are businesses "for which close personal contact is difficult or impossible to avoid," according to the order, including bowling alleys, gyms, gift shops, malls, spas, senior centers and theaters, among others. The Oregon Health Authority is able to expand those closures, if necessary.
Below are details of the order:
All non-essential social and recreational gatherings of individuals are prohibited immediately, regardless of size, if a distance of at least six feet between individuals cannot be maintained. Gatherings of members of the same residential household are permitted.
It closes and prohibits shopping at specific categories of retail businesses, for which close personal contact is difficult to avoid, such as arcades, barber shops, hair salons, gyms and fitness studios, skating rinks, theaters, and yoga studios.
It requires businesses not closed by the order to implement social distancing policies in order to remain open, and requires workplaces to implement teleworking and work-at-home options when possible.
It directs Oregonians to stay home whenever possible, while permitting activities outside the home when social distance is maintained.
It closes playgrounds, sports courts, and skate parks, among other types of outdoor recreation facilities. Those that remain open are required to strictly adhere to social distancing guidelines.
It outlines new guidelines for child care facilities, setting limits and rules on amounts of children allowed in care, and outlining that child care groups may not change participants.
Failure to comply with the order will be considered an immediate danger to public health and subject to a Class C misdemeanor.
Source: opb