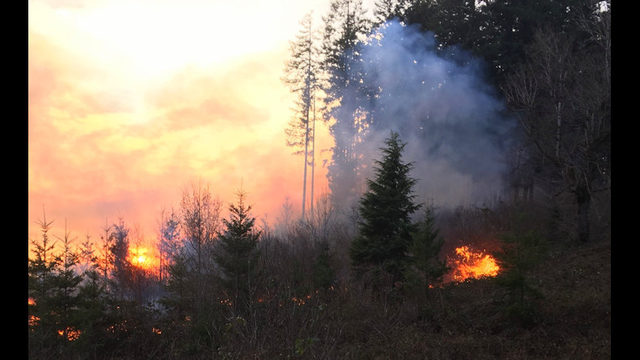 LYONS, OREGON — According to the latest news, Multiple wind-fanned early-season wildfires have been reported Tuesday evening, and have jumped the Santiam River just southeast of Salem. The fire, off Highway 22, which has been dubbed the Santiam Park Fire, has grown to an estimated 60 acre. Level 3 "go" evacuations are in place for residents west of Neighbor's Lane, including 25th Avenue, Oak Lane, and River Loop.
The Statesman Journal reports no homes have been lost at this time, although around 35 homes and 30 buildings have been threatened by the fire.
The Mari-Linn School in Lyons is reported to be set up as an evacuation shelter at this time, with one person sleeping there early Wednesday according to. KATU. Classes at the school, K-8 have been closed as of Wednesday.
The safety of our families, students and staff is our primary concern," the North Santiam School District wrote on Facebook.
According to ODOT's TripCheck page there are no delays on Highway 22, although the Santiam Park exit was closed.
For more information on evacuations, contact the Linn County Sheriff's Office at 541-967-3950. At this time, the cause of the fire is unknown and still under investigation.