One of the most anticipated events on the Oregon Coast, Finders Keepers in Lincoln City, is happening now. This family fun adventure, which begins today, October 13, 2018, goes every year from October through Memorial Day. Now's your chance to hunt for over 3,000 handcrafted glass floats crafted by local artisans, which are placed throughout the beach. And of course, "Finders Keepers" as the event is known as, means every glass piece you find is yours to keep.
The Finders Keepers project, sponsored by Lincoln City, started in 1997 and has drawn in tourists from all over the country to search for their own brilliantly-colored, signed and numbered glass float.
Many in the past would often find treasures from the east, such as blown glass floats in beautiful shades of green and blue. These spheres were used by Japanese fishing crews to float their nets, and could be small as two inches or as large as two feet. The beautiful pieces were hoarded, polished and adored, and indeed an excellent find on the beach.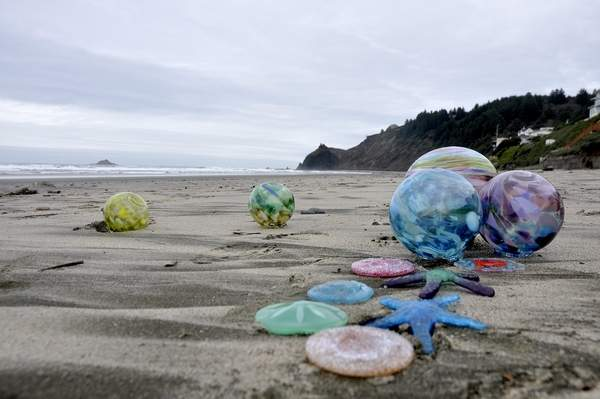 Fishing vessels around the world nowadays use buoyant plastic, resulting in a blown glass float being a rare find… Unless of course, you are on the beaches of Lincoln City. The event goes from October 13, 2018 through May 27 of 2019. Finders Keepers will take place in Lincoln City, and an army of "Float Fairies" will hide all the beautiful glass throughout seven miles of public beach, from Roads End on the north to Siletz Bay on the south.
Don't forget to share a photo on their official Facebook, Instagram (LincolnCityOR) or Twitter (@LincolnCityOR) pages and use #FindersKeepersLC!
Some basic rules of the hunt, from oregoncoast.org:
Floats can be found above the high tide line and below the beach embankment
Floats are placed on the beach during daylight hours only.
Floats are hidden throughout the day, not just at one time.
Floats are out there every day rain or shine. On rare occasions weather and ocean conditions can create unsafe situations, official notice of any cancellations will be made on our social media channels and website.
SPECIAL GLASS ART DROPS
In addition to the floats placed on the beach daily, there will be extra floats placed on the beach for holidays and special occasions.
2018 – 2019 Special Drop Dates

October 13-14, 2018 – Opening Weekend of Finders Keepers: 100 extra floats
November 22-25, 2018 – Thanksgiving: 50 extra floats
December 29, 2018-January 1, 2019 – New Year's: 50 extra floats
February 9-18, 2019 – Antique Week: 300 antique Japanese floats
February 16-17, 2019 – Valentine's Day: 50 red, pink & white floats
March 23-April 7, 2019 – Spring Break: 300 extra floats
April 21-22, 2019 – Earth Day: 50 Earth floats
May 11-12, 2019 – Mother's Day: 50 extra floats
May 25-27, 2019 – Memorial Day: 50 red, white & blue floats
When you find a glass float, give them a call at 541-996-1274, text FLOATS to 24587 or visit their registration page to register your treasure. You'll receive a Certificate of Authenticity and information about the artist who crafted your float.
Head over to oregoncoast.org to read more about the event.
Don't forget to share a photo on our Facebook, Instagram (LincolnCityOR) or Twitter (@LincolnCityOR) pages and use #FindersKeepersLC.