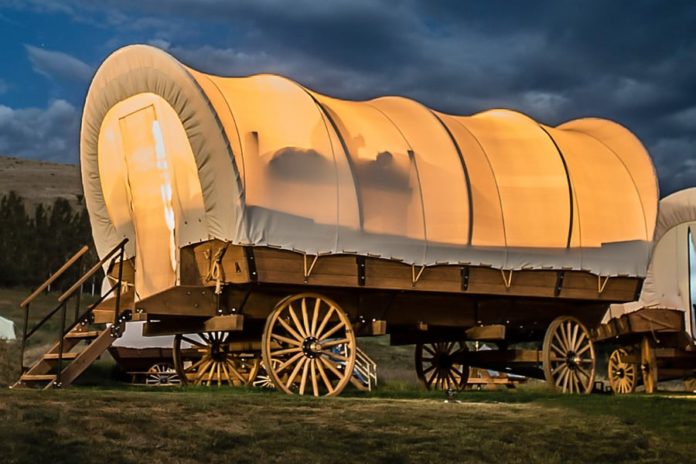 When headed out to camp, it's not just pitching a tent anymore and calling it good. Glamorous camping, also known as glamping, is the new buzz and has become hugely popular in the last few years. And in Oregon, from yurts to teepees, and now covered wagons, you have a lot of options to choose from. Covered wagon camping may be one you haven't heard of, until now.

Covered Wagon Camping in Oregon
Until now, the closest we ever got to living the ultimate Oregon Trail experience was the game we played as kids on those old Apple computers back in the day. Inspired by the Oregon Trail, but without dying of dysentery or cholera, the Yosemite Pines RV Resort and Family Lodging in California are welcoming guests to shack up in their Conestoga wagon replicas.
The resort's larger wagon sleeps up to six people, includes a comfy king-size bed and two sets of bunk beds. Their smaller wagons sleep four, with one king and one bunk bed. Complete with air conditioning and heat, with everything you need for cooking and a firepit nearby, you'll be glamping in comfort.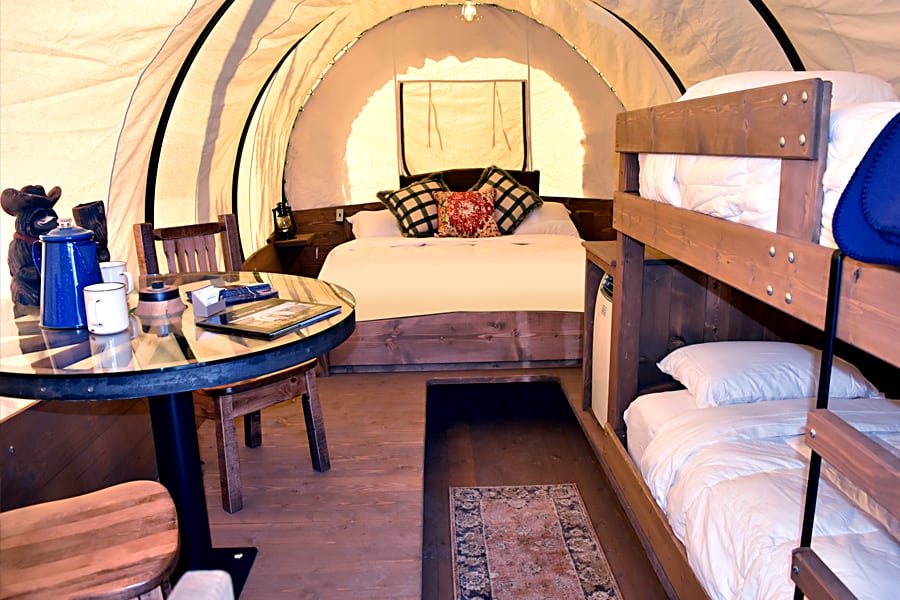 And they aren't the only ones offering the pioneer experience. Twins Ranch Campground, just north of Tillamook (6880 N Hwy 101, Tillamook, OR 97141) on the way to Bay City in the Idaville District also offers camping in covered wagons.
The Covered Wagons sleep four and include futons. From their site at Twins Ranch:
Bring your own pillows, blankets or sleeping bag. Each wagon can be reserved or up to 10 wagons in a group, each with table and fire ring or circle the wagons with one big campfire. Breakfast and dinner can be included with your stay.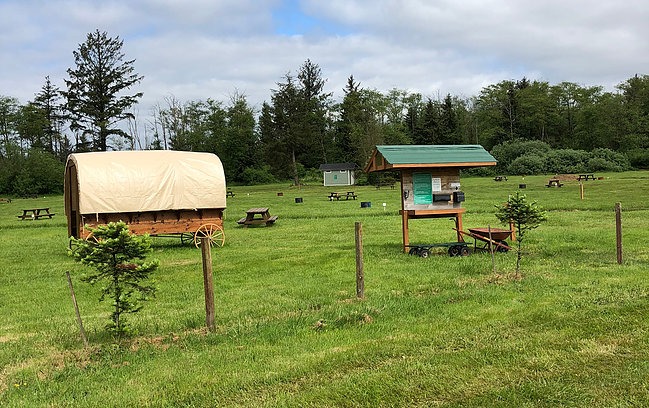 The waterproof wagons are handmade, with a Dutch-inspired half-door leading to an open room with seating and a large bed. Their spacious sites include firepits, water, picnic tables and also spots to pitch a tent if you'd like.
Got a large group? They even have a larger site with up to 10 wagons. At just $45 a night, for everything you get this is a steal!
For booking and more information about special events, head over to their website at twinsranchllc.com to read more. You can reach them also 541-418-1460 to book your stay.
Source: Simplemost, Twins Ranch, Tillamook County Pioneer