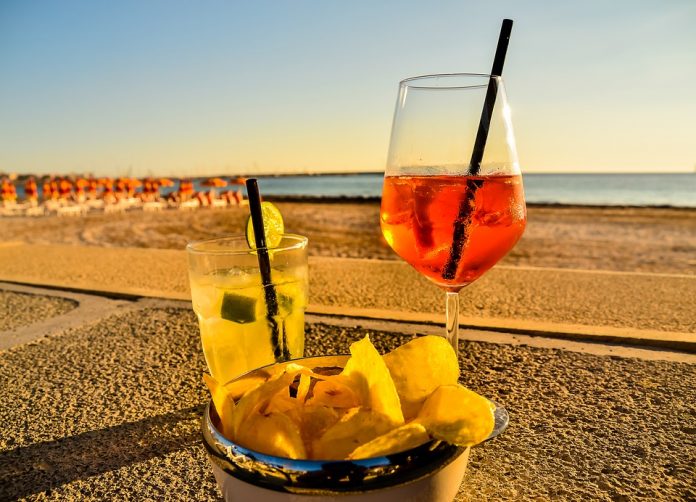 Summer is over. There's no avoiding it. The air is cold, the sun only pops up every so often to say, "Hi! K thnx byeee!" and then leaves again, and everything is damp all the time. You're probably jonesing for some last sense of the sunny season. Look no further than these two summertime whiskey recipes from Easy Rider Spirits, guaranteed to drive away the winter blues!
Easy Bikini
All kinds of sugary and all kinds of easy to make. The Easy Bikini is the perfect whiskey beverage for a warm day at the beach … or a warm evening by the heater in a well-lit-room pretending you're at the beach. Either way. I won't judge.
Ingredients
1 shot Easy Rider Bourbon Whiskey

2 shots Grapefruit Juice

½ shot Grenadine Syrup

Splash of Club Soda
Mix all that in a highball glass, top with a maraschino cherry because you're classy, and enjoy!
Carolina Peach
I imagine this drink as more of a "oceanside bar" sort of drink, rather than a "chaise lounge by the waves" drink like the Easy Bikini. Still, whether you're in Cannon Beach or in your living room listening to ambient ocean sounds on your stereo, this is a delicious treat.
Ingredients
1-¼ oz. Easy Rider

½ oz. Peach Schnapps

1 oz. sweet and sour
Top that all off with some 7-Up on the rocks and sip on!
Easy Rider Whiskey is proudly served at Neat Whiskey Bar in Portland, Oregon! Visit them today to try the above drinks with this delightfully smooth whiskey from right here in the Pacific Northwest!