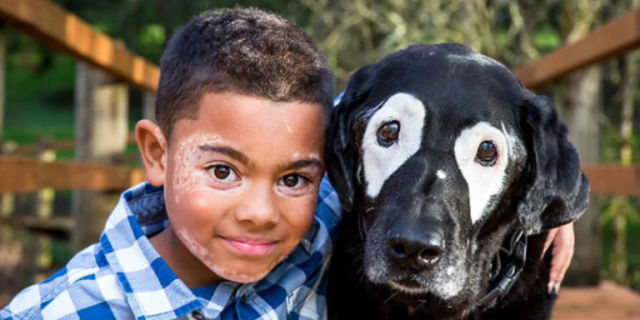 Carter Blanchard, an 8-year-old boy from Searcy, AR, has vitiligo, a rare skin disorder with no discernible cause or known cure. Vitiligo occurs when pigment-producing cells die or stop functioning, causing a loss of skin color.
Carter was first diagnosed in kindergarten when his face began transforming. White patches of skin started to dot his face, which had to have been extremely confusing and distressing for a 5-year-old, especially when they're seeing similar changes happening with classmates.
"He was at a big school with a lot of kids and his face was transforming very quickly," his mother Stephanie Adcock told ABC News. "As he was trying to come to terms with it, he had his classmates trying to also because his face was changing in front of them."
Elementary school is scary time regardless, but having something tangibly different than the other kids can make it a nightmare.
"The first thing [Carter would] tell me when he got in the car is that he hated his face and hated the way he looked," Stephanie said.
Enter Rowdy, a 13-year-old Labrador retriever from Hillsboro, OR, who also has vitiligo. After seeing a picture of Rowdy on Facebook, Stephanie reached out to Rowdy's owner, Nicki Umbenhower. Rowdy was diagnosed with vitiligo in 2014 and now has his own website and social media accounts.
Carter watched videos of Rowdy online, and according to his mom, they helped the young boy see his skin condition in a whole new light. Instead of questioning why this happened to him, Carter now, "Thinks that everyone else's skin is boring."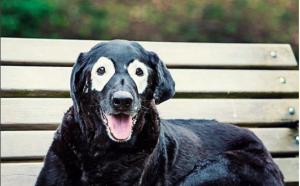 Carter and Rowdy struck up an online friendship that was then covered by KATU. An anonymous reader was touched by the story and donated $5,000 to fly Carter and his mom out to Oregon so that the boy could meet Rowdy in person.
This past weekend, the Blanchards made the 2,000+ mile trip.
"When we walked in I didn't feel like we were walking in for the very first time, they were family already," Stephanie said. "You could tell Rowdy knew something was going on and felt the energy of the room."
The connection between dog and child was almost immediate. Whether it was two straight hours of petting or Rowdy watching Carter play with legos, the two were inseparable.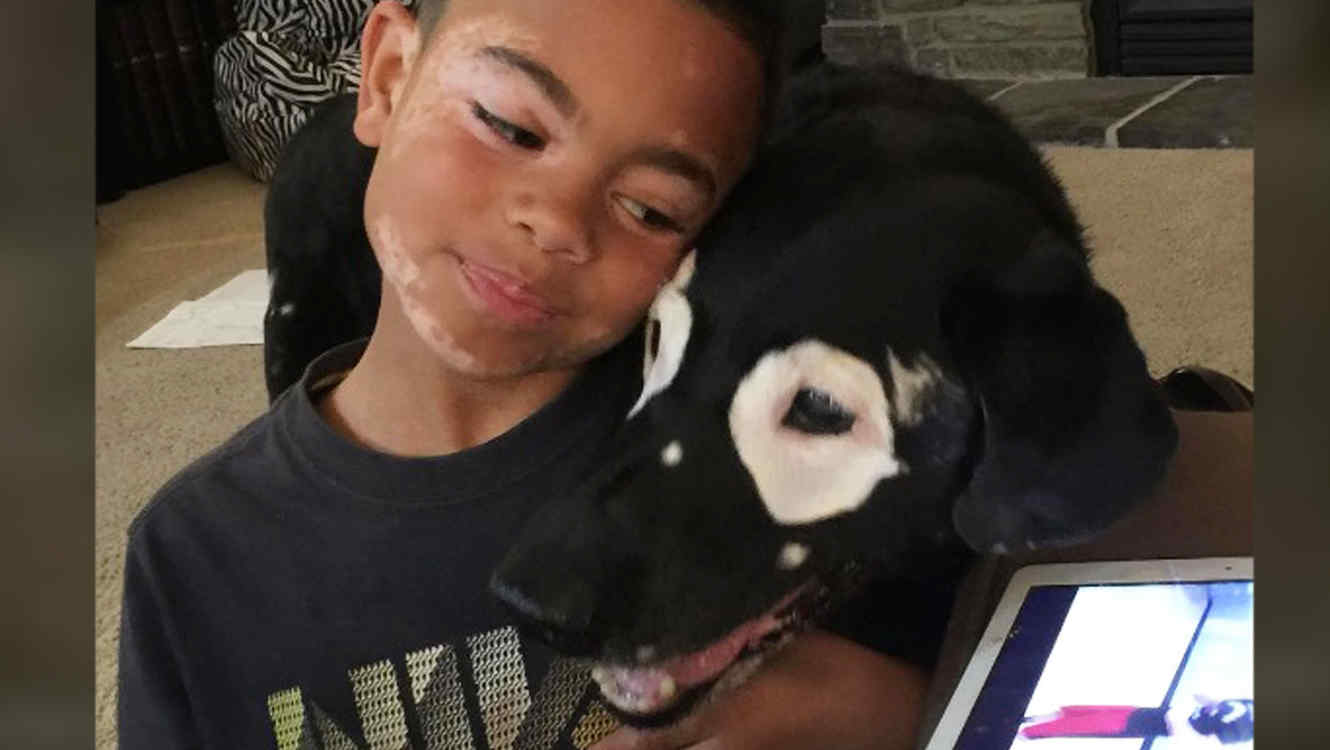 Stephanie says Carter gained the confidence she always wanted him to have. "It couldn't be any other person that made him feel better," she said. "It had to be Rowdy. It had to be a dog."
As for Carter? He's just concerned that Rowdy needs a few more spots, especially on his back.
KATU reported on Sunday that Rowdy suffered from a seizure and was put under immediate medical care. Doctors say they need to run more tests to determine what's wrong. If you'd like to help support Rowdy's cause, you can lend some assistance at Rowdy's GoFundMe page