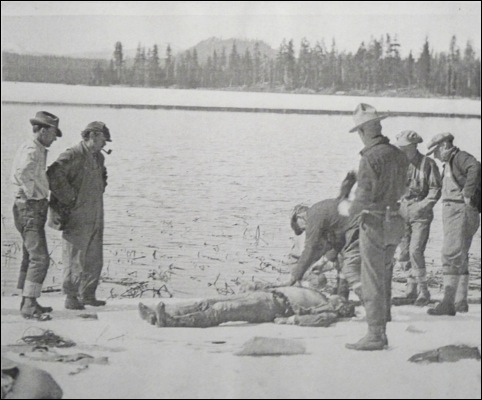 There's an eerie edge to unsolved mysteries. It gives the past a power, a question, a bit of horror that reaches out from beyond the crush of years and keeps us intrigued even today. That being said – winter of 1923 was a rough year for Ed Nickols, Roy Wilson and Dewey Morris and their loved ones. Mainly because they were butchered near their cabin, wrapped up and dumped in the lake — not to be found until the spring of 1924.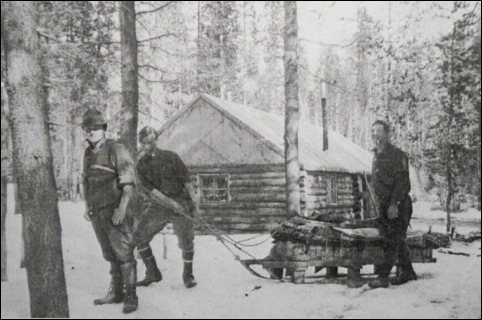 Sign up for monthly emails full of local travel inspiration and fun trip ideas. In each newsletter we'll share upcoming events, new things to do, hot dining spots and great travel ideas.
While folklore suggests the three victims were trappers,  Morris and Wilson were loggers for the Brooks-Scanlon company, and trapping was a mere recreational pastime. Nickols served as a caretaker for the cabin and some fur foxes, which were all owned by Edward F. Logan. It's said Nickols had feared what might happen if Charles Kimzey showed up, and asked the two younger men to spend the winter with him.
The men agreed, and all three had been living in this isolated cabin on the lake for the winter months. The brutal crime remained undiscovered until friends and family of the men ventured to the cabin in the spring. To their horror, they found only a bloodstained hammer in the trapper's shed.
After looking around, their family discovered a patch of blood in the snow, a few inches down, and to their grueling discovery a front tooth and some human hair mixed in the slush.
It was not until the ice melted that the party was able to extract the bodies of their friends from Little Lava Lake, where a hole had been cut in the ice. Whoever was behind this grisly crime had deposited the bodies here, which had been wrapped in muslin, and "fiendishly butchered."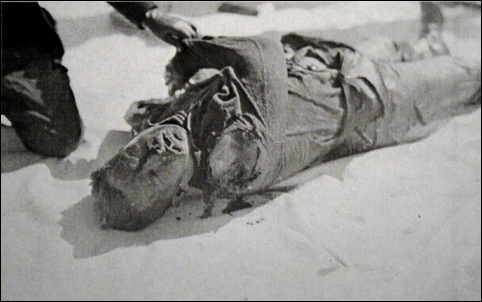 Claude McCauley, a freelance writer, described the horrific scene in detail.
"Ed Nichols, still had his glasses on, the ones he used for reading. A shotgun, fired at close range, had carried away the lower part of his right jaw and part of his chest. A watch in his coat pocket had stopped at ten minutes after nine. Roy Wilson's right shoulder had been almost entirely shot away by a charge of shot, and there was a bullet behind his right ear. Dewey Morris had been wounded in the left elbow by a charge of a shot and a hole a little larger than a silver dollar had been crushed through his skull at the back of his right ear."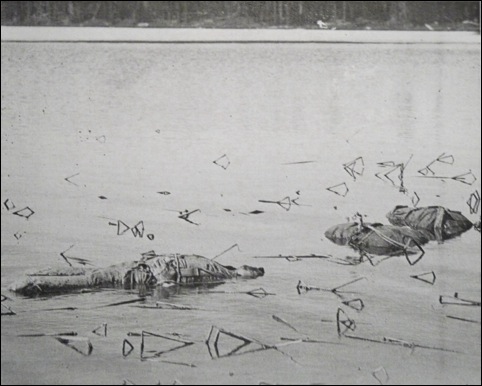 The bodies of Dewey Morris (left) Roy Wilson and Ed Nickols pictured above, floating in Big Lava Lake after they were tied with ropes and towed near shore by deputy Clarence Adams. The unknown killers had used a hand sled to haul their bodies to Big Lava Lake in January, and then shoved them through a hole in the ice. It was not until APril their bodies were found, after concerned family members snowshoed in to the Cascade Lakes west of Bend and conducted a search.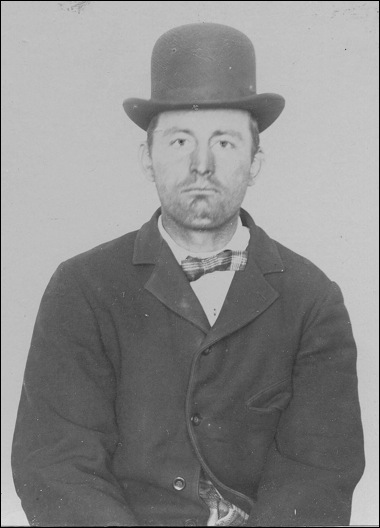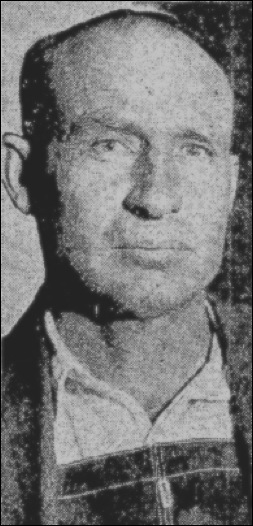 The top photo is Charles Hyde Kimzey, and was the only suspects ever named in the Lava Lakes triple murder case. Investigators had evidence that Kimzey worked with a psychopathic partner in the killings. The author of The Trapper Murders, Melany Tupper, offers convincing evidence of several connections between Jackson and Kimzey.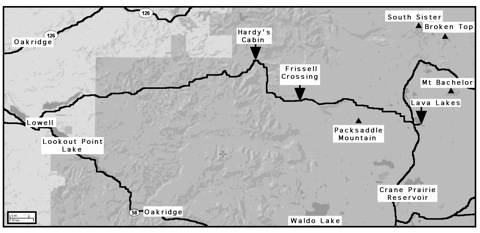 Pictured above is a map which shows the likely escape route made by the killers in January of 1924. The map was compiled from information developed by the sheriff's departments of Deschutes and Multnomah Counties. The killers were believed to have traveled from Little Lava Lake to the Schumacher Fur Company in Portland via the McKenzie River Trail, and the town of Lowell.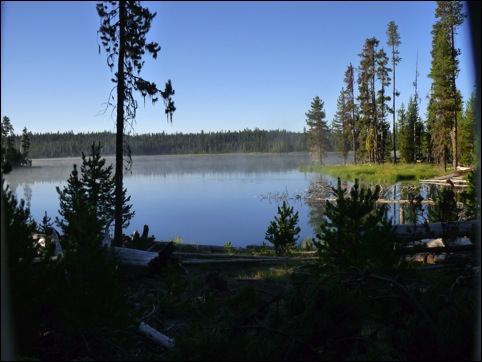 Sources: Christmasvalley.net, bendsource.com, articlecats.com