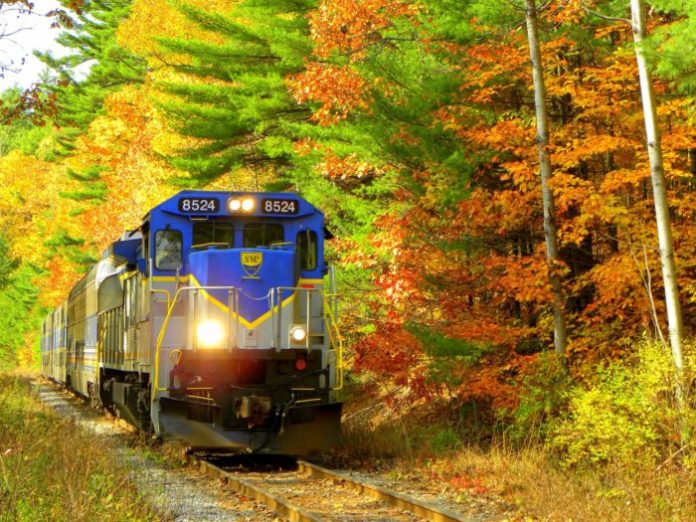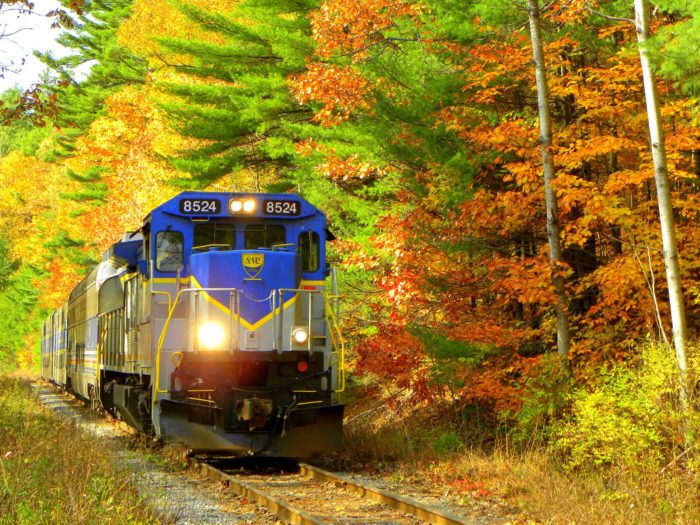 Last updated on September 4th, 2019 at 11:45 am
There's nothing more beautiful than fall in Oregon, and right now is the perfect time to climb onboard this popular train leaving Hood River for the ultimate scenic experience. The two-hour ride on Mount Hood Railroad will take you through beautiful woods, orchards, and vineyards of Oregon.
Along the ride, passengers will take a 30-minute break in Odell to give you a chance to stretch, have some lunch, and take a walk around the park. Here you will also be able to see the beautiful Mount Hood and Mount Adams.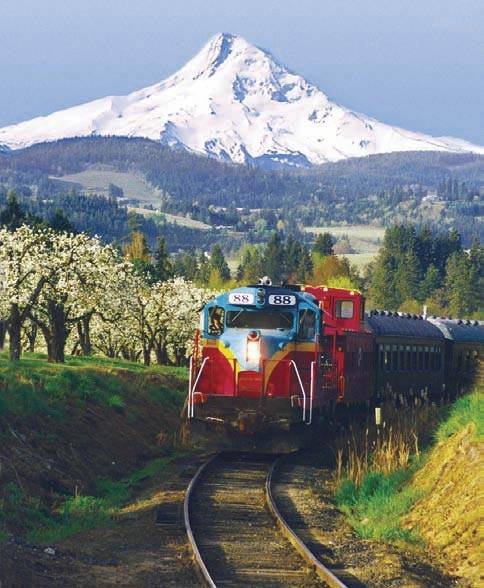 The train ride on Mt. Hood Railroad leaves at the depot in the charming little town of Hood River.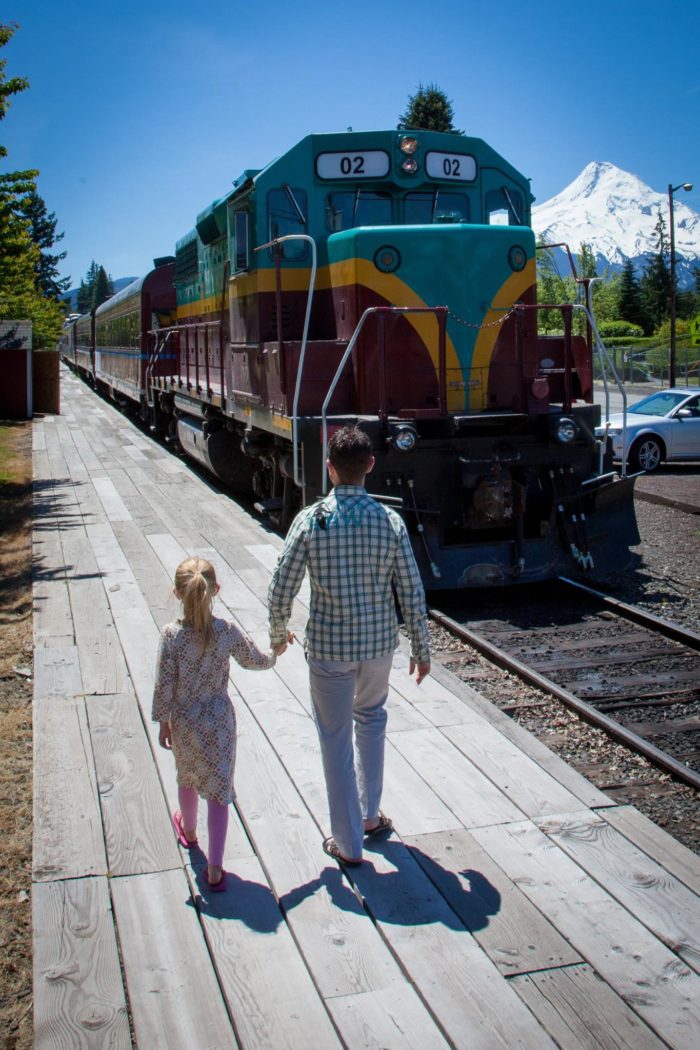 The historic Mount Hood Railroad is over 100 years old, and to this day is enjoyed by many during all seasons of the year.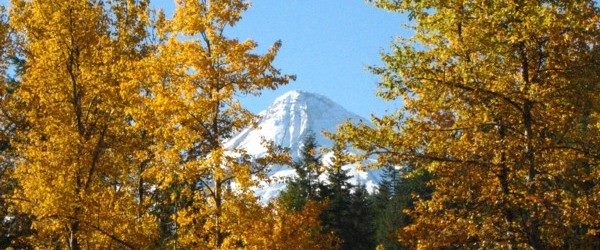 The depot itself was built in 1911, and listed on the National Register of Historic Places. The pride of the Oregon-Washington Railroad and Navigation Company that had merged its lines with the Union Pacific Railroad in 1910, it was reincarnated as the Mount Hood Railroad Depot in 1987.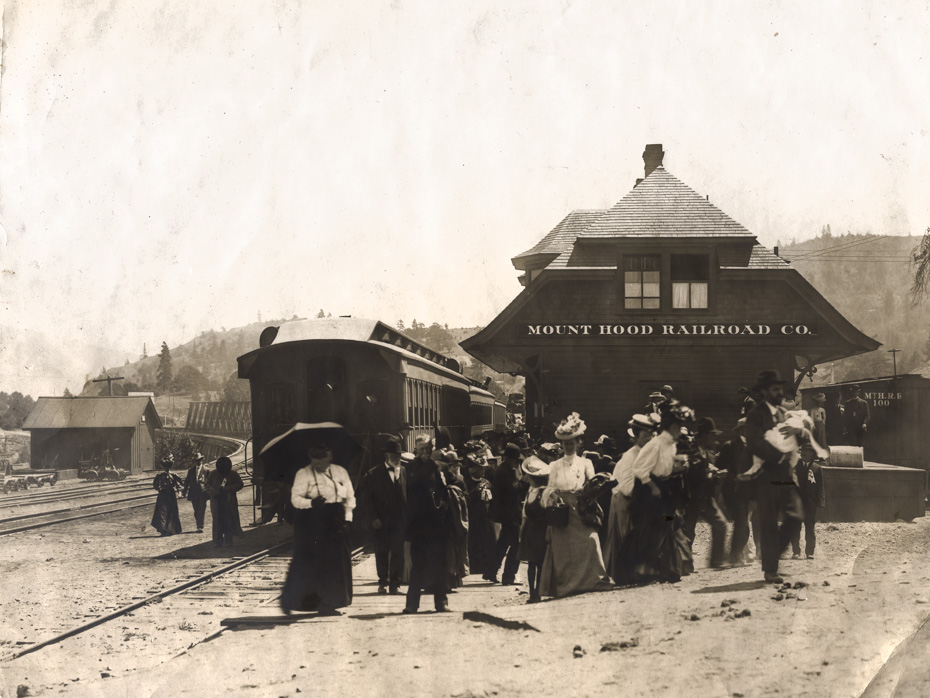 During the train ride, passengers will enjoy a delicious meal made from local ingredients.
From their website:
The Mount Hood Railroad embraces the tradition and allure of railroad dining. Implementing service standard set forth by The Pullman Company at the turn of the century, guests aboard our dining trains can expect a level of service that exceeds expectations.
With the Pullman Table, the food served on board our will undergo a transformation to focus more on the bounty of the Columbia River Valley. We will work with local brewers and wineries and locally produced chocolate. We are working to source things like fresh salmon and cheese from local creameries to seasonal berries and vegetables grown mere miles from the railroad, we are ready to transform your idea of rail dining.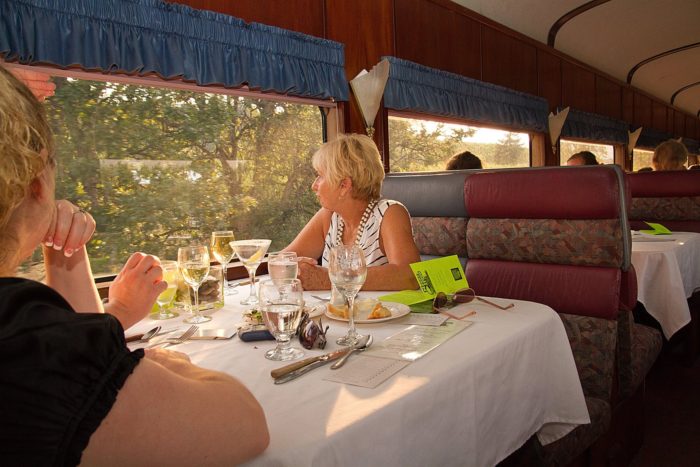 Have you had a chance to ride the Mount Hood Railroad during autumn? Let us know in the comments, we'd love to hear about your experience!
Parkdale Excursions Schedule
Hit the link here for more detailed info, to purchase tickets. Prices range from $30 up to $55, from child's standard class to adult diamond class and wine tastings.
May, June, and September – | Thursday – Saturday
July & August | Wednesday – Saturday
October | Friday – Sunday
Roundtrip Departures out of Hood River:
Times: Weekdays and Weekends: 11:00am
Boarding: 30 minutes prior to departure
4.5 Hour trip | Layover in Parkdale
Parking: Available on site – $5 Auto, $6 RV, $7 Bus
Food: Boxed Deli Lunch available for purchase or pre-order. $12.00 per person.
ALL ABOARD!