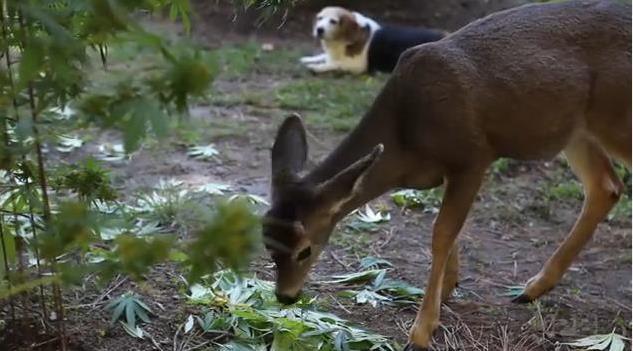 RUCH, OR – 
Humans aren't the only ones who love marijuana. As Americans are becoming seemingly more obsessed with the devil's lettuce, the evil plant is proving already to create chaos across the nation.
Last Wednesday, the marijuana-eating stoner deer, known as Sugar Bob, was featured on the satirical Daily Show, hosted by Jon Stewart.
Daily Show correspondent Hasan Minhaj, traveled with a film crew to Applegate, Oregon, to interview drug kingpin Richard Davis. Sugar Bob resides on the grounds of the Applegate River Lodge, owned by Davis, and his wife Joanna.
"They're from New York. They kind of think of Oregon as this crazy state of nothing but pot smokers," Davis said.
As you will see in the video below, marijuana is slowly destroying the great state of Oregon. In the Comedy Central piece, Minhaj compares Davis to Pablo Escobar, the notorious Colombia drug lord, and draws parallels to the movie "Scarface," I was laughing my ass off watching this.
Sugar Bob was featured in recent months on this YouTube video posted below. After learning about Sugar Bob, I have to admit I am definitely inclined to go check out the Applegate River Lodge and meet him. Have you had a chance to stay at the Applegate? Let us know in the comments!
H/T Koin News