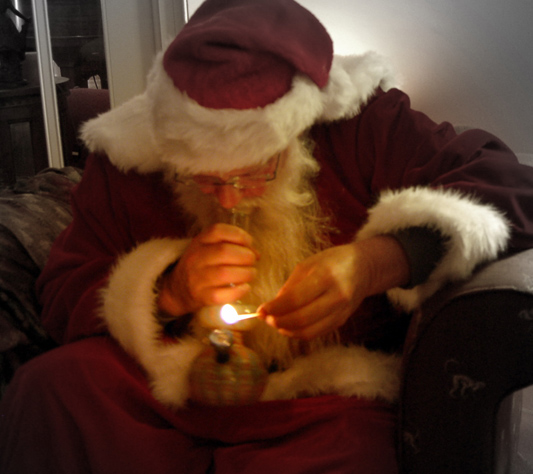 Last updated on August 4th, 2018 at 04:16 pm
According to MSNBC, High Times Magazine, and many other various sources, Santa Claus has gone on the record to say the beautiful state of Oregon has hands down the best marijuana in the nation.
"The quality of the weed in Oregon is by far superior to my other stops," said Santa Claus after his long night of delivering presents. "Contrary to what everyone says, California does not have the best weed. Don't get me wrong, California has some fire bud… That Sour Diesel got me damn near drooling on myself. I'll be honest though, I save the best for last, and that's the state of Oregon. I know when I get to Oregon my reindeer gonna be flyin' higher, and when I bring that OG Kush home to Ms. Claus, it got her doin' things that probably make a gay man turn straight."
Santa's only complaint was the fact he can't smoke his Oregon bud until he returns to the North Pole. This is due to the fact that he's already paranoid enough as it is, entering homes through the chimney.
Among Santa's least favorite places to go were Texas, Mexico, and Nebraska. He mentioned when visiting these areas he won't even touch the dirt weed left out for him. Santa deserves only the best, and shouldn't settle for dried up weed, stems, and seeds.
Mr. Claus mentioned he was indeed a huge supporter of Measure 91, and is happy to see Oregonians will no longer have to worry about leaving marijuana out for him. Santa also wanted to make sure and let Oregonians know to keep up the good work on growing the finest weed in America, and most importantly do not trick him with edible marijuana cookies, as they get him "too blazed" to finish the job. If you have to leave marijuana edibles, at least leave a note warning Santa they are marijuana cookies.
Do you agree with Santa? Does Oregon have the best weed in America? Let us know in the comments, or tweet us @thatoregonlife with hashtag #oregonfirebud.
THATOREGONLIFE.COM