Nestled in the scenic heart of Fall Creek, Oregon, lies a hidden gastronomic treasure that is waiting to be discovered. Welcome to Dueling Spoons, a unique confluence of fine dining, curated wines, imported delights, and all the tools a culinary enthusiast might dream of. Acting on a suggestion from a trusted friend, I stumbled upon this gem of a place. One glance at their website, and I was instantly captivated, knowing I simply had to experience it firsthand. They transformed a once-forgotten country market with its aged shelves into a radiant gem, now serving delectable dishes.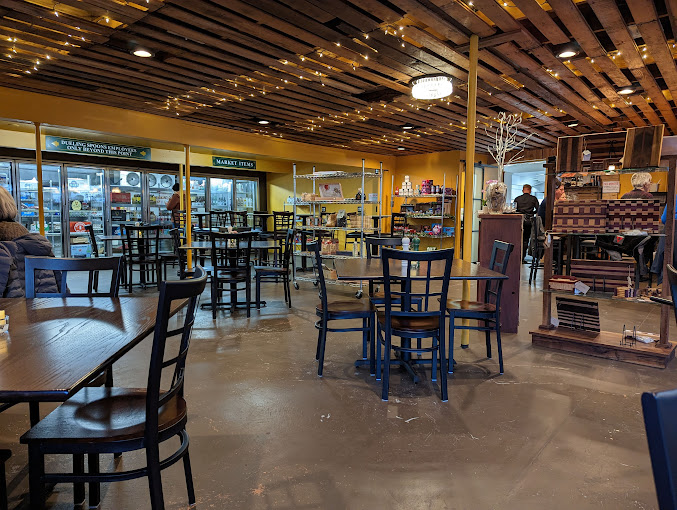 This establishment is not just another restaurant; it's an ode to the art of cuisine, lovingly brought to life by the dedicated Reid family. More than just a place to eat, Dueling Spoons offers an intimate glimpse into a love story - one that's told with every dish and echoed in the laughter and conversations shared around a warm family table.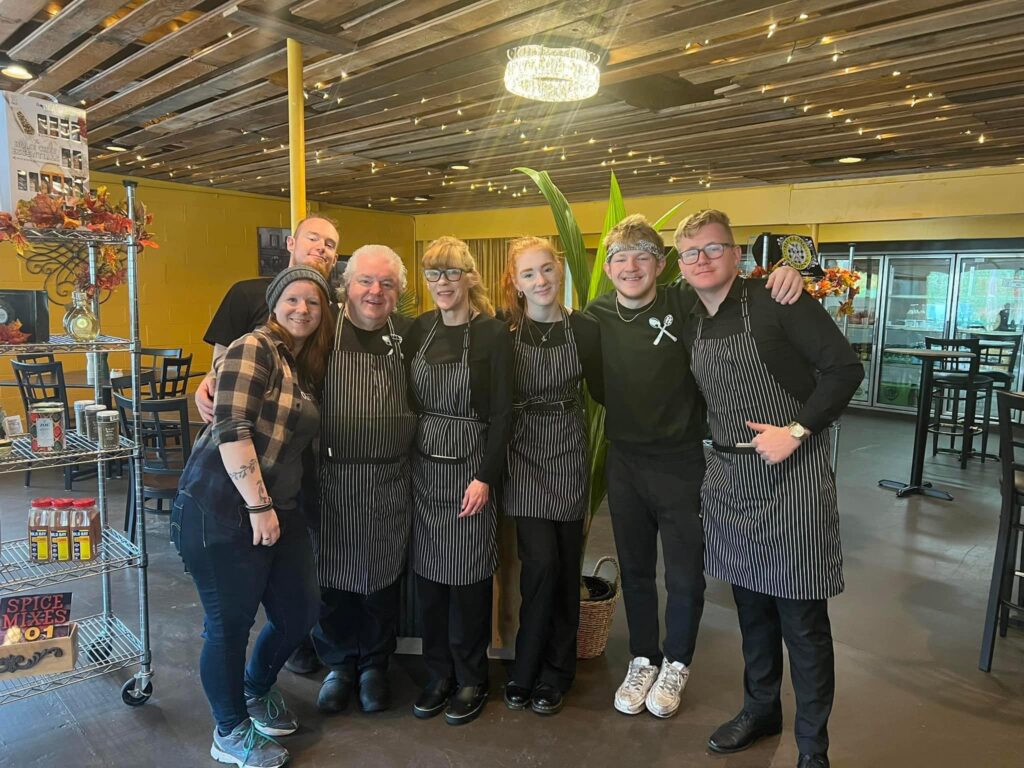 Chef Billy, the maestro behind the delectable dishes, goes beyond his kitchen duties. Billy Reid, a distinguished alumnus of the French Culinary Institute in New York, honed his craft under the mentorship of the city's culinary elite. Having transitioned from the bustling streets of NYC to the serene landscapes of Oregon, Billy, with his family by his side, now crafts some of the most delectable dishes Lane County has to offer.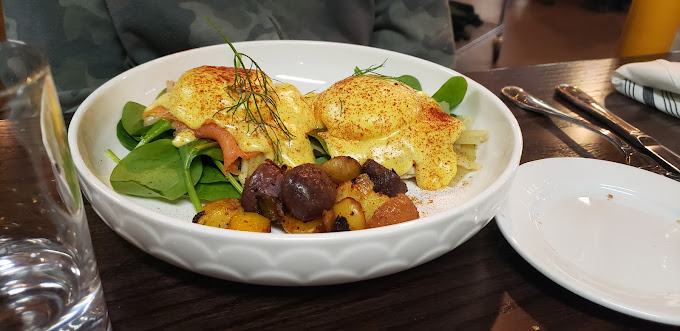 Known to personally greet guests and remember their names, he makes each visitor feel valued and special. It's not uncommon for diners to be met with the comforting feeling of being recognized and remembered, even on their first visit. And if you ever face a reservation challenge? Trust in the restaurant's commitment to make things right, ensuring special occasions are celebrated with fervor and love.
Step inside, and you're instantly transported to a world where food is both art and passion. As you wait for your meal, lose yourself amidst the meticulously organized shelves showcasing an array of wines, craft beers, gourmet pastas, exquisite vinegars, artisanal hot sauces, beautiful cutting boards, inspiring cookbooks, and so much more. Whether you fancy dairy delights or have a sweet tooth for imported Irish confections, Dueling Spoons ensures there's something for every palate. Just take one look at this mouthwatering Tomahawk Steak! The Surf And Turf, one of their most popular dishes, includes a 32oz Tomahawk Steak and lobster tail.
Sign up for monthly emails full of local travel inspiration and fun trip ideas. In each newsletter we'll share upcoming events, new things to do, hot dining spots and great travel ideas.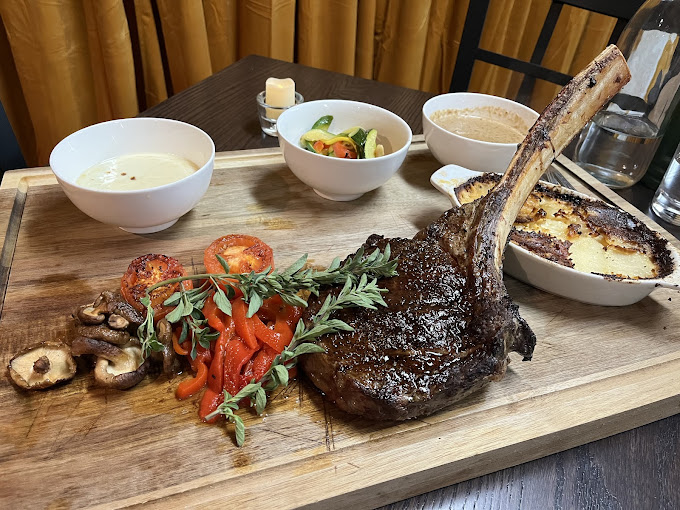 At the helm of the kitchen, Chef Billy prioritizes the integrity and purity of flavors. Each dish is a testament to this commitment, created fresh upon order. The absence of fryers and microwaves ensures that the essence of each ingredient shines through. Let the inviting aromas of sautéed garlic, onions, fresh basil, and melting mozzarella beckon you, promising a culinary journey that tantalizes and satisfies in equal measure.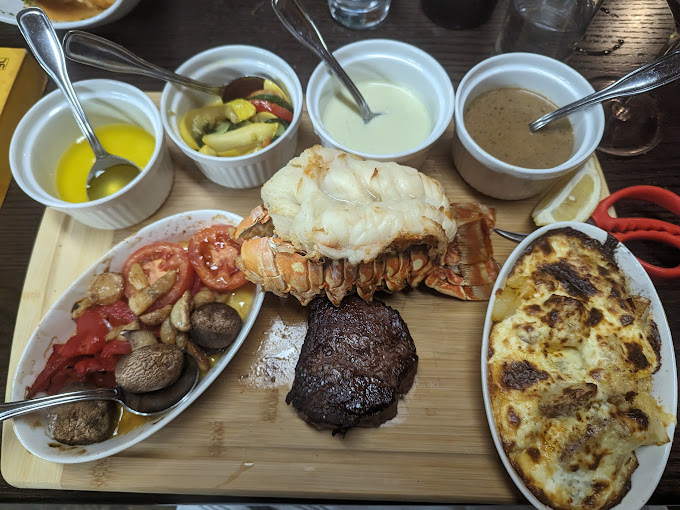 Begin your experience with the 'Roasted Onion Shannon' - a tantalizing fusion of an onion shell brimming with roasted garlic, red peppers, fresh basil, and mozzarella, all set atop a bed of succulent Roma tomatoes. Or, venture into the rich, rustic flavors of their home-made country-style paté. Seafood enthusiasts will find the Mussels Donna Two Ways irresistible, with options to savor them steamed in a luscious white wine and coconut milk broth or enriched with lemon, butter, and a touch of cream.
Main courses are a celebration of both tradition and innovation. The Chicken Kathleen seduces with layers of prosciutto enveloping a chicken breast filet, stuffed generously with broccoli and Monterey Jack cheese. For those preferring a touch of the Mediterranean, the Pan-Seared T-Bone Lamb Chops, crowned with fresh mint pesto, are a must-try. Vegetarians, fear not. The mushrooms, sautéed to perfection with garlic, shallots, and scallions, enveloped in a puff pastry napoleon, promise an unparalleled gastronomic delight.
And who can forget dessert? Feast your eyes on The Ultimate Brownie Sunday!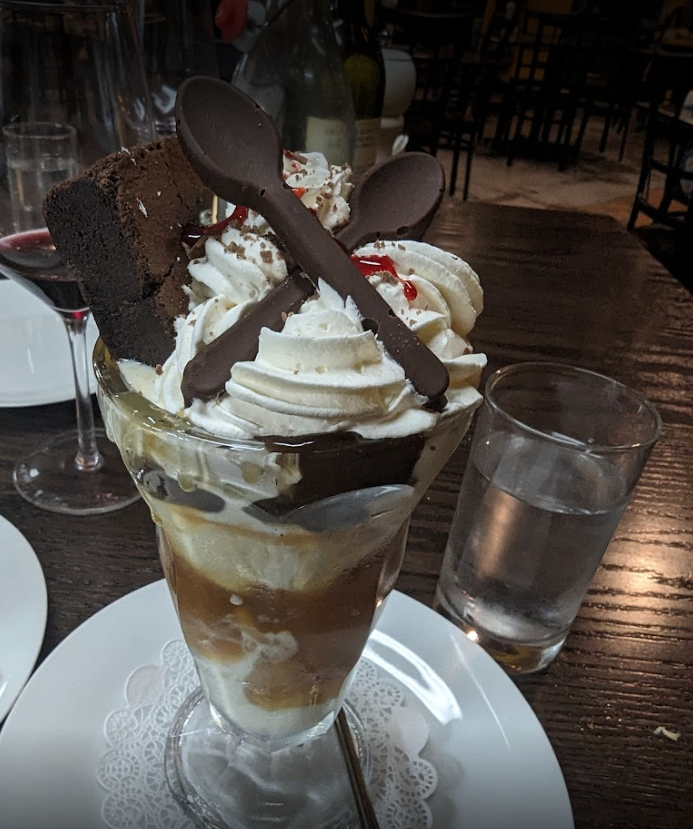 Conclude your meal with the signature 'Reid Family Poached Pear', delicately poached in a champagne vanilla broth, or surrender to the irresistible charm of the Sour Apple Walnut Pie.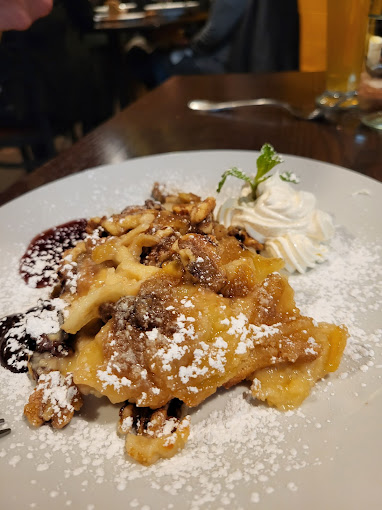 Flexibility is a key hallmark of Dueling Spoons. Even if you've reserved a particular dish in advance, the accommodating staff ensures you feel no obligation to stick to your initial choice. They believe in the freedom of choice, allowing patrons to fully immerse themselves in the rich tapestry of the menu. This personalized approach extends to the very act of choosing your meat cut from a cooler – an engaging experience that adds an interactive touch to your dining journey.
But it's not just about the food. The ambiance and genuine camaraderie shared by the Dueling Spoons team ensure that every diner feels connected. Stories are exchanged, laughter reverberates, and memories are crafted around tables, making each meal more than just a culinary delight. It becomes a narrative of joy, connection, and heartfelt service.
And while their dishes, from the succulent steak to the rich lobster, are nothing short of culinary masterpieces, it's the thoughtful extras that truly resonate. Imagine finishing a hearty meal and, even if you decline dessert, being gifted a slice of delectable Pecan Pie simply because "no one should miss out on pie on their special day."
Dueling Spoons is more than just another restaurant in Oregon; it's a testament to the joy of gathering, eating, and celebrating moments. Whether you're joining them for dinner (Wednesdays to Saturdays, 5 PM to 9 PM) or exploring their market offerings (10 AM to 8 PM on the same days), you're promised an experience that's more than just a meal – it's a cherished moment in the picturesque landscapes of Oregon. every meal is a memorable story waiting to unfold.
For a taste of Billy's culinary magic, visit Dueling Spoons located at 39074 Jasper Lowell Road in Fall Creek. To make reservations or inquiries, dial 541-398-8929. For more details or to explore their offerings, navigate to their website at DuelingSpoons.net.
Dueling Spoons stands as a shining example among the numerous local businesses fostering positive change in Oregon. If you've got a favorite spot or business in mind, don't hesitate to nominate them—they might just be highlighted in an upcoming feature for That Oregon Life. Be sure to stay connected with That Oregon Life on Facebook and Instagram to stay updated on the most remarkable destinations, attractions, and happenings in the Beaver State.