As the aroma of blooming roses fills the air in the "City of Roses," it's time to lace up your fun shoes, folks! The legendary Portland Rose Festival is back with a bang for its much-anticipated return in 2023! A rollicking celebration that Portland embraced as its official festival back in 2010, it now stands as a beacon of joy and unity.
The story of the Portland Rose Festival can be traced back to 1905 when the idea was initially proposed by Portland Mayor Harry Lane. The city's first Rose Festival was held two years later in 1907, and in 1908, local businessmen, including C.E.S. Wood, officially organized the festival as a nonprofit civic organization, now known as the Portland Rose Festival Foundation.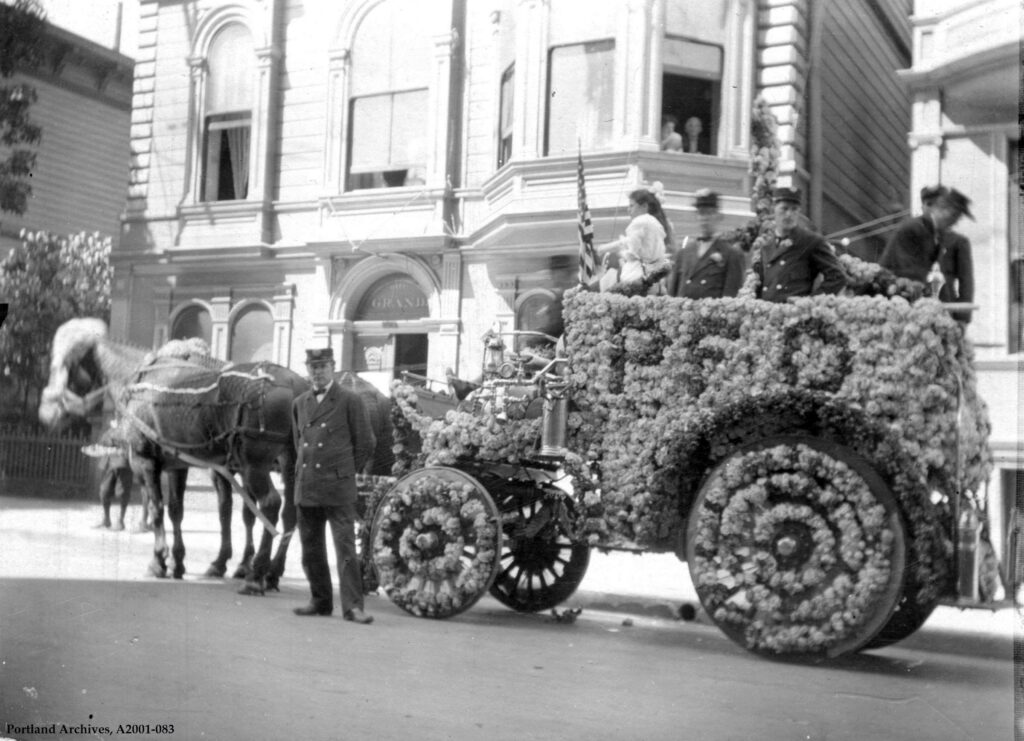 The festival itself has roots in the Portland Rose Society, established in 1888. The society organized the first rose show in 1889, which was later complemented by a "fiesta" featuring a parade and pageant. The Rose Festival began featuring an electric parade from its inception, using Portland's innovative trolley system to showcase illuminated floats.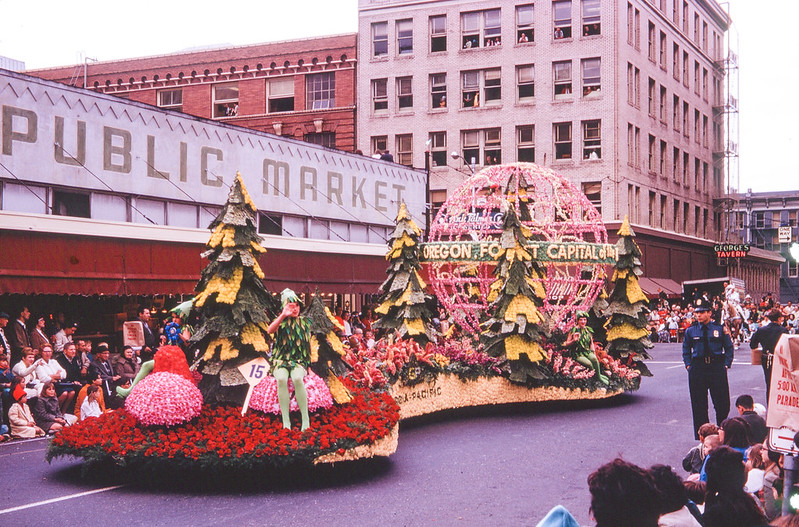 Over the years, the Rose Festival has seen various events come and go, with parades remaining a constant favorite. Among them, the Grand Floral Parade emerged as the signature event, attracting generations of families and children.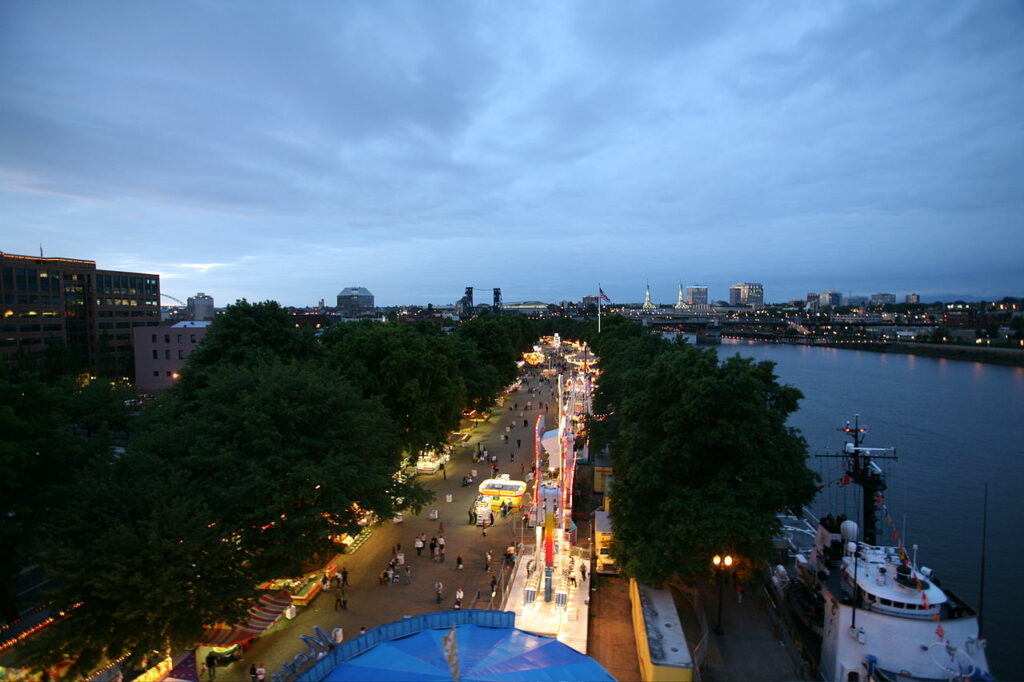 Despite interruptions due to World War I, the construction of a new stadium in 1926, and fear of enemy attack in 1942, the festival has persisted and evolved, becoming more inclusive in the selection of its Rose Festival Queen, shifting from Portland's socially elite to a democratic selection of senior class princesses from each high school since 1930.
Sign up for monthly emails full of local travel inspiration and fun trip ideas. In each newsletter we'll share upcoming events, new things to do, hot dining spots and great travel ideas.
Portland Rose Festival in 2023
Over sixty events are ready to explode in a riot of colors, thrills, and laughter, running from late May to mid-June. Parades, art shows, dragon boat races, and fun runs – there's something for everyone! Before we dive into the details, make sure to remember the festival's heart: Portland's love for roses. Given the city's perfect rose-growing weather, a visit to the famed International Rose Test Garden in Washington Park is a must-do during the festivities.
Kick-starting the gala, the Opening Night Fireworks Show is set to light up the Memorial Day weekend skies. What better place to soak up this spectacle than atop the Ferris wheel at CityFair?
CityFair, with its array of carnival rides, scrumptious food and beer, and toe-tapping live music, will run for three weekends, from Friday, May 26 to Sunday, June 11. It's a ticketed event with a one-day admission costing $12 for everyone aged seven and above. With rotating local food trucks and a maker market boasting live craft demonstrations, CityFair promises an unforgettable experience.
This dazzling festival also heralds the return of Fleet Week, a cherished tradition of more than 80 years! For the uninitiated, Fleet Week is when the U.S. Navy, U.S. Coast Guard, and Royal Canadian Navy grace Portland's shores. It's a fantastic chance to witness grand naval ships up close and learn about the U.S. Navy straight from the sailors.
An absolute thrill is the Dragon Boat Races, where 60 teams from across the globe will vie for victory on the Willamette River. These races offer a captivating sight with their ornate boats, courtesy of the Portland-Kaohsiung Sister City Association.
Echoing the festival's CEO Marilyn Clint's enthusiasm, 2023 is the year when we need this hearty fun more than ever. The festival's theme "Focus on Fun" couldn't be more fitting. With the promise of parades, carnivals, clowns, and a resolute spirit of joy, the festival is all geared up to bring an old-fashioned good time to Portland.
One such parade is the Starlight Parade with drag performer Poison Waters as the Grand Marshal. The Grand Floral Parade and the Fred Meyer Junior Parade are also set to enchant the city, each with its unique charm. What's more, the Junior Parade invites walk-up entries, meaning you can be a part of the magic and even decorate your own float or wagon!
But that's not all. This year's Rose Festival is spicing things up with a treasure hunt, the return of the Oregon Brewers Fest as a tap takeover, and an exhilarating dragon boat race!
With all this fun brewing, wouldn't you want to be a part of creating it? The festival is looking for volunteers aged 14 and above to assist with various activities. So why wait? Hop onto rosefestival.org for more details.
Sure, the past few years have been a tough ride, but as Clint reminds us, the Rose Festival is part of the city's comeback. So, let's get set to celebrate, Portland style, with roses, revelry, and an unmatched spirit of resilience!
 For a full list of events and activities, check the festival's website.