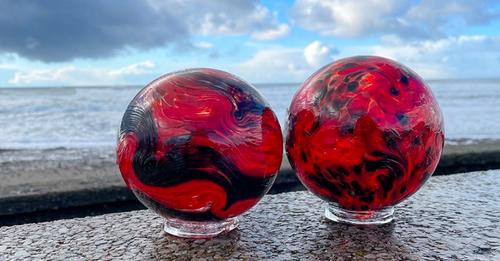 If you missed the Thanksgiving drop from Finders Keepers in Lincoln City, you may be excited to know there looks to be another float drop happening in the coastal town for 2022. This particular drop, the beautiful floats are red and black, themed for the Portland Trail Blazers!
Finders Keepers Glass Floats in Lincoln City
Explore Lincoln City, which is behind the Finders Keepers event, is a tourism organization that places around 3,000 floats on Lincoln City's beautiful beaches annually. In 2018, they decided to make the event a yearly thing, with a full calendar of special drops in addition to the daily drops.
Aside from the global health threat in 2020, the popular treasure hunt has still gone on every year. Their "float fairies" drop them in visible locations between the high tide line and the beach embankment, and are meant to be found easily by any lucky soul who happens to stumble upon them.
To read more about the event, starting December 10 and going through the weekend until Sunday, Dec. 11, visit ExploreLincolnCity.com/Glass-Floats.
Floats are now hidden year-round, so visit anytime to find a treasure. Happy hunting!
Sign up for monthly emails full of local travel inspiration and fun trip ideas. In each newsletter we'll share upcoming events, new things to do, hot dining spots and great travel ideas.
2022 Special Drop Dates
December 10-11, 2022: Basketball: 50 Red/black floats
December 26-January 1, 2023: Winter Break: 50 floats
2023 Special Drop Dates
Jan 7-8, 2023: Opening Weekend: 100 floats
February 11-18, 2023: Antique week: 100 Japanese antique floats
February 12-14, 2023: Valentine's Day: 50 Red/pink/white floats
March 18-April 16, 2023: Spring break: 200 floats
April 21-23, 2023: Earth Day: 50 Earth Day floats
May 12-14 2023: Mother's Day: 50 floats
May 27-29, 2023: Memorial Day: 50 Red/white/blue floats
June 17-18, 2023: Father's Day: 50 floats
June 23-24, 2023: Casino Anniversary: 28 floats
June 24-25, 2023: Summer Kite: 10 floats
Sept 2-4, 2023: College Ball: 20 Green/yellow and 20 Orange/black floats
September TBD: Celebration of Honor: 50 Red/white/blue floats
September 23-24, 2023: Fall Kite: 10 floats
October 28-31, 2023: Halloween: 50 Glow-in-the-Dark floats
November 23-26, 2023: Thanksgiving drop: 50 floats*
December 16-17, 2023: Basketball: 50 red/black floats*
*Dates subject to change due to King Tides