Dayville Cafe is stuck between Mt. Vernon and Mitchell in a dusty part of Eastern Oregon. It looks like something out of the 19th century with a carriage wheel sitting on the deck, bales of hay, and a raw wood facade. You might be tempted to pass by unless you need a pit stop, and you'd probably find yourself determined to keep your wallet closed if you do. But that would be a mistake.
Dayville Cafe might look like a musty country store, but it's actually one of the best rural restaurants in Eastern Oregon. It's also one of the few places to eat for miles around. They have a vast menu; it's both creative and satisfying, and you won't be disappointed when the server brings you your bill. In fact, you'll probably find yourself coming back next time you're in the area.
Sign up for monthly emails full of local travel inspiration and fun trip ideas. In each newsletter we'll share upcoming events, new things to do, hot dining spots and great travel ideas.
A Menu to Be Remembered
There are plenty of strange tourist traps on the Oregon highway. Many are eccentric marketing schemes, no better than convenience stores with a gimmick. Dayville Cafe is the exception. It's an unassuming family-owned restaurant run by Chef Greg Van Tassel, his mother, Debbie Van Tassel, and his wife and daughter, Raegann and Deanne. They're hardworking, talented individuals who want nothing more than to provide their customers with good service and hearty food, and they work magic, crafting enticing dishes that will leave you begging for the recipe.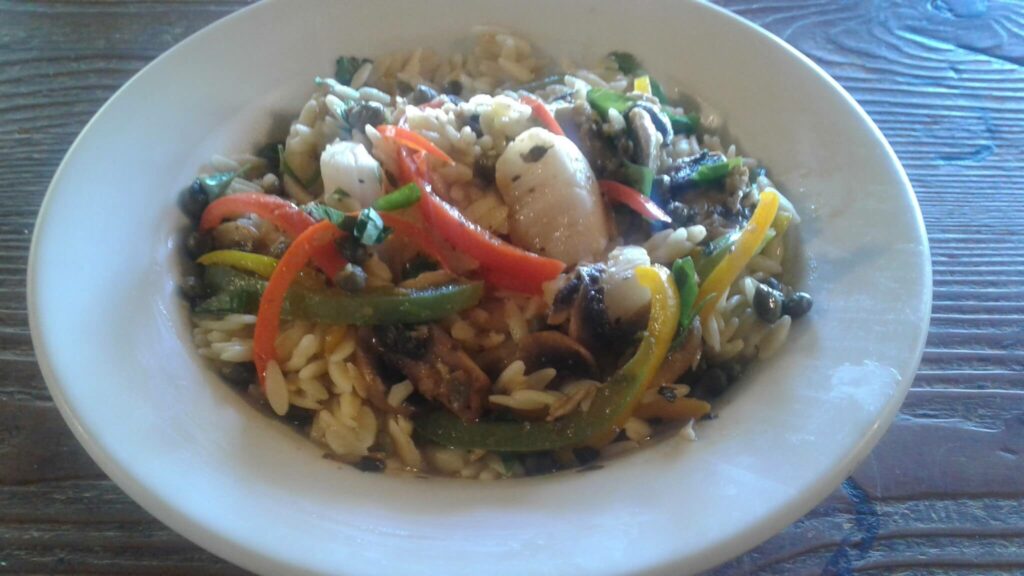 The menu is vast, featuring an overwhelming array of choices from seafood to burgers, salads, and sandwiches–gigantic steaks, and exotic specials, like these scallops on orzo pasta (pictured above), or this crab and shrimp louie, served with a slice of lemon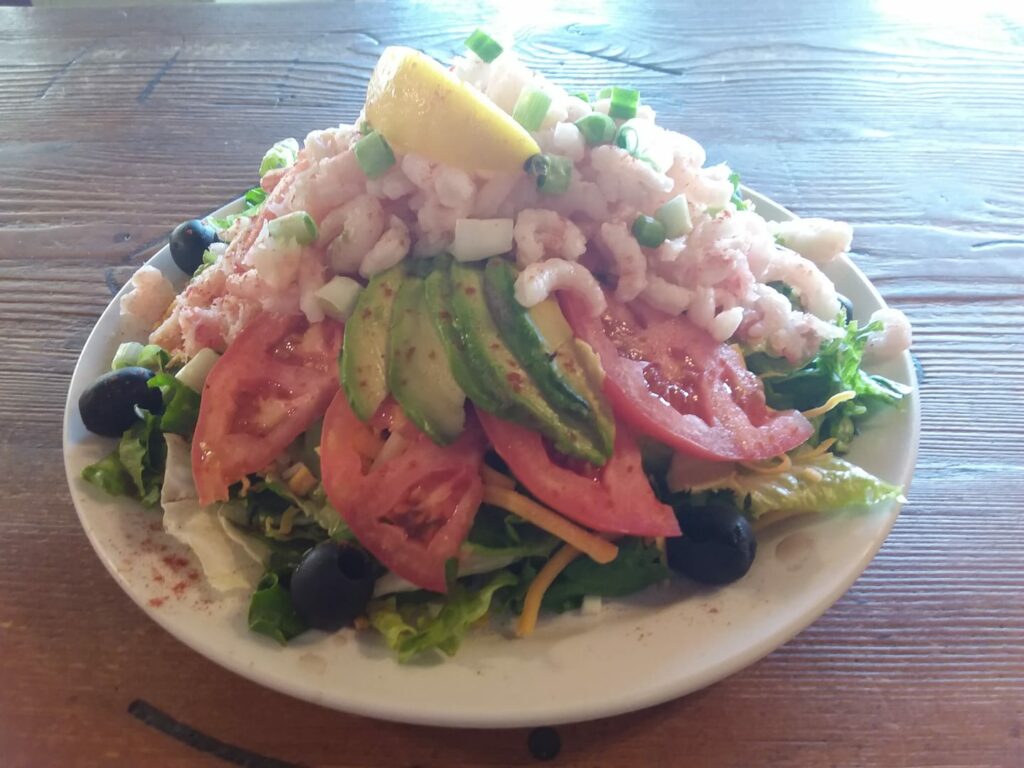 It's hard to say which section of the menu is best. Dayville Cafe does offer basic fare, like club sandwiches, burgers, and dinner salads, but many of the items that they serve are completely unique. That might sound off-putting to those who prefer to stick with what they know, but it's all suited for the everyday American palate. There's no acquired taste, just solid home-cooked meals.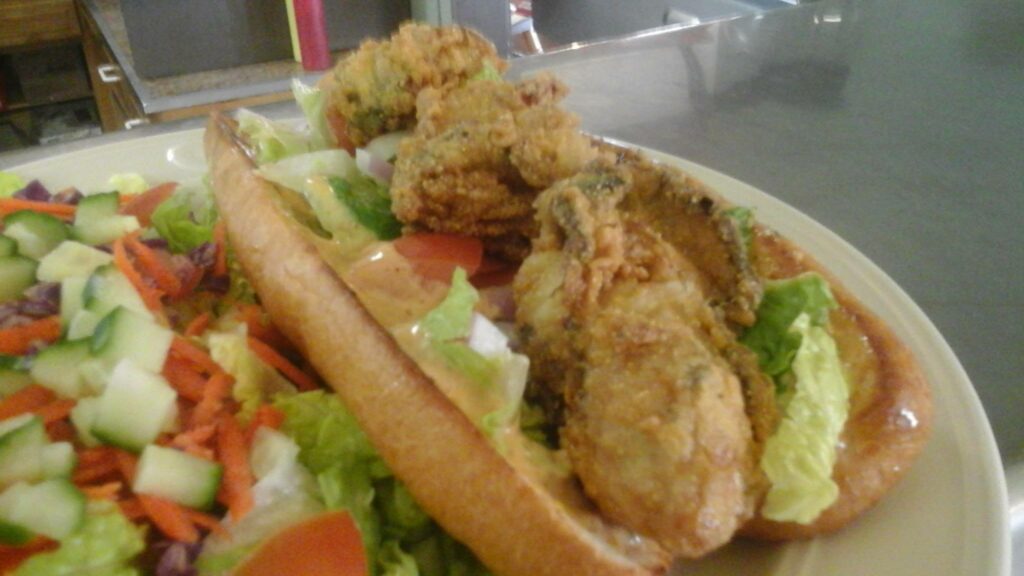 The chef enjoys working with seafood, prawns, crab, and Pacific shrimp. Many of the daily specials contain scallops or oysters, like this oyster po'boy with a light, crunchy breading. It comes with a homemade remoulade sauce.
They have several different crab dishes including a crab burger, crab cakes, and a crab cake benedict, which comes topped with avocado, poached eggs, and hashbrowns, all smothered in hollandaise. It's all done right, and everything is cooked with love.
What makes Dayville Cafe special is how dedicated they are to their craft. They care about the food they serve, and they want their customers to have a good experience. You'll enjoy a great meal while basking in an Oregonian rendition of southern hospitality. It's charming, warm, and welcoming. You won't feel like an obligation. You'll feel like a guest.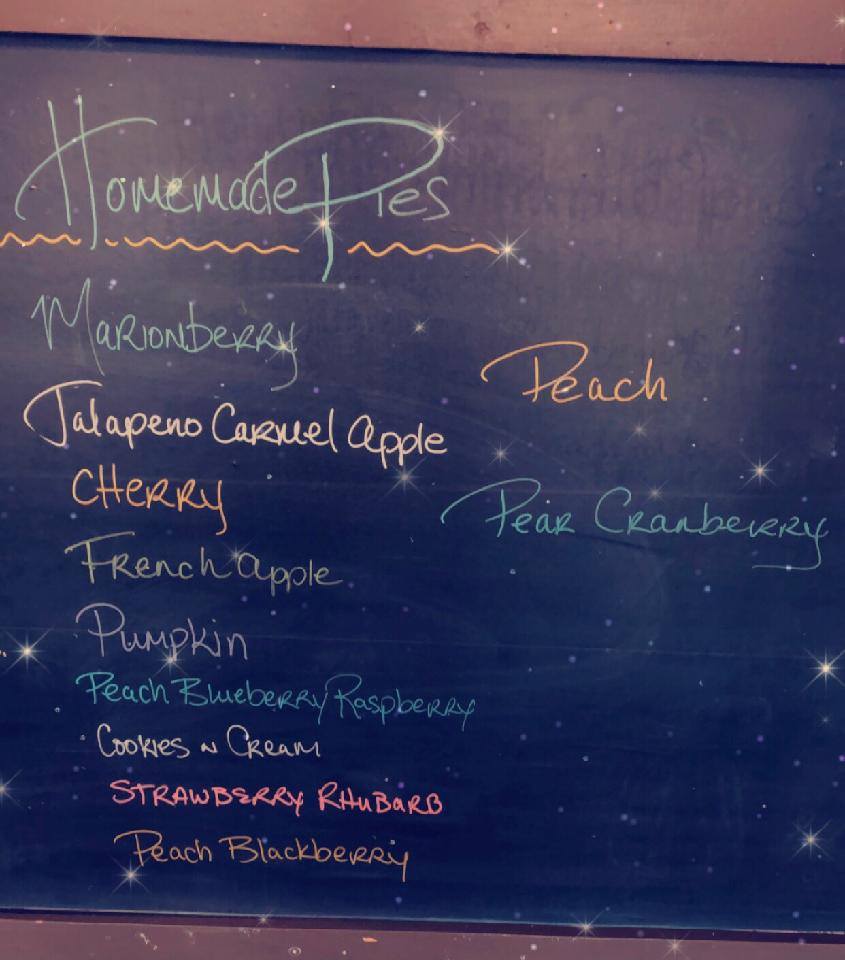 Once you've had your fill, try one of Dayville Cafe's signature pies, made by the family matriarch. They're as unique as the rest of the menu with fillings like pear cranberry and jalapeno caramel apple, and you can take them to go. They're the perfect edible souvenir.