A Guadalupe fur seal pup was rescued after being found wrapped in debris on Salishan Beach near Lincoln City, Oregon. The rescue was a collaboration between the Marine Mammal Stranding Network (MMSN), the Oregon Coast Aquarium (OCAq), and SeaLife Response, Rehabilitation, and Research (SR³).
The one-year-old male was first seen by a group of locals who contacted Jim Rice, the Stranding Program Manager from the Marine Mammal Institute at Oregon State University. The seal was emaciated and fatigued, a common state caused by entanglement, which makes it difficult for them to feed themselves. Had it not been rescued, it likely would've died.
After being disentangled, Rice and Research Assistant Charles Nye, who accompanied him to the scene, determined that the seal was in need of further care. It was brought back to the Oregon Coast Aquarium, where it was treated with antiseptic and bandaging for its wounds, as well as hydration and nutrients.
The seal was transferred to the SeaLife Rescue Center in Washington, the Pacific Northwest's only hospital for marine wildlife. There it will receive all of the treatment it needs to make a full recovery. The plan is to eventually release it back into the wild.
Rescue Efforts
Guadalupe fur seals inhabit the waters of southern California, Oregon, and Mexico, where they were hunted almost to extinction until the late 19th century. Their numbers have grown higher since they received protected status, but they're often injured when they get caught in debris.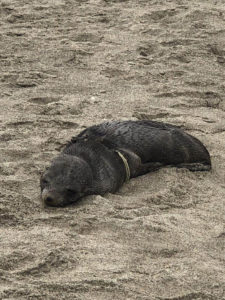 Disturbing images of entanglement and other injuries are a common sight on the west coast. We dump more than 8.8 million tons of garbage into the ocean each year. Seals and sea lions are attracted to the debris, and pups are particularly vulnerable.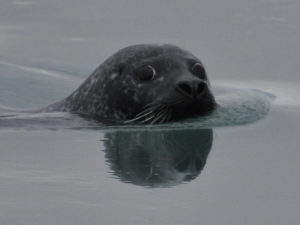 Preventing Harm
Realistically the flood of trash flowing into the ocean won't be stopped. The problem isn't just beach litter–although that is a serious issue. Garbage washes down the water table, over creeks and rivers, escaping landfills and drains. Everything ends up in the Pacific, even if it has to travel hundreds of miles.
Types of Marine Debris
In the absence of comprehensive infrastructure and regulation, individuals are going to have to take part in the conservation effort. The best way to do that is to learn about the different types of marine debris and how they can be managed.
Looped Material
Anything that can wrap around a seal's body is known to cause entanglement, usually around the neck area. The following items are the most commonly found:
Plastic bags
Six-pack drink holders
Sheeting
Balloons with strings
Large black rubber bands from crab pots
Rope / Line
Monofilament line
Nets
Plastic packing straps
Cutting loops can greatly reduce incidents of entanglement. If you do plan on throwing something out, cut it into a straight line in case it does eventually reach the water, then dispose of it by bagging it up or if possible by recycling it. Never dump trash into the ocean or on the beach.
Ingested Material
The ingestion of pollutants and harmful debris is a leading cause of death for marine life. The real damage is impossible to measure, but what we can see is a major extinction level event. Poisons are dumped directly into the ocean, or they seep downstream, causing countless fatalities and health issues. There are times when massive piles of corpses will wash up, and very little meaningful action has been taken. It's horrific, and it's difficult to imagine things getting any better. Many of the toxins are a result of agriculture and industrial byproducts. But the public can do a lot to mitigate the problem. Start by ensuring that the following items are disposed of properly:
Sharp metallic objects
Lures
Spinners / Spoons
Longline gear
Plastic
Microplastics are a world health crisis. We dump about 2 million tons of plastic into the ocean every year, causing small amounts to seep into the water. When it's consumed by marine life it results in everything from sterility to developmental disabilities. This plastic is largely made up of single-use items like grocery store bags and water bottles. Since it isn't biodegradable, the only way to stop this massacre from getting any worse is to avoid single-use. Eating utensils, straws, cups–anything you're supposed to throw away should be completely abolished. There's a reason why so many places stopped carrying bags and straws.
Existing Infrastructure
We are making headway in the fight to preserve marine life. It's common knowledge that microplastics are harmful to the environment. Every day businesses have begun to find ways to reduce their use or cut them out altogether, and the public is aware of the severity of the problem. We've all seen the plastic islands, dead zone graveyards, and littered beaches. Now we're creating systems that help bring first responders to the scene of an incident, along with organizations that are working to clean up the ocean and beaches.
Oregon Coast Aquarium is the best example of an evolving force in the fight for conservation. They are the only facility authorized in the state to administer critical care to marine wildlife, but they're using old warehouses to do so. That's why they've put plans in motion to create a Marine Rehabilitation Center, which should be constructed in 2023.
There's also a tipline, set up by the Marine Mammal Stranding Network. They work in collaboration with other organizations around the country, along with various partners around the world, to provide groundbreaking emergency services. If you see a stranded marine mammal, simply call 1-866-767-6114 and someone will respond. You can also call the Oregon State Police Tipline at 1-800-452-7888.
The next step is to begin cleaning the ocean itself. Groups like SOLVE are already organizing mass cleanups on beaches, and they're taking volunteers from across the state. But that's only a preventative measure. The problem is already in the water. The few programs that are cleaning up the ocean are new or barely functioning, and it remains to be seen whether or not they can last the test of time.