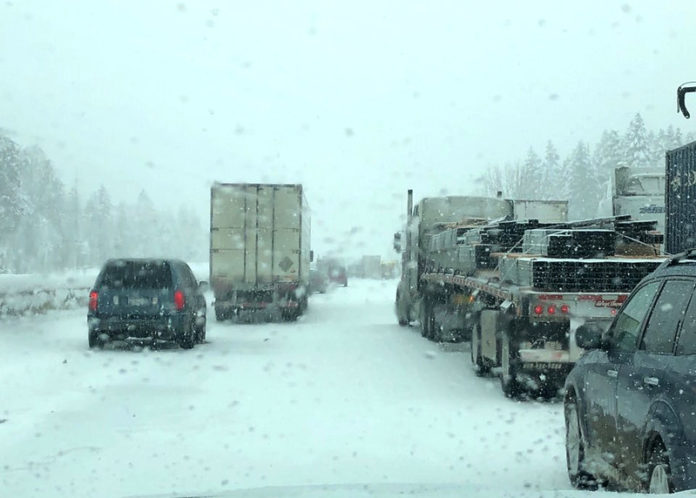 With snow dumping and high winds in the Columbia River Gorge, multiple sources are reporting Interstate 84 has been closed in both directions at milepost 17 in Troutdale to milepost 82 near The Dalles. The Oregon Department of Transportation (ODOT) closed the section of I-84 around 4 am, and it does not look to be opening up anytime soon. There are also reports of multiple crashes that occurred between mileposts 17 and 64.
Snow & Heavy Wind on I-84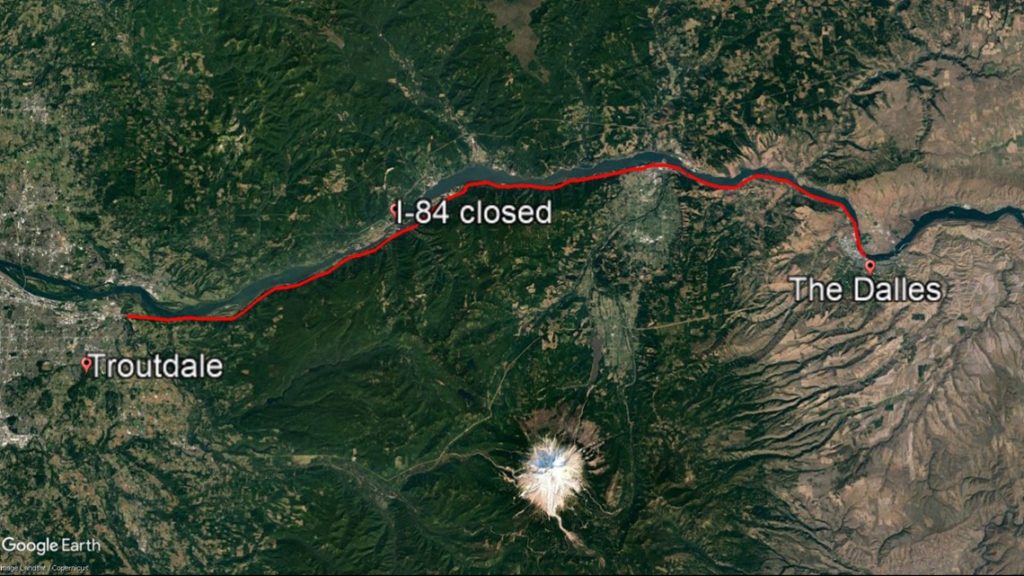 With a Winter Storm Warning in effect for the Cascades and the gorge through Monday evening, at the time of writing this, the National Weather Service (NWS) is reporting total snow accumulations in the Cascades could amount to 8-18 inches.
#pdxtraffic I-84 IS CLOSED in both directions from Troutdale through Hood River for snow, whiteout conditions, and crashes, according to ODOT. Delay that drive. pic.twitter.com/KWtwdZ5I6d

— PDX Traffic Alerts (@TrafficPortland) January 3, 2022
As of 8:45 am, State Route 14 in Washington was also closed to all travel. Make sure and check for most recent road conditions and restrictions here.
While it appears Portland may have not got hit hard with snow, heavy rain has created hazardous driving conditions across the metro area. According to PDX Traffic Alerts on Twitter, the Marine Drive onramp to Interstate 5 southbound has been closed because of high water.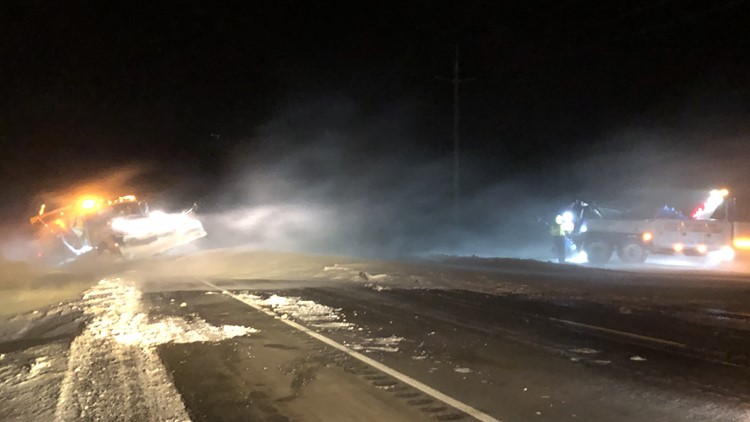 Further down the interstate is also closed, with the 86-mile closure stretching from Exit 216 near Pendleton to the Baker City exit.
According to ODOT, conditions in the area are so severe that "snow plow drivers cannot see the road well enough to effectively plow snow." High winds, whiteout conditions, and snow drifts on the highway have been reported.
ODOT is advising county residents to stay home and to not travel at this time. It could be days before any plowing is done on some state routes in Umatilla County.
Other closed routes at this time include OR245, OR204, OR11, OR74, OR331, OR334, OR335, and other highways. Many city and county routes have also been shut down.
"Do not drive on closed roadways or through snow drifts, as you could become stuck and stranded with little chance of rescue until conditions significantly improved, possibly days," the department wrote in a press release. "Conditions are expected to get worse today with new weather system moving in. Stay home and stay safe."
Our crews from the Gorge sent these pics. Underneath there is I-84. 😳

I-84 remains closed EB and WB from MP 17 near #Troutdale to MP 64 near #HoodRiver due to extreme winter weather including whiteout conditions & multiple crashes. Expect a lengthy closure. #orwx #pdxtst pic.twitter.com/LrCGdhFcWy

— OregonDOT (@OregonDOT) January 3, 2022