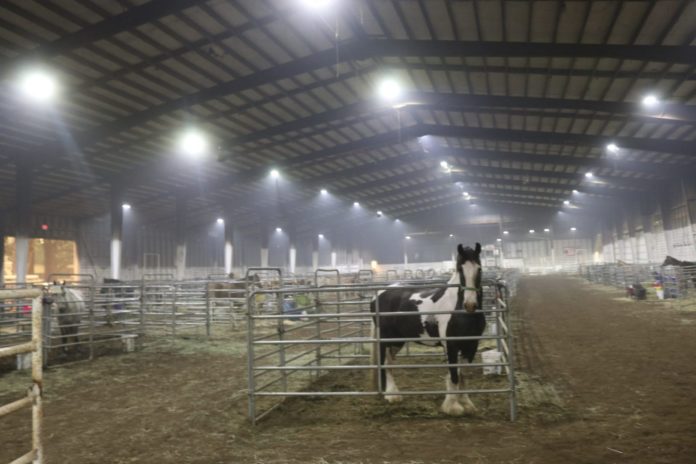 As wildfires rage and people continue to evacuate their homes and property, livestock and pets are being housed at fairgrounds across the state of Oregon. The animals are being taken care of by volunteers in some cases, or by their owners who have sheltered nearby.
Animals And People Find Shelter At Fairgrounds Across Oregon
The Clackamas County Fairgrounds has housed more than 1,500 animals since September 8th, 2020 (not all at the same time). Animals housed here include horses, sheep, pigs, chickens, rabbits, llamas, goats, cows, emus, turtles and a duck.
The Oregon State Fairgrounds in Salem Oregon is housing 1,400 animals in barns stables and outbuildings.
The Washington County Fairgrounds are housing around 300 evacuated animals. Volunteers taking care of the animals there include kids from Washington County 4-H.
The Yamhill County Fairgrounds have also been housing displaced animals, as can be seen in the video below.
Animals are also being held at the Linn County Expo Center and the Benton County Fairgrounds, which has livestock that has overflowed from the Linn County Expo Center.
Taking Care Of Each Other: Oregonians Provide Food For Livestock And Volunteer
People have come to these locations and others across the state to volunteer to take care of the animals as well as to donate animal food. Farmers from the Klamath Basin in southern Oregon hauled hay to Albany for evacuees there with livestock. The hay donated was worth upwards of $35,000. Volunteers distributed the hay and grain feed to evacuation sites and local farms housing livestock.
Throughout this crisis Oregonians have pulled together to help each other as well as the animals. Over the last week people have offered to house animals at their homes and on their land. People have offered neighbors and strangers alike to transport animals, people and belongings out of evacuation zones, and have donated food, water, and other essential items to evacuees and their animals.
Stay up to date on the latest Oregon wildfire news at That Oregon Life.