Last updated on September 3rd, 2017 at 10:18 am
The air quality is horrible just about everywhere right now it seems, and the burning fires in Oregon don't appear to be slowing down anytime soon. News reports August has set record high heat waves of 102 on Aug. 2 and 3 at the National Weather Service station at the Eugene Airport.  And with the lack of rain and hot weather, wildfire this year already has burned more than 320,000 acres in Oregon.
The average high for this month through Aug. 25 is 86.7, compared to a normal average of just under 83. Typically in August we see around half an inch of rain at the airport, with just 0.14 inches this year.
The Chetco bar fire which is reported to currently be the largest, has sadly already destroyed six homes and 20 minor structures near Brookings. To make matters worse, this year has been particularly hot and dry, and it could be weeks before we see any rain.
A fire behavior analyst, who works with the federal team managing the Jones fire in the Willamette National Forest says we will need at least a couple inches to put out the raging flames.
The news is currently reporting the following major fires in Oregon:
Chetco bar fire outside Brookings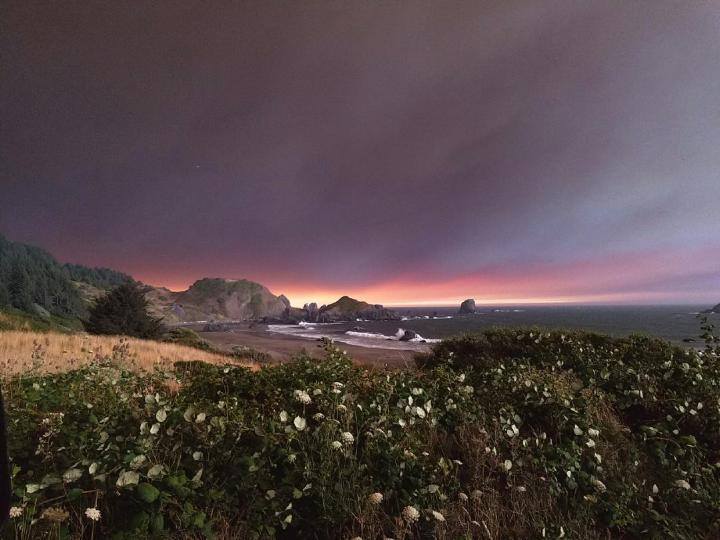 Said to be the largest, the Chetco bar fire has covered nearly 108,000 acres, with an incredible 1,700 firefighters at the scene. With strong winds on Saturday, crews had worried the strong gust would drive rapid growth, although fortunately, it did not get much worse.
The fire at this time was reported to be zero percent contained.
Milli fire west of Sisters
According to reports, the Milli fire which was sparked by lightning is more than 30 percent contained and covers over 18,000 acres. There are definitely some very smokey areas, and firefighters are planning aerial ignitions around the northwest flank of the fire.
Oregonlive reports the fire closure area has been reduced slightly, and campgrounds at Three Creeks Lake, Tam MacArthur Rim and the Petersen Ridge trail system east of Forest Road 16 have been opened, although all areas to the west of Forest Road 16 are still closed.
Fire chieves are expected to update the community on the fire at 6 pm at Sisters High School.
Miller complex fire near Cave Junction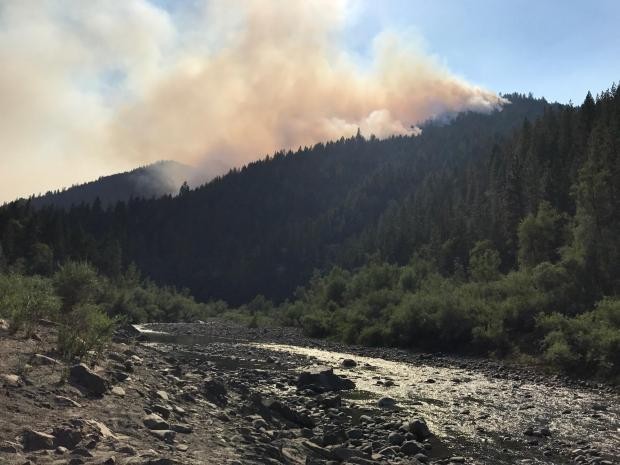 Just east of Cave Junction, more than 14,000 acres are covered by the Miller complex fire and is said to be nearly 50% contained. With 25 fires only six are growing, and flames are raging uphill through timber and torching tree tops.
High Cascades complex of fires in Crater Lake
With 17 fires ablaze in Crater Lake National Park, more than 16,000 acres are covered and 60% has been contained. Four of the fires are reported to pose a problem at this time and officials have issued a level 1 evacuation alert for Mazama Village. Park officials fear the Blanket fire will spread, and have advised people to get ready.
The hot and unstable weather is expected to fuel the fire through the weekend, as crews are working their hardest to keep it under control. The National Guard was also deployed to help fight the fires in the Crater Lake area.
Umpqua North complex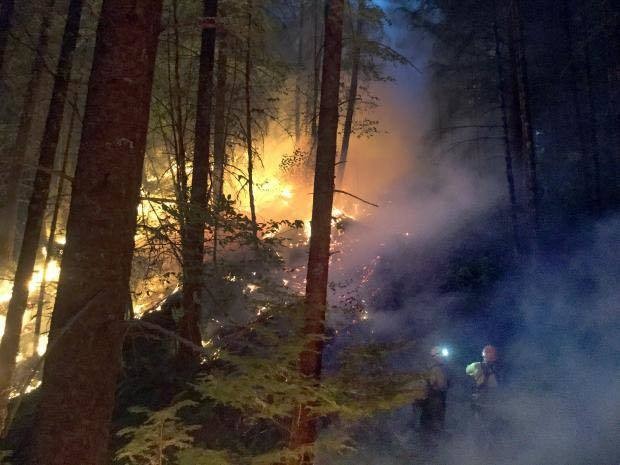 Just east of Roseburg a red flag warning was issued, and dry and hot weather conditions are expected to continue through the week.
Seven fires covering nearly 15,000 acres are reported, forcing Highway 138 to be closed due to falling rocks and trees. At this time only 7% of the fires are contained. With the fire intensifying, temperatures soared into high 80s Saturday afternoon, with humidity dropping into lower to mid-20 percent range.
Fire crews have conducted strategic firing operations at portions of the Fall Creek, Ragged Ridge and Happy Dog fires to extend and strengthen containment lines. Fighters have also used hand ignitions to burn areas along the south end of the Fall Creek Fire to deepen the containment line.
So far, Oregonlive reports officials have already issued a level 1 evacuation notice for the Clearwater area, along Highway 138 East from mile market 53 to mile market 61, the Susan Creek residential area and the Susan Creek campground, Highway 138 East from mile marker 28 east to the Forest Service Road.
Those living in Moore Hill Lane have been warned to "be set", which is a level 2 evacuation alert. Sadly, those in the Dry Creek and Illahee areas have had to evacuate, at a level 3 notice.